Taylor Swift's boyfriend Travis Kelce finally reveals how they met: 'She'll probably hate me for saying this'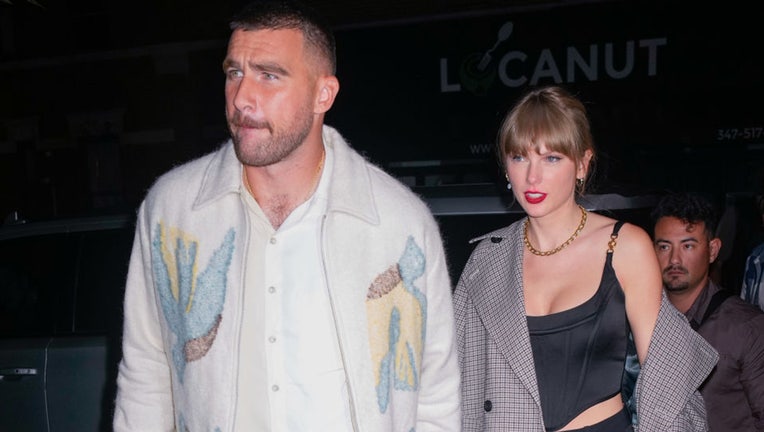 article
Taylor Swift's new boyfriend Travis Kelce is finally telling the world how he got the girl.
"I don't know if I want to get into all of it," Kelce told WSJ. Magazine, before divulging the details behind their relationship. Swift and Kelce have been publicly spending time together since the fall. 
This past summer, Kelce hinted on his podcast that he might be into Swift. He even attended her concert at Arrowhead Stadium in Kansas City in July. "There were definitely people she knew that knew who I was, in her corner [who said]: 'Yo! Did you know he was coming?'" Kelce told the outlet. "I had somebody playing Cupid."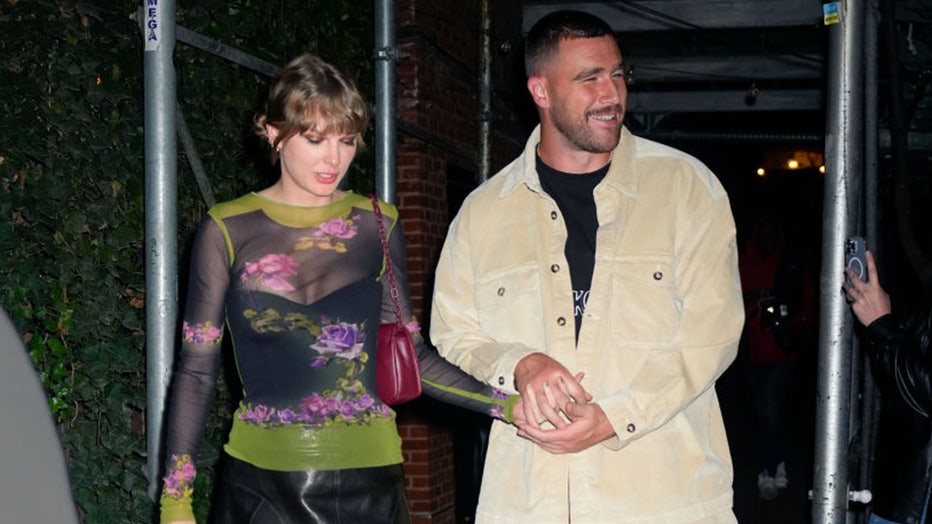 FILE - Taylor Swift and Travis Kelce have dinner at Waverly Inn on Oct. 15, 2023 in New York City. (Gotham/GC Images)
Kelce was not privy to any matchmaking until he received a text from Swift herself. "She told me exactly what was going on and how I got lucky enough to get her to reach out," he said. 
"She'll probably hate me for saying this, but... when she came to Arrowhead, they gave her the big locker room as a dressing room, and her little cousins were taking pictures... in front of my locker," he revealed of his "in" with Swift's inner circle.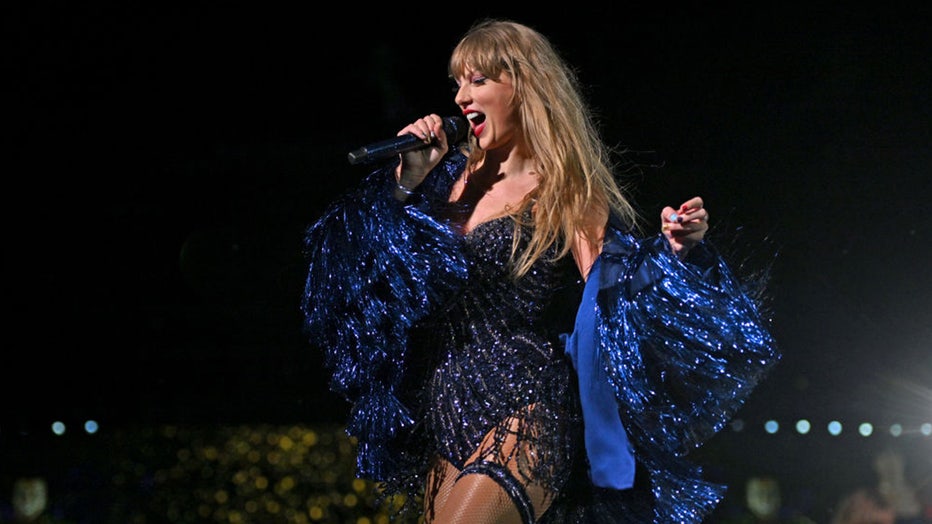 FILE - Taylor Swift performs onstage during "Taylor Swift | The Eras Tour" at Empower Field At Mile High on July 14, 2023 in Denver, Colorado. (om Cooper/TAS23/Getty Images for TAS Rights Management)
TAYLOR SWIFT, TRAVIS KELCE MEET THE PARENTS: WHO'S WHO IN EACH FAMOUS FAMILY
Swift and Kelce have been spotted out on several occasions. "When I met her in New York," he said of one of their public outings, "we had already kind of been talking, so I knew we could have a nice dinner and, like, a conversation, and what goes from there will go from there." 
Kelce says from the beginning, his own inner circle had warned him not to screw things up with Swift. "Everybody around me telling me: Don't f--- this up! And me sitting here saying: Yeah – got it."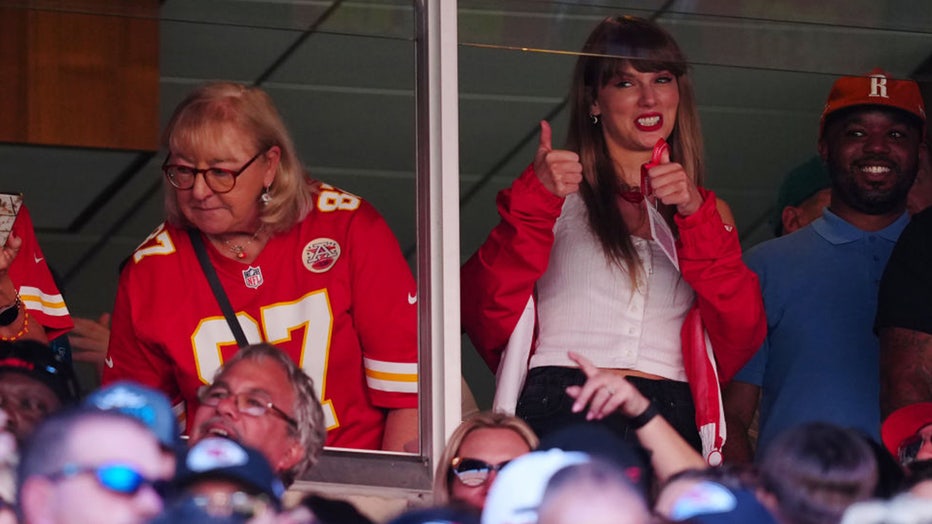 FILE - Donna Kelce and Taylor Swift are seen during the first half of a game between the Chicago Bears and the Kansas City Chiefs at GEHA Field at Arrowhead Stadium on Sept. 24, 2023 in Kansas City, Missouri. (Jason Hanna/Getty Images)
The Kansas City Chiefs tight end says he did that by not saying anything jeopardizing to the media. "That was the biggest thing to me: make sure I don't say anything that would push Taylor away," he shared with the outlet.
"Obviously I've never dated anyone with that kind of aura about them... I've never dealt with it," Kelce said of Swift's fame. "But at the same time, I'm not running away from any of it... The scrutiny she gets, how much she has a magnifying glass on her, every single day, paparazzi outside her house, outside every restaurant she goes to, after every flight she gets off, and she's just living, enjoying life. When she acts like that I better not be the one acting all strange."
Additionally, Swift's relationship with her own family mirrors that of Kelce's. It's why they align. "Everybody knows I'm a family guy," he said. "Her team is her family. Her family does a lot of stuff in terms of the tour, the marketing, being around, so I think she has a lot of those values as well, which is right up my alley." 
Kelce just recently met Swift's dad, Scott, in Argentina earlier this month. The athlete traveled to see Swift perform on the international leg of her Eras Tour. The couple were spotted kissing after the concert in a passionate moment captured by fans. 
Of Swift's music, Travis said he was particularly jazzed to hear her perform "Blank Space," her dynamic track off her album "1989."
"'I could make a bad guy good for the weekend.' That's a helluva line," he said of the lyrics to her song. The duo apparently have a similar taste in other music too. Kelce's friend told WSJ. Magazine that he witnessed Kelce and Swift break out in song together one night at Kelce's home. "There was some wine involved, for sure," Kelce said of them singing "Teenage Dirtbag" by Wheatus together.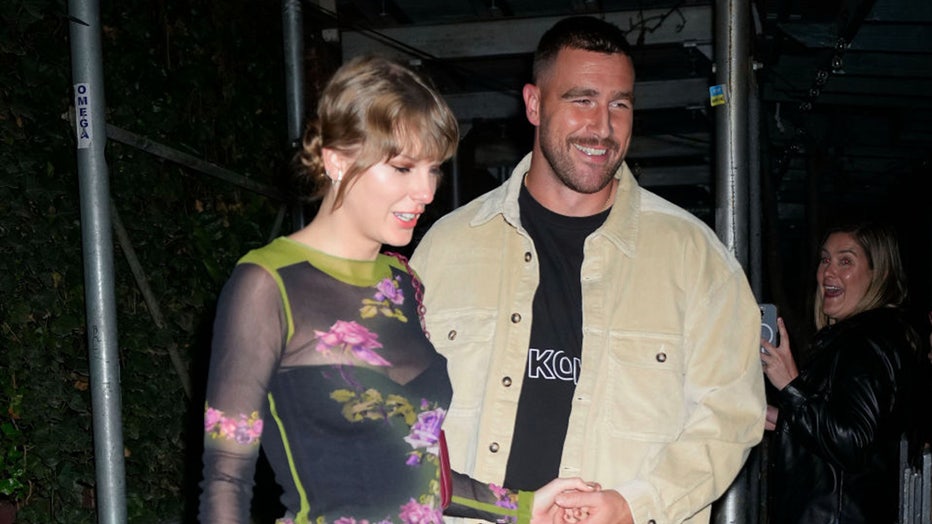 FILE - Taylor Swift and Travis Kelce have dinner at Waverly Inn on Oct. 15, 2023 in New York City. (Gotham/GC Images)
CLICK HERE TO SIGN UP FOR THE ENTERTAINMENT NEWSLETTER
Kelce's adoration for Swift is palpable – he called her "hilarious" and "a genius."
"I've never been a man of words. Being around her, seeing how smart Taylor is, has been f---ing mind-blowing. I'm learning every day."
CLICK HERE TO GET THE FOX NEWS APP
Kelce may not be a lyricist, but he's ready to show Swift his own passion – comedy. With his goofy personality, Kelce says, "I told Taylor that I have that world, I've got to introduce it to her. I let her know: 'This is my jam right here,'" he said of the comedy space. 
A representative for Swift did not immediately respond to Fox News Digital's request for comment.