Teacher who had sex with student gets 36 months in prison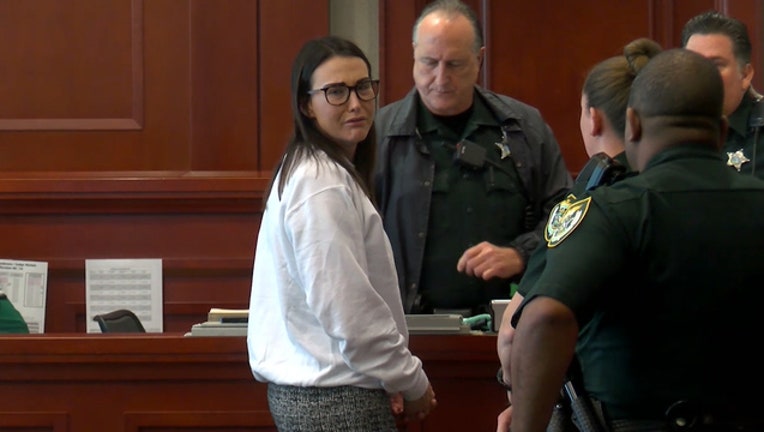 article
NEW SMYRNA BEACH, Fla. (WOFL FOX 35) - A former middle school teacher in Florida has been sentenced to three years in prison for having sex with a 14-year-old boy.
Stephanie Peterson, 27, who once taught at New Smyrna Beach Middle School, is also accused of sending inappropriate photographs of herself to the eighth grade student.  She argued that she should serve less time than the maximum 10-year sentence as part of a plea agreement, in which she admitted guilt.  
Peterson was arrested by deputies with the Volusia County Sheriff's Office in February on charges of lewd or lascivious battery and transmission of harmful materials to a minor.  The relationship is believed to have started in November of 2017. 
A detective responded to the victim's family's home after the student disclosed the relationship to his parents. The boy told detectives Peterson would send him nude pictures and started coming to his home at night, picking him up around 11 p.m. on several occasions and bringing him back around 1 or 2 a.m.   The victim also claimed that Peterson bought him marijuana.
The victim's mother testified that her son has become withdrawn and changed from the crime, bullied in school and struggling emotionally.  She asked for the maximum sentence.  Peterson read a prepared statement, saying she regretted her actions.
"I can handle the notion of ruining my own life, but knowing I have hurt someone else is something I cannot forgive myself for," she said.
Peterson's attorney argued against prison time altogether, because of her struggle with bipolar disorder, medications, substance abuse and a dissolved marriage.
Circuit Judge Raul Zambrano praised Peterson for admitting her guilt and for being a once respected educator, before he handed down her sentence, which is to be followed by two years of house arrest and five years of probation as a sex offender.