Bodycam footage of Elijah McClain's death presented in trial of 2 cops charged with homicide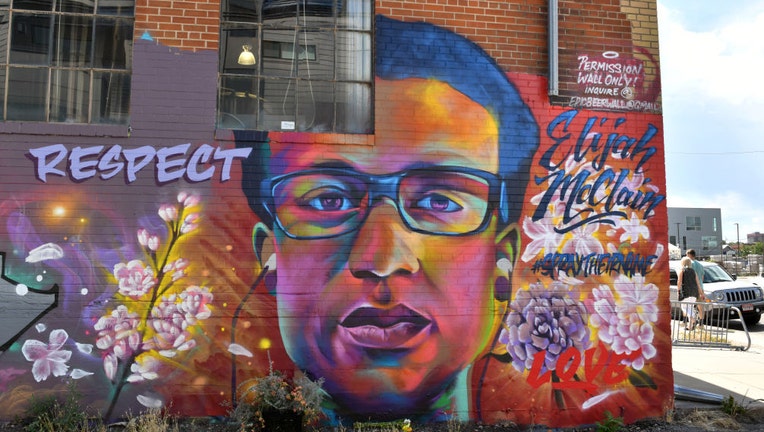 article
BRIGHTON, Colo. - A police lieutenant testified Thursday on how body cameras collect "digital evidence" as prosecutors called their first witness in the trial of two Denver-area police officers over the death of Elijah McClain, a Black man who alongside George Floyd and others was raised up by protesters as a searing example of excessive force used against people of color.
It's the first of several trials stemming from McClain's death in 2019 after officers in the suburb of Aurora put him in a neck hold and paramedics injected him with the powerful sedative ketamine. Officials have determined the sedative played a key role in McClain's death, and police are now banned from using that type of neck hold.
McClain, a 23-year-old massage therapist, was stopped while walking home from a convenience store after a 911 caller reported him as "sketchy." If prosecutors can convince jurors the stop was unjustified, that would undermine any argument that McClain's injuries were a result of the officers just doing their jobs.
Officers Randy Roedema and Jason Rosenblatt are both charged with criminally negligent homicide, manslaughter and assault, all felonies. They have pleaded not guilty but have never spoken publicly about the allegations. A third officer and two paramedics are also charged in McClain's death and are scheduled for trial later this year.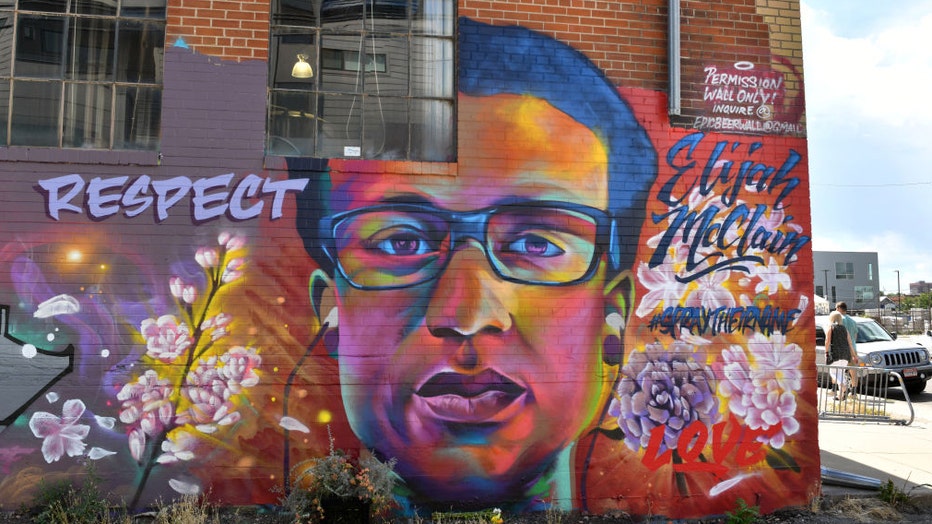 FILE-A mural of Elijah McClain, painted by Thomas "Detour" Evans, is seen on the back side of the Epic Brewing building in Denver, Colorado on Thursday, June 25, 2020. (Photo by Hyoung Chang/MediaNews Group/The Denver Post via Getty Images)
The confrontation was captured in detail by police body camera video, which prosecutors began introducing as evidence through their first witness, Lt. Delbert Tisdale, who oversees the bodycam program at the Aurora Police Department and was not present during the fatal encounter.
The footage has been publicly released, and includes McClain pleading with officers and telling them "I can't breathe."
Prosecutors and defense lawyers painted contrasting pictures of the struggle in opening statements Wednesday. The officers ignored McClain's pleas for help, the prosecution said, and failed to follow their own training. Defense attorneys said the death was tragic but wasn't the officers' fault, and sought to shift blame to the paramedics.
RELATED: Elijah McClain's death sparked protests and led to police reforms. Now, 2 cops on trial
Prosecutor Jonathan Bunge said the officers violated department policies by using excessive force against McClain, who was unarmed, and failing to deescalate the situation.
McClain threw up repeatedly after the neck hold and was drowning in his own vomit, according to Bunge. "He is drifting further and further toward death. The sedative is the last thing he needs."
Rosenblatt's attorney, Harvey Steinberg, argued that the officers had no choice but to stop McClain after the 911 call. He added that McClain showed "continued resistance" after he was stopped and the officers were forced to respond accordingly.
"Please be fair and don't allow emotion or sympathy come into it," Steinberg told jurors. "And don't let politics enter into this at all."
RELATED: Police officers seen reenacting chokehold on Elijah McClain are fired
Roedema's attorney, Reid Elkus, said the officers' actions were in line with department policies and their own training.
"Just because a tragedy occurred doesn't mean criminality occurred," Elkus said. McClain was stopped in a "high-crime area," and officers repeatedly told him to halt before he complied, Elkus said.
Officer Nathan Woodyard, who is set to go on trial later this year, was the first to approach McClain and was soon joined by Roedema and Rosenblatt.
McClain, using earbuds, initially kept walking. Within 10 seconds, Woodyard put his hands on McClain, turning him around. As McClain tried to escape his grip, Woodyard said, "Relax, or I'm going to have to change this situation."
RELATED: Elijah McClain death: Results of independent probe faults overall police handling of incident
The encounter quickly escalated, with officers taking him to the ground and putting him in a neck hold.
After the sedative injection, McClain suffered cardiac arrest on the way to the hospital and was pronounced dead three days later.
Elkus, the defense lawyer, blamed McClain's death on paramedics who took control of his care at the scene.
"After being injected with ketamine, that's when Mr. McClain's pulse stopped," Elkus said. "Mr. McClain died because paramedic (Jeremy) Cooper injected him with 1.7, 1.8 times the ketamine for someone his weight and size."
Charges were not brought for two years after the fatal episode, largely because local prosecutors said the coroner's office could not determine exactly how McClain died.
But a revised coroner's report issued in 2021 found the cause of death was complications from ketamine. McClain weighed 140 pounds (64 kilograms), and he overdosed because he received a higher dose than recommended for someone of his size, pathologist Stephen Cina found.
Cina has said he couldn't rule out whether the stress of being held down by the officers may have contributed to McClain's death.
Prosecutors played numerous bodycam clips Wednesday, including one in which they said McClain spoke his last words: "Please help me."