Thieves caught looting copper mine in the Upper Peninsula, DNR says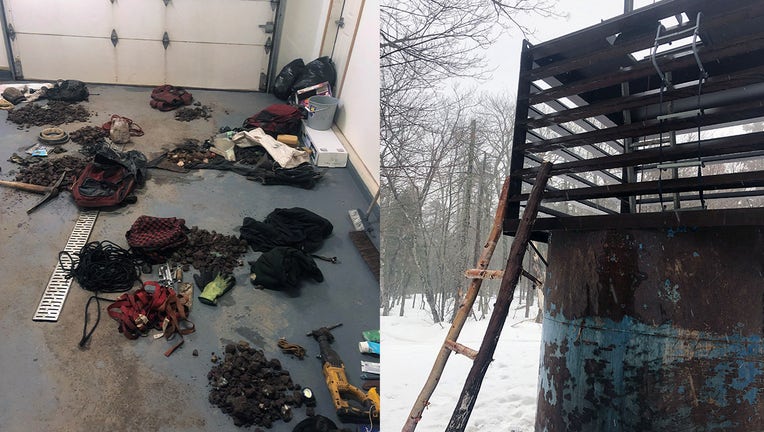 article
CENTRAL, Mich. (FOX 2) - An abandoned mine in northern Michigan reentered the news cycle recently after three thieves were nabbed for trying to steal hundreds of pounds of copper.
The robbery attempt at the Central mine, which is found way at the top of the Keweenaw Peninsula in the UP, is part of a trend by thieves to live off of breaking into old mines, officials with the Department of Natural Resources said. 
In this case, three men from the nearby town of Calumet were found guilty with two being convicted by jury trial. 
The mine was among the active sources of minerals that flowed out of the Upper Peninsula during mining heyday in Michigan. According to the DNR, Michigan's copper industry was at its biggest from 1845 to 1887. At the time, it produced three-quarters of America's copper.
But just because mines have dried up doesn't mean they still don't have something to offer. A growing interest in metals for the purpose of batteries has sent the price of precious metals up.
"Currently, the main demand that is driving up the price of copper is for electronics and in lithium-ion batteries," said Kirk Lapham, DNR Minerals Management Section manager. "Copper is a fantastic conductor."
MORE: Macomb Township man shot 3 hawks after utility company refused to cut down trees
It's also a valuable resource for home building. 
Because of this interest in metals that the DNR received a tip in 2020 about a suspected robbery at the Central Mine. It had produced over 52 million pounds of copper in its 40 years of service, becoming such an economic engine that it established a town of roughly 1,200 people. 
The area became a ghost town when the mine was abandoned in 1898. 
Officers with the DNR as well as the local sheriff set out to see if thieves had broken into the mine. They later discovered the entrance had been broke into with a fence leading up to it.
"The subjects were accessing a shaft of the Central Mine complex through a man-made mine cap," said Sgt. Marc Pomroy, DNR conservation officer. "The cap allows bats to use the mine shaft for hibernation. The top of the cap has a locked access door."
MORE: DNR map shows largest-ever fish catches in Michigan
After only a day of surveillance, conservation officers went back to the mine and waited until the three men emerged with their buried treasure. 
"The copper ore that was taken from the mine was in rough form, and still needed to be treated and cleaned, but was still valuable," Pomroy said. "These folks make a living off of breaking into old mines and stealing the copper product to later sell in the clean polished form."  
The case ended in November 2022 when Brent Hiltunen, 39, and Ike Kinsinger, 40, were sentenced to 30 days in jail for breaking and entering. They were also ordered to pay $490 in fine.
Erick Grandchamp, 40, pleaded guilty to trespassing under a plea agreement. He only had to pay fines.