Three former MSU football players take plea deal in sex assault case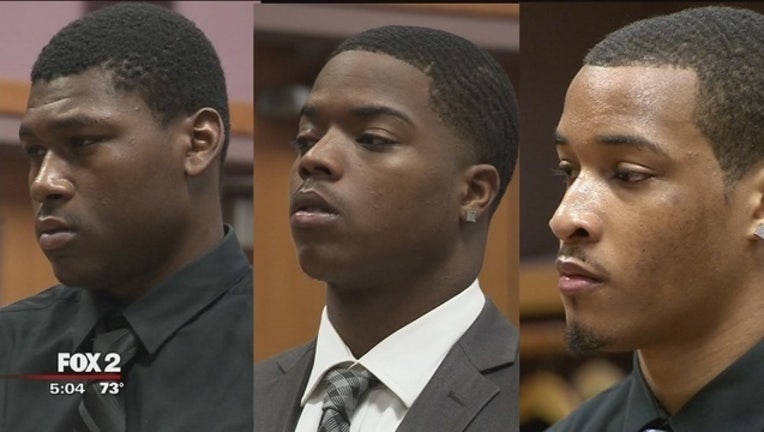 article
(WJBK) - Three former Michigan State football players have taken a plea deal in a sexual assault case from an incident in January 2017.
Josh King was charged with first-degree criminal sexual conduct, third-degree criminal sexual conduct and taking a photo of a person unclothed. Donnie Corley and Demetric Vance were charged with third-degree sexual assault.
King was accused of raping a woman at an on-campus party back in January and recording it on his phone. The victim said King pulled her into a bathroom and forced her to perform oral sex and then raped her. She also said King forced her to perform oral sex on the other two defendants.
In court Wednesday, Corley and Vance pleaded guilty to seduction and prosecutors dropped the third-degree criminal sexual conduct charges against each defendant. King pleaded guilty to leading to seduction and surveilling an unclothed person, as prosecutors dropped his first-degree criminal sexual conduct charge.
All three will be sentenced before Judge Rosemarie Aquilina at 9 a.m. June 6.
The players were suspended back in February 2017 but were not identified until court proceedings in June 2017. King's attorney had said the former player handed over his cell phone that contained videos of the incident and argued they showed the sexual acts were consensual.
King was a sophomore defensive end from Illinois and one of the nation's top recruit's when he committed to MSU. He played in nine games in 2016, his freshman year at the program. A four-star recruit from Detroit King, Corley also played as a freshman in 2016 as both wide receiver and corner back, appearing in 12 games. Vance was a four-star recruit from Cass Tech in 2016, and redshirted his first year at MSU. 
Football team recruiter Curtis Blackwell has been suspended but has not named or charged in this investigation resulting from a sexual assault complaint filed back in January.
Blackwell had been the team's director of college advancement and performance since 2013. According to MSU Football, his responsibilities included leadership, graduation and career objectives, as well as involvement in recruiting.