Tigers lose Cabrera to injury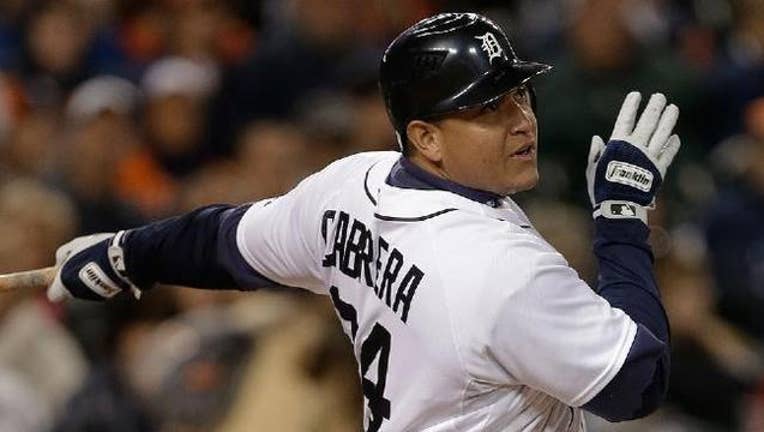 article
DETROIT (AP) — Miguel Cabrera's calf injury overshadowed Anibal Sanchez's no-hit bid for the Detroit Tigers.
Miguel Cabrera left Friday night's 8-6 win over the Toronto Blue Jays in the fourth inning when he got hurt while breaking for second base on an attempted hit-and-run. Detroit expects the two-time AL MVP to go on the disabled list.
"I'm not optimistic at all," Tigers manager Brad Ausmus said. "When Miggy says he can't play, it is serious, because Miggy plays through everything."
Cabrera had an MRI, which showed no injury to his Achilles' tendon. He will be examined again Saturday.
"I can't sit here and say we'll be fine, because he's the best hitter in baseball, at least in my eyes," Tigers right fielder J.D. Martinez said. "But if you look at our lineup, we've still got a lot of weapons."
Sanchez's no-hit bid was broken up when former Detroit teammate Ezequiel Carrera lined a single to left with one out in the eighth inning.
"I was trying to get a double play, but he fought the whole at-bat," Sanchez said. "I got ahead in the count, but he put a good swing on a changeup away."
Given an 8-0 lead, Sanchez (7-7) wound up allowing four runs, three hits and three walks in 7 1-3 innings, and left after 117 pitches.
He was bidding to become the sixth pitcher to throw no-hitters in the AL and NL, according to STATS, a feat accomplished by Cy Young, Jim Bunning, Nolan Ryan, Hideo Nomo and Randy Johnson. Sanchez pitched a no-hitter for the Florida Marlins against Arizona on Sept. 6, 2006.
Cabrera, a two-time AL MVP, was on first base with no outs in the fourth inning and a 3-2 count to Victor Martinez, and took off with the pitch. Martinez fouled the ball off, but Cabrera pulled up sharply, grabbing his left leg. He was attended to by trainers and limped off the field. Detroit said Cabrera will have an MRI.
Sanchez walked Justin Smoak leading off the eighth, and Devon Travis and Ryan Goins followed Carrera with singles to make it 8-1. Josh Donaldson added a two-run single off Alex Wilson, and Jose Bautista walked to load the bases.
Edwin Encarnacion flied out, Dioner Navarro hit a three-run double that made it 8-6 and Bruce Rondon threw a wild pitch and then walked Smoak. With closer Joakim Soria hurrying to warm up, Kevin Pillar hit an inning-ending flyout.
"That's the mentality of this team," Navarro said. "We can score a bunch of runs in the blink of an eye, but it is tough to dig yourself out of that hole."
Soria pitched the ninth for his 18th save in 20 chances, striking out Josh Donaldson to end the game with a runner on second.
"We won the game, and that makes it a good day," Sanchez said. "That's all that counts."
Drew Hutchinson (8-2) gave up seven runs — five earned — 10 hits and two walks in 4 2/3 innings. Victor Martinez had three hits for the Tigers.
Cabrera's RBI single put the Tigers ahead in the first, then broke open the game in a five-run fourth. With the bases loaded, Nick Castellanos lined a ball into shallow left-center and it bounced out of Carrera's glove as the left fielder tried for a diving catch. Carrera threw to third, trying to force Martinez, who hadn't seen the ball bounce free, but the throw eluded Josh Donaldson, and Martinez ended up scoring Detroit's second run on the throwing error.
Anthony Gose followed with a single to left, but Carrera's throw sailed into the Toronto dugout for another error. Gose ended up on third and scored on Jose Iglesias's sacrifice fly.
"We were really sloppy in the field, which is unusual for us," Toronto manager John Gibbons said. "That cost us some runs that ended up being pretty important."
TRAINER'S ROOM
Toronto: SS Jose Reyes left in the seventh inning with the Blue Jays trailing 7-0. Gibbons said it was only because of the score.
Tigers: Avila was activated from the disabled list before the game after being out since May 8 with a knee injury. Avila was originally expected to require surgery that would have sidelined him for most of the season but was able to return after intense physical therapy.
UP NEXT
The teams play the second of three games Saturday, with Detroit's David Price (7-2) facing R.A. Dickey (3-8). The Tigers are 13-3 when Price starts this season and 27-36 with anyone else.