Trump arraigned on charges of trying to overturn 2020 presidential election
WASHINGTON (AP) - Donald Trump arrived Thursday at the federal courthouse in Washington to surrender on charges that he plotted to overturn his 2020 defeat in the election, with the former president set to face a judge mere blocks from the U.S. Capitol building that his supporters stormed to try to block the transfer of power.
In what's become a familiar but nonetheless stunning ritual, the early front-runner for the 2024 Republican presidential nomination will be processed by law enforcement and enter a not guilty plea before a federal magistrate. He's expected to then be released as the case proceeds, enabling him to rejoin the campaign trail as he seeks to reclaim the White House in 2024.
It's the third criminal case filed against Trump this year, but the first to try to hold him criminally responsible for his efforts to cling to power in the weeks between his election loss and the Capitol attack that stunned the world as it unfolded live on TV. Trump has said he did nothing wrong and has accused special counsel Jack Smith of trying to thwart his chances of returning to the White House in 2024.
Trump arrived in Washington around 3 p.m. after flying in from New Jersey by private plane. His motorcade made its way through D.C.'s crowded streets, using lights and sirens — a journey documented in wall-to-wall cable coverage once again.
An indictment Tuesday from Smith charges Trump with four felony counts related to his efforts to undo his presidential election loss in the run-up to the Jan. 6, 2021, riot at the Capitol, including conspiracy to defraud the U.S. government and conspiracy to obstruct an official proceeding. The charges could lead to a yearslong prison sentence in the event of a conviction.
Smith himself was in the courtroom and sat in the front row behind the prosecutors handling the case.
Three police officers who defended the Capitol that day were seen entering the courthouse. One of them, Harry Dunn, said in a statement that "all I have wanted from day one is accountability and justice for the law enforcement men and women who fought bravely on January 6."
"I would be lying if I did not acknowledge my numbness with the news of the indictment today of a former president of the United States," he added. "I am confident our legal system will handle this case properly."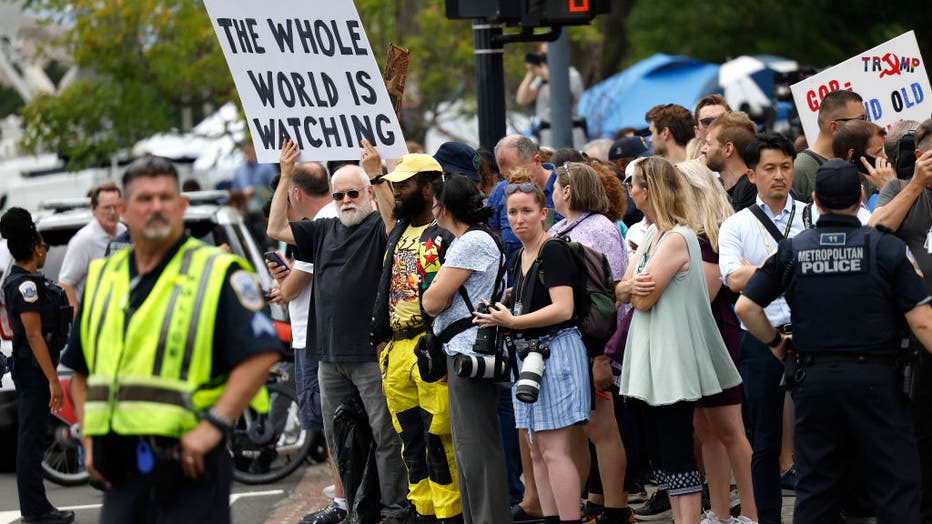 WASHINGTON, DC - AUGUST 03: People gather outside of the E. Barrett Prettyman United States Courthouse as they await the arrival of former U.S. President Donald Trump on August 03, 2023 in Washington, DC. Former U.S. President Donald Trump is schedul