US Navy identifies 7 sailors who died in collision of destroyer and container ship off Japan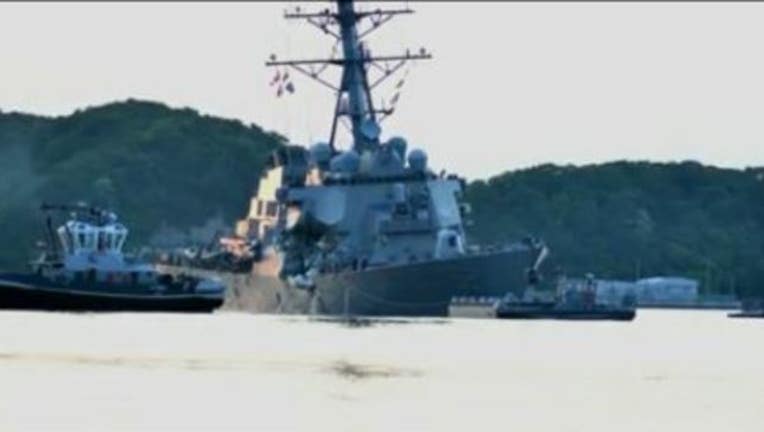 article
YOKOSUKA, Japan (AP) - The U.S. Navy has identified the seven sailors who died when their destroyer collided with a container ship off Japan on Saturday.
Seven crew members were unaccounted for after the collision flooded berths with seawater. Navy divers recovered the bodies after the severely damaged USS Fitzgerald returned to a Navy base in Yokosuka, Japan, aided by tugboats.
The Japan-based 7th Fleet identified the victims on Monday as Gunner's Mate Seaman Dakota Kyle Rigsby, 19, from Palmyra, Virginia; Yeoman 3rd Class Shingo Alexander Douglass, 25, from San Diego, California; Sonar Technician 3rd Class Ngoc T Truong Huynh, 25, from Oakville, Connecticut; Gunner's Mate 2nd Class Noe Hernandez, 26, from Weslaco, Texas; Fire Controlman 2nd Class Carlosvictor Ganzon Sibayan, 23, from Chula Vista, California; Personnel Specialist 1st Class Xavier Alec Martin, 24, from Halethorpe, Maryland; and Fire Controlman 1st Class Gary Leo Rehm Jr., 37, from Elyria, Ohio.
Earlier, the mother of a U.S. Navy sailor who survived a direct hit to his sleeping berth during a collision at sea said her son kept diving to try to save his shipmates until the flooded berth began running out of air pockets, while others -- believing the ship was under attack -- hurried to man the guns.
Mia Sykes of Raleigh, North Carolina, told The Associated Press on Sunday that her 19-year-old son, Brayden Harden, was knocked out of his bunk by the impact, and water immediately began filling the berth, after their destroyer, the USS Fitzgerald, collided with a Philippine-flagged container ship four times its size off the Japanese coast.
The ships collided about 2:20 a.m. Saturday, when the Navy said most of the 300 sailors on board would have been sleeping, and authorities have declined to speculate on a cause while the crash remains under investigation.
Sykes says her son told her that four men in his berth, including those sleeping on bunks above and below him died, while three died in the berth above his.
"They did what they were trained to do," said Sykes, who said she hopes her son, from Herrin, Illinois, can come home to be with family as he works through what happened. "You have to realize most of them are 18, 19 and 20-year-olds living with guilt. But I told him, `There's a reason you're still here and make that count.' "
Vice Adm. Joseph Aucoin, the commander of the Navy's 7th Fleet, also described a harrowing scene as other sailors fought to keep the ship from sinking. Most of the damage is below the waterline, including a large gash near the keel, Aucoin said.
"So the water flow was tremendous, and so there wasn't a lot of time in those spaces that were open to the sea. And as you can see now, the ship is still listing, so they had to fight the ship to keep it above the surface. It was traumatic," Aucoin said.
The Navy called off the search for seven missing sailors Sunday after divers found a number of bodies in the ship's flooded compartments, including sleeping quarters, Aucoin said at a news conference at the 7th Fleet's home base in Yokosuka, Japan. He wouldn't say how many bodies were recovered, pending notification of next of kin.
He said one machinery room and two berthing areas for 116 crew members were severely damaged from what he called a significant impact to its side. The destroyer returned to Yokosuka on Saturday evening with the help of tug boats.
The victims might have been killed by the impact of the collision or drowned in the flooding, said Navy spokesman Lt. Paul Newell, who led the media on a visit to get a firsthand look at the mangled destroyer. "The damage was significant," he said. "This was not a small collision."
The Fitzgerald's captain, Cmdr. Bryce Benson, was airlifted from the ship's deck after daybreak Saturday to the U.S. Naval Hospital in Yokosuka with a head injury. Two other crew members suffered cuts and bruises and were also flown out by helicopter.
Aucoin wouldn't speculate on the cause of the collision and would order a thorough investigation. Conditions were clear at the time of the collision, though the area is particularly busy with sea traffic.
The damage to the destroyer suggests that the container ship, the ACX Crystal, might have slammed into it at a high speed, raising questions about communication between the two vessels in an area where as many as 400 ships pass through every day, according to Japan's coast guard. Most congestion occurs in the early hours of the day, and fast currents make it a tricky area that requires experience and skill to navigate. 
The ACX Crystal weighs 29,060 tons and is 222 meters (730 feet) long, much larger than the 8,315-ton destroyer.
The container ship's left bow was dented and scraped, but it did not appear to have sustained any major structural damage when it was docked in the Tokyo bay late Saturday.
But on Sunday, a group of accident investigators from the Japanese transport ministry found damage to the container ship that had been hidden under the waterline when it arrived in Tokyo the previous night. Footage from Japanese broadcaster NHK showed a sharp horizontal cut across the bow area, which looked like a shark's mouth. Many scratches were also seen in the frontal area.
The container ship was seen making a U-turn before the collision on some ship trackers, a move that has raised questions about what happened. Both Aucoin and the Japanese coast guard, however, said it was too early to determine what led to the collision.
The coast guard questioned crew members of the ACX Crystal, and is treating the incident as a case of possible professional negligence, said Masayuki Obara, a regional coast guard official.
All of the ACX Crystal's 20-member Filipino crew was safe, according to Japanese shipping company Nippon Yusen K.K., which operates the ship.
Japanese Prime Minister Shinzo Abe sent a sympathy message to President Donald Trump on Sunday. "We are struck by deep sorrow," Abe said in the message. "I express my heartfelt solidarity to America at this difficult time."
Jennifer Adkison of Granbury, Texas, whose 20-year-old son, Bruce Adkison, a fifth-generation sailor, survived the collision, said in a Facebook message that families are grieving for those who died and trying to get clothing and other items to survivors who lost all their possessions.
"The only other day I have been so overwhelmed with joy to hear my son's voice was the day he was born," Adkison said.