White House Press Secretary Kayleigh McEnany tests positive for COVID-19
WASHINGTON - White House press secretary Kayleigh McEnany said Monday that she has tested positive for COVID-19, days after President Donald Trump's diagnosis.
"After testing negative consistently, including every day since Thursday, I tested positive for COVID-19 on Monday morning while experiencing no symptoms," McEnany said in a statement. "No reporters, producers, or members of the press are listed as close contacts by the White House Medical Unit."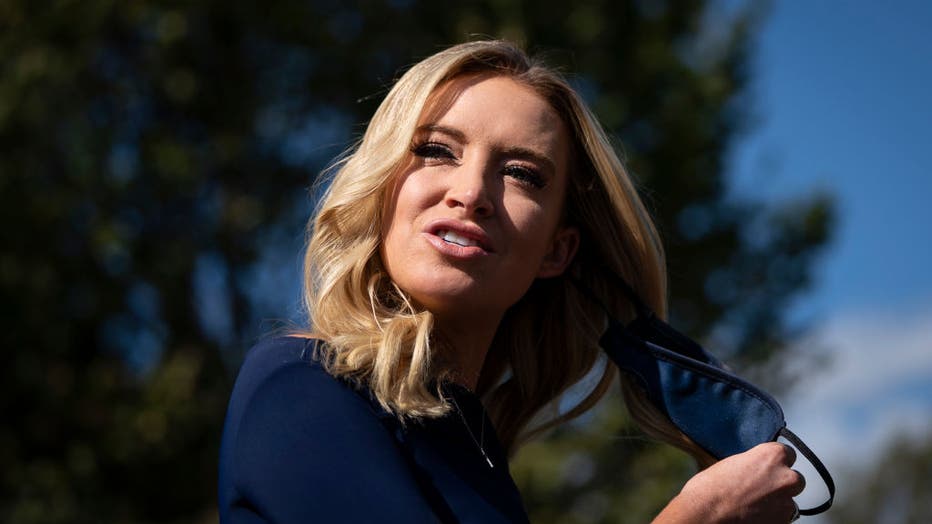 White House Press Secretary Kayleigh McEnany takes off her face covering before speaking with reporters outside the West Wing of the White House on Oct. 2, 2020 in Washington, D.C. (Photo by Drew Angerer/Getty Images)
"I definitively had no knowledge of Hope Hicks' diagnosis prior to holding a White House press briefing on Thursday," McEnany added, saying that "as an essential worker, I have worked diligently to provide needed information to the American people at this time."
"With my recent positive test, I will begin the quarantine process and will continue working on behalf of the American people remotely," the statement concluded.
McEnany's diagnosis comes as the scale of the outbreak at the White House remains unknown. First lady Melania Trump has remained at the White House as she also recovers from the virus.
Trump, 74, confirmed his diagnosis Friday and thanked everyone for their "tremendous support" in a video posted to Twitter. The president was transported to Walter Reed National Military Medical Center for treatment, and after a three-day stay, said he would be released from the hospital on Monday evening.
"Feeling really good," Trump wrote on Twitter. "Don't be afraid of Covid. Don't let it dominate your life. We have developed, under the Trump Administration, some really great drugs & knowledge. I feel better than I did 20 years ago!"
In a press conference Monday afternoon prior to the president's release, Trump's doctor said  that his condition has "continued to improve" and he has "met or exceeded all standard hospital discharge criteria."
"Though he may not entirely be out of the woods yet, the team and I agree that all our evaluations and most importantly, his clinical status, support the president's safe return home," said Trump's physician, Navy Cdr. Sean Conley.
RELATED: Trump says he'll be released from Walter Reed Monday following COVID-19 treatment
Trump received his third dose of remdesivir on Sunday night and was going to receive a fourth dose prior to leaving the hospital and a fifth dose on Tuesday, according to Dr. Brian Garibaldi, who is also part of the physician team. Remdesivir is a Gilead Sciences drug currently used for moderately and severely ill COVID-19 patients.
Trump is also being given dexamethasone, a steroid used in a wide range of conditions for its anti-inflammatory and immunosuppressant effects and typically only recommended for the very sick.
Conley declined to share results of medical scans of Trump's lungs, saying he was not at liberty to discuss the information because Trump did not waive doctor-patient confidentiality on the subject. COVID-19 has been known to cause significant damage to the lungs of some patients. 
Conley also declined to share the date of Trump's most recent negative test for the virus — a critical data point for contact tracing and understanding where Trump was in the course of the disease.
On Sunday, the still-infectious president surprised supporters who had gathered outside the hospital, riding by in a black SUV with the windows rolled up. Secret Service agents inside the vehicle could be seen in masks and other protective gear.
His doctors also revealed on Sunday that Trump's blood oxygen level dropped suddenly twice in recent days.
Th Associated Press contributed to this report. It was reported from Cincinnati