Whitmer signs safe storage and background check gun bills into law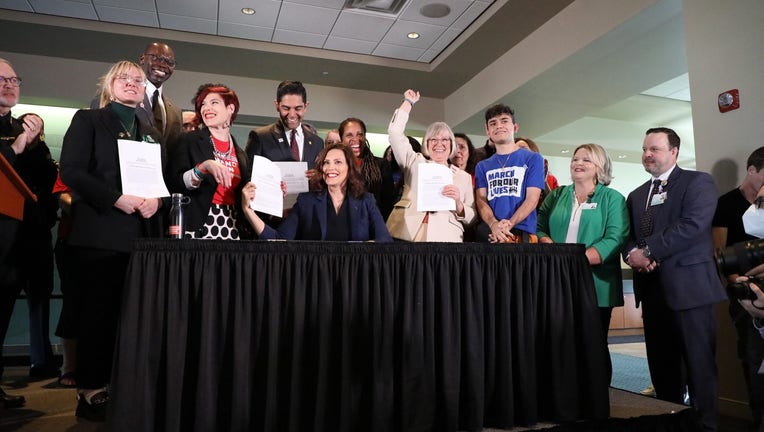 article
LANSING, Mich. (FOX 2) - The Michigan governor signed two guns safety bills into law Thursday that deal with mandatory safe storage rules and universal background checks.
In a realm that rarely sees bipartisan support, Michigan Democrats needed every vote of their new-found majority in the state House and Senate this session to pass the bills. Gretchen Whitmer put pen to paper Thursday morning while flanked by lawmakers and advocates of gun safety reforms.
The signings come a day after Michigan State University students performed a walkout on campus to keep the spotlight on the theme of gun safety laws after a mass shooting in East Lansing earlier this year.
The gun safety bills that Whitmer signed are two of three legislative efforts that Democrats have pushed this session. A third law dealing with asking a court to take someone's gun away from them if a judge determines the individual is a danger to themselves or someone else is still in the legislature. 
It passed through committee on Wednesday but won't be voted on until Democrats have everyone available, exemplifying the thin margins in both chambers in Lansing.
MORE: State GOP leader Karamo doubles down on gun control tweet invoking Holocaust imagery
The two bills that Whitmer signed Thursday include:
Safe Storage: If you own a gun or if a minor is expected to be in your home, a gun owner will be required to lock their weapon away
Background checks: Someone purchasing a firearm at a gun show or through a private sale will need to have their background checked regardless of how they are buying it
Even after the bills are signed into law, they won't take effect until next year. That's because the legislation didn't receive enough support while in session. 
On Wednesday, the Michigan House pushed the red flag bill through the judiciary committee after amending the language to further strengthen rules related to due process.
The red flag laws deal with extreme risk protection orders that can be signed by a judge that prevents an individual from owning a gun if there's potential that person could harm themselves or others.