All-Star Fulmer outlasts Kluber as Tigers top Indians 5-3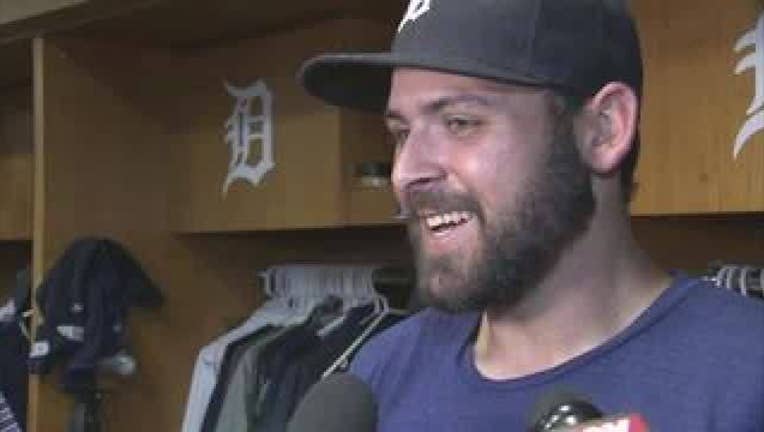 article
CLEVELAND (AP) - Michael Fulmer won't pitch in his first All-Star Game, not because he isn't worthy.
Under the bright lights and on a big stage Sunday night, Fulmer again showed why he's Miami-bound.
Fulmer outlasted All-Star teammate Corey Kluber, Alex Presley hit a tiebreaking, two-run double and the Detroit Tigers hung on late to salvage the series finale with a 5-3 win over the Cleveland Indians on Sunday night.
Fulmer (9-6) dominated the defending AL champions until the seventh inning, when he gave up a two-run homer to Indians All-Star third baseman Jose Ramirez.
Detroit's shaky bullpen then barely held together over the last three innings. Shane Greene worked out of a bases-loaded threat in the seventh and Justin Wilson did the same in the eighth while getting five outs for his 10th save in 11 tries.
Because Fulmer started the final game before the break, he'll watch the All-Star Game from the bullpen on Tuesday night. However, with one last chance to show his stuff, he made the most of a nationally televised matchup against Kluber by beating the Central-leading Indians.
"Obviously the pitcher he is, an All-Star as well, and his success the last four or five games, you see that on TV," Fulmer said. "I knew I had to put up zeroes for the most part."
Fulmer held Cleveland to one run and three hits over the first six innings and won his third start in a row.
After the Indians climbed within 5-3 in the seventh, Tigers manager Brad Ausmus pulled Fulmer and turned to his bullpen, which came in with the league's worst ERA.
And while Greene and Wilson walked the high-wire during their outings, they made sure the Tigers ended the unofficial first half on a high note.
"Greenie had my back and J-Will had Greenie's back," Fulmer said. "The bullpen did great."
A win over Cleveland is a positive way for Detroit to enter the break. The Tigers (39-4) had a rough first half and there are trade rumors swirling around the club, which could be looking to unload players and contracts before the July 31 deadline.
"We salvaged a win going into the break, not feeling sour about the way the game has gone," Ausmus said. "Hopefully the guys can have nice four days off and reset and be ready to go."
The Indians (47-40) were again without manager Terry Francona, who underwent a cardiac ablation to correct an irregular heartbeat and spent four days at the Cleveland Clinic. Francona is expected to rejoin the club following the All-Star break in Oakland.
The Tigers made Kluber, who didn't get any run support for the second straight game, work hard during his five-inning stint. He allowed just one run, and had his team record streak of consecutive games with at least 10 strikeouts end at five.
"They put together some good at-bats," Kluber said. "I didn't have my best command tonight. But they put together a lot of tough at-bats and they did a good job of extending some counts and had a lot of baserunners in a couple innings. I was able to keep it to just one run, but they were able to get the pitch count up pretty good."
Held to three hits in six innings, the Indians finally strung something together off Fulmer in the seventh. Edwin Encarnacion singled and with fans singing, "Jose, Jose, Jose, Jose," Ramirez connected for his 17th homer. Carlos Santana followed with a single and Ausmus brought in Greene, who got a fielder's choice and two strikeouts to preserve the two-run lead.
The Indians threatened again in the eighth, but Wilson worked out of another mess.
"That certainly is a well-earned save," Ausmus said. "Clearly having the next four days off played into it."
TALKING TRADES
The Tigers could be active sellers at the deadline. Cabrera said Detroit's players are aware their team might look very different in a few weeks.
"We're human. We think. We feel everything, but they have to do what they have to do to make this team better," he said. "It's not my business. It's baseball. It's part of it."
TRAINER'S ROOM
Tigers: LHP Daniel Norris (strained left groin) hasn't recovered enough to throw during the All-Star break and it's unclear when he'll return to the rotation. He went on the DL Thursday.
Indians: 2B Jason Kipnis is back on the DL with a strained right hamstring. Mills said Kipnis will likely be out longer than 10 days. Kipnis began the season on the DL with a sore right shoulder and has had a stiff neck. ... RF Lonnie Chisenhall left in the fourth with an injured right calf that could also require a stay on the DL.
UP NEXT
Tigers: Following the break, Detroit opens a three-game series at home against Toronto on Friday.
Indians: Cleveland will be represented by five players at the All-Star Game.