Astros power by Tigers 6-2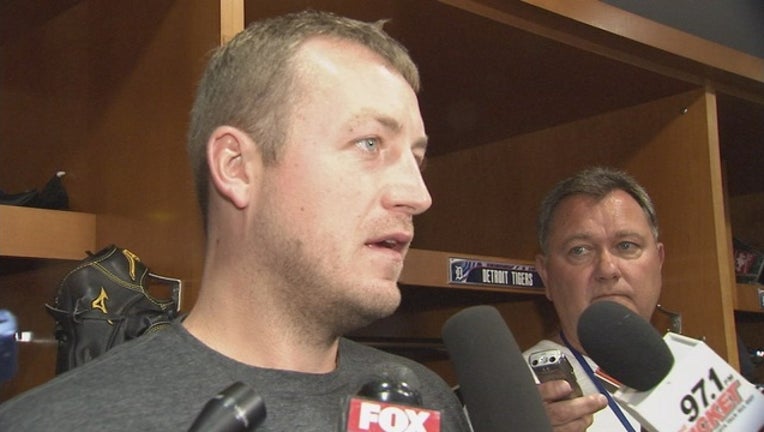 article
HOUSTON (AP) - For the second straight night the Houston Astros got a big contribution from a role player filling on for one of their injured stars.
Juan Centeno homered to help the Astros to a 6-2 win over the Detroit Tigers on Tuesday night after Brad Peacock had a solid start in place of ace Dallas Keuchel to help Houston to the win on Monday.
Centeno was making his debut with the Astros in place of catcher Brian McCann, who is on the 7-day concussion list.
"Wasn't that a great night for him? I always joke with the catchers, 'catch a winner and get some hits,' and he did both," manager A.J. Hinch said. "Had some really big hits and I thought he handled the game extraordinarily well given that's his first game this season with us."
His solo home run made it 3-0 in the fourth. The Tigers cut the lead to one on a two-run homer by Mikie Mahtook in the seventh inning before Centeno singled and scored as Houston tacked on two runs in the bottom of that inning to push the lead to 5-2.
Houston starter Lance McCullers (5-1) allowed a season-low one hit in five innings to extend his American League-leading streak of scoreless innings to 22. But his early exit came after he needed 96 pitches to get through the fifth in what was his third straight start without allowing a run.
He raved about the work of Centeno.
"We were on the same page a lot," McCullers said. "And to come up and fill in and catch that well and to have that big homer and a big single for us, hat's off to him. He did an amazing job."
Jordan Zimmermann (4-3), who turned 31 on Tuesday, yielded five hits and four runs - two earned - in six-plus innings for the loss.
Mahtook, who had Detroit's only hit in a 1-0 loss on Monday night, cut the lead to 3-2 with his two-run homer with two outs in the seventh inning off Michael Feliz. That homer was just Detroit's second hit of the game and snapped a scoreless streak of 22 2/3 innings for the Tigers.
"We're going to hit. I'm not worried about it. That's the truth," manager Brad Ausmus said. "You ask people around baseball if the Detroit Tigers are going to hit. It'll be a unanimous yes. We're going to hit, we just haven't hit the last few days."
The Astros added a run in the seventh when George Springer hit a ball to reliever Alex Wilson and his throw to second base sailed past Ian Kinsler and into the outfield for an error that let him reach and Centeno score. Houston made it 5-2 on a sacrifice fly by Josh Reddick.
The Astros took a 1-0 lead on Gurriel's homer to left-center with no outs in the second. They added a run in the third when third baseman Nick Castellanos committed an error on a grounder hit by Jose Altuve to allow Reddick to score.
McCullers plunked Kinsler to start the game and walked J.D. Martinez with one out in the second, but didn't allow a hit until a groundball single by Miguel Cabrera with one out in the fourth. But the Tigers couldn't get anything going after that until Mahtook's homer in the seventh.
TRAINER'S ROOM
Astros: SS Carlos Correa was out of the lineup on Tuesday because he wasn't feeling well. Hinch didn't specify exactly what was wrong with him, but said he "came in a little sick today," and added: "I'm not going to have him play when he's not feeling great."
WATSON HONORED
Bob Watson, a former major league player, coach, general manager and league executive, was honored by the Baseball Assistance Team with its lifetime achievement award before Tuesday's game. MLB commissioner Rob Manfred, Joe Torre and many of Watson's former teammates honored him in a pre-game ceremony which also featured a video tribute with messages from Yankees manager Joe Girardi and general manager Brian Cashman.
TOUGH BIRTHDAY LUCK
Tuesday was the second time Zimmermann has pitched in the majors on his birthday and was the second loss on his big day. The first time he pitched on his birthday came in 2014 at Pittsburgh when he allowed seven hits and four runs in the loss.
UP NEXT
Tigers: Daniel Norris (2-3, 4.81 ERA) will start on Wednesday for Detroit. He yielded seven hits and five runs in 5 2/3 innings of a 5-3 loss at Texas on Friday.
Astros: Charlie Morton (5-3, 4.15) starts for Houston on Wednesday. He allowed eight hits and four runs in 5 1/3 innings of a 5-3 loss to Cleveland on Friday in his last start.