Atkinson, Bobrovsky Lift Blue Jackets Over Red Wings 2-1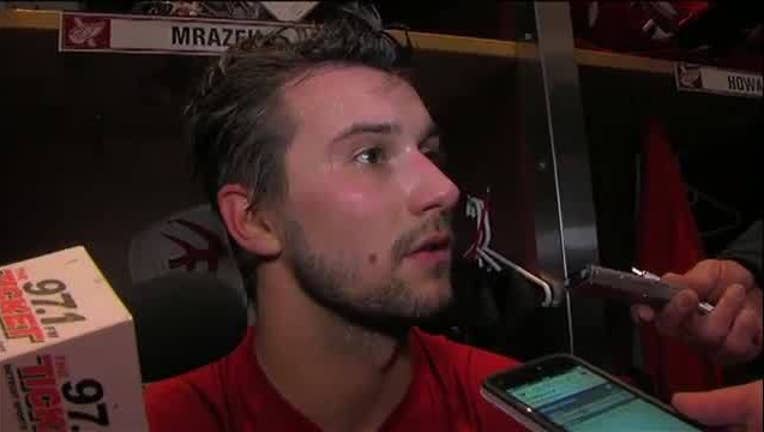 article
COLUMBUS, Ohio (AP) - Columbus goaltender Sergei Bobrovsky slammed the door after the first period, and the Blue Jackets held on to beat the Detroit Red Wings on Saturday night for the second time in four days.
The All-Star stopped 35 shots and held off a furious Red Wings push in the final period, and Columbus won 2-1, with the final horn sounding just as a shot by Detroit's Thomas Vanek bounced off the goal post.
"I had fun tonight," said Bobrovsky, who also was in net Tuesday night when the Blue Jackets pulled out a 3-2 win in overtime.
Cam Atkinson scored the go-ahead goal in the second period with his team-leading 27th tally of the season. Boone Jenner also scored and Brandon Dubinsky had two assists for Columbus.
The Jenner-Dubinsky-Atkinson line has been the team's most productive.
"Boone is playing like a beast right now," Dubinsky said. "He's running guys over, he's playing like a linebacker almost. When he plays that way, he just creates turnovers and creates room out there."
Vanek scored for the Red Wings, but Detroit dropped its third straight game. That was despite the efforts of Petr Mrazek, who had 37 saves.
"I thought we created enough chances to win," Detroit coach Jeff Blashill said. "I also thought we got good enough goaltending to win. In the end, we didn't come away with any points, so that's very disappointing."
This was Detroit's first game since owner Mike Ilitch died Friday at age 87.
Columbus got on the board halfway through the first period when Dubinsky launched a shot from just inside the blue line that Jenner tapped past Mrazek .
The Red Wings have the NHL's worst power play but scored on a man advantage with 3:54 left in the first when Vanek tipped a pass from Henrik Zetterberg over Bobrovsky's glove-side shoulder.
Atkinson put Columbus ahead 2-1 with 8:33 left in the second period. He jammed a loose puck in from the doorstep, with Dubinsky and Jenner picking up assists.
"I think we just stuck with the game plan," Jenner said. "I don't think we veered off. We had our focus. They're going to push a couple times, but we handled it well and it was a pretty consistent 60 (minutes) for us."
Bobrovsky frustrated the Red Wings in the final period with 11 stops, including a terrific glove save of a rocket shot by Tomas Tatar from right in front of the net.
"They (Columbus) are rolling four lines and playing hard and they're playing a good system, so it is a tough team to play against," Zetterberg said. "But I thought we matched up pretty well."
NOTES: Blashill lamented the loss of Ilitch: "When I took this job, I felt like I was going to work for the best ownership in sports, and that certainly played out to be true," he said. ... Atkinson's 27th goal matched his total for all of last season. ... Columbus D David Savard was back in the lineup after missing five games with back problems. ... Detroit D Jonathan Ericsson is expected to miss three months after fracturing his right wrist in the Red Wings' loss on Thursday. ... Detroit C Frans Nielsen returned after missing three games with an upper-body injury. ... Columbus recalled G Anton Forsberg from Cleveland of the American Hockey League on Friday and sent down G Joonas Korpisalo and W Oliver Bjorkstrand.
UP NEXT:
Detroit: Plays at Minnesota on Monday night.
Columbus: Stays home to play the New York Rangers on Monday night in the second of seven straight home games.