Boyd, Avila Lead Tigers Past Indians 4-1 For Series Win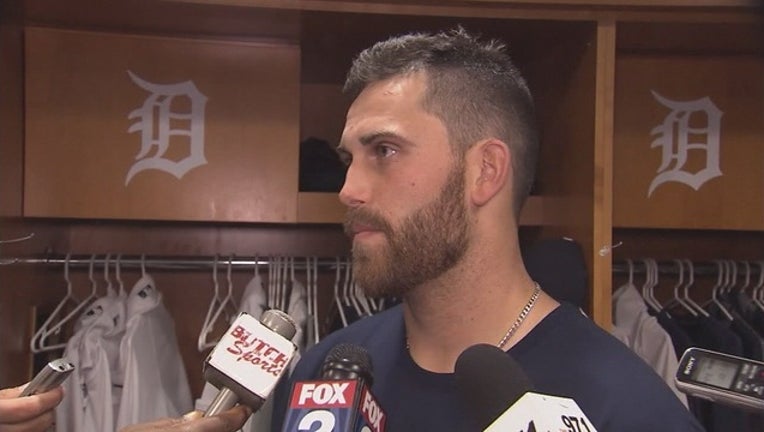 article
CLEVELAND (AP) - Francisco Rodriguez thought the Detroit Tigers proved a point to their biggest rival.
Matthew Boyd allowed one run in six innings, Alex Avila hit a two-run homer and Detroit defeated the Cleveland Indians 4-1 on Sunday to take two of three from the AL champions.
Cleveland went 14-4 against Detroit last year as it won the AL Central.
"It was great," said Rodriguez, who pitched the ninth for his fifth save. "We don't have to dig too much to remember what happened last year. These three games were totally different."
The Indians have lost seven of nine after an opening three-game sweep of Texas.
"We still have a long way to go and we have a lot of games to play," shortstop Francisco Lindor said. "Yeah, we don't want to get too far behind, but we have the right group of guys to be successful."
Boyd (2-1) won his second straight start, and Alex Wilson, Justin Wilson and Rodriguez combined with one-hit relief to finish the seven-hitter. Rodriguez worked around Jose Ramirez's one-out double.
Carlos Carrasco (1-1) made his first appearance against Detroit since his right hand was broken by Ian Kinsler's line drive in September. Carrasco gave up two runs, four hits and five walks in 6 2/3 innings. He struck out five, including Justin Upton three times.
Avila hit a two-run homer in the second, and Ramirez cut the gap in half with a sacrifice fly in the sixth. Ramirez had a career-high six RBIs Saturday.
Miguel Cabrera added an RBI single in the eighth before leaving with lower back tightness, and Zach McAllister threw a wild pitch that allowed JaCoby Jones to score from third.
Cleveland's Edwin Encarnacion, signed to a $60 million, three-year contract in January, was 1 for 4 with two strikeouts and is batting .205 (9 for 44). Cleveland went 2-4 on its first homestand before starting a seven-game trip.
Alex Wilson remained in the game after taking Yandy Diaz's ground ball off the left side of his face in the seventh. The one-hopper glanced off Wilson's left wrist and struck him near an eye. He retrieved the ball and threw Diaz out at first before going down on one knee. Wilson was examined by a team trainer and struck out the next two hitters.
"It caught me on my left eyebrow and eyelid," Wilson said. "I stayed in but really couldn't see because it was watering so much. I'm actually proud of myself just getting it to home plate."
PACE OF PLAY
The top of the seventh featured cideo reviews on consecutive pitches. Plate umpire Dana DeMuth ruled Jose Iglesias was hit on the left shoulder by a pitch, moving Andrew Romine to second. The Indians challenged the call and the ruling was reversed.
Romine, who was sent back to first, was called out trying to steal second on the next pitch. The Tigers challenged the play, but the call stood.
TESTING
Indians left fielder Michael Brantley made a diving catch of Cabrera's line drive in the sixth, landing on his right shoulder. Brantley injured the shoulder attempting a diving grab late in 2015 and appeared in only 11 games last season after undergoing surgery twice.
TRAINER'S ROOM
Tigers: OF J.D. Martinez (sprained right foot) is working out at the team's spring training facility in Lakeland, Florida, and planned to visit his teammates when they arrive in Tampa Bay for a series that begins Tuesday.
Indians: 2B Jason Kipnis (sore right shoulder) had an RBI double in a minor league rehab game at Triple-A Columbus. He also is to play for Columbus on Tuesday and Wednesday.
UP NEXT
Tigers: RHP Michael Fulmer opens a three-game series Tuesday at Tampa Bay. The reigning AL Rookie of the Year went 2-0 with a 0.64 ERA against the Rays in 2016.
Indians: RHP Danny Salazar starts Monday in the opener of a four-game set at Minnesota. He tied a career high with 11 strikeouts against the Chicago White Sox on April 12.