Cabrera Hits 3-Run HR, Tigers Beat Indians 7-6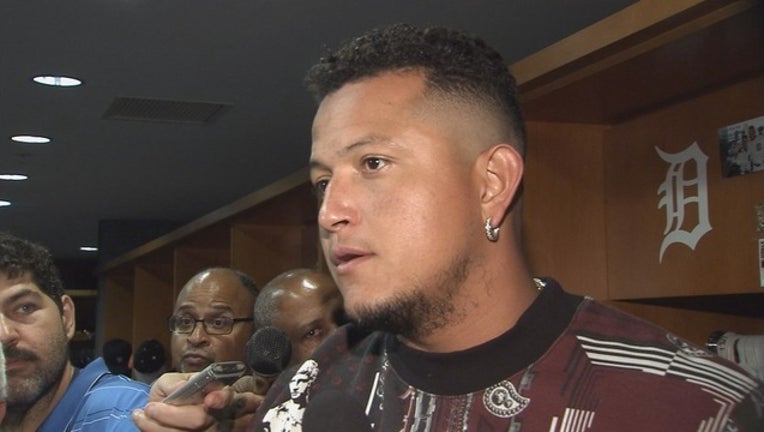 article
CLEVELAND (AP) - Miguel Cabrera got angry Friday night. And that was bad news for the Cleveland Indians.
Cabrera hit a three-run homer in the fifth inning after being brushed back in the first, and the Detroit Tigers beat Cleveland 7-6, sending the defending AL champion Indians to their sixth loss in seven games.
The first-inning incident resulted in a shouting match between Cabrera and Indians manager Terry Francona following an inside pitch from Trevor Bauer. Cabrera yelled and gestured toward Cleveland's dugout after the pitch.
"It was an argument between Francona and me, and that's it," Cabrera said. "No one else. He made his point, I made my point. It was just Francona and me. I say something bad, he said something back to me."
"I'm not really sure what he wanted me to do," Francona said. "I'm not going to run down the steps and hide. I just told him to hit - and he did."
Cabrera responded in the fifth by lining a 1-1 pitch from Bauer (0-2) into the right-field seats to give Detroit a 4-0 lead. Cabrera, who was booed after the incident, slowly trotted around the bases.
Bauer said he was trying to throw a strike on the pitch that caused Cabrera to get upset.
"He can't hit the pitch in, but when you throw in there it doesn't get called a strike or he check-swings, takes a full swing and it gets called a ball, he gets upset," Bauer said. "He's one of the best hitters in the game so he gets a lot of those calls."
Alex Avila added a two-run homer in the sixth for Detroit, which played its first night game of the season.
Daniel Norris (1-1) allowed two hits in six scoreless innings.
Francisco Rodriguez allowed pinch-hitter Lonnie Chisenhall's grand slam in the ninth, but struck out Austin Jackson for his fourth save.
Cleveland dominated Detroit last season, winning 14 of 18 games on its way to the Central Division title.
Bauer allowed six runs in five-plus innings for the Indians, whose starting pitchers are 1-6 with an AL-worst 6.58 ERA.
The hard feelings between Bauer and the Tigers go back to a September game at Progressive Field when the right-hander hit three Detroit batters, including Cabrera. Bauer also hit Ian Kinsler in the helmet, resulting in a concussion.
"Bauer wasn't trying to do that, but players remember what happened last year when three guys got hit," Detroit manager Brad Ausmus said. "At some point, you get sick of it."
Edwin Encarnacion, who signed a three-year, $60 million contract with Cleveland in January, was 2 for 4 with a walk, and is batting .194.
Norris remained in the game after being hit in the back of the left shoulder by a line drive in the third.
Michael Brantley wasn't in the lineup as part of a planned day off. The Indians are being cautious with Brantley, who had two shoulder operations last year and played in only 11 games.
DOBY REMEMBERED
The Indians are donating $1 million to several area groups for the Larry Doby Youth Fund Grants, which the team created last year. The fund supports community organizations that provide educational assistance and resources to help curb youth violence.
Doby became the first African-American player in the American League in 1947. A ceremony will be held honoring the recipients before Saturday's game, which is Jackie Robinson Day around the majors.
TRAINER'S ROOM
Tigers: OF J.D. Martinez (sprained right foot) is taking swings off a pitching machine, but hasn't been cleared to run on a field.
Indians: 2B Jason Kipnis, hit by a pitch on the left hand during a minor league game Wednesday, will continue his rehab assignment Saturday at Triple-A Columbus. He's on the 10-day disabled list with a sore right shoulder.
UP NEXT
Tigers: RHP Justin Verlander makes his 49th career start against the Indians, his most against any team.
Indians: RHP Corey Kluber pitches on five days rest after taking a 3-2 loss at Arizona on April 9.