Carrasco has "immaculate inning" as Indians roll Tigers 11-2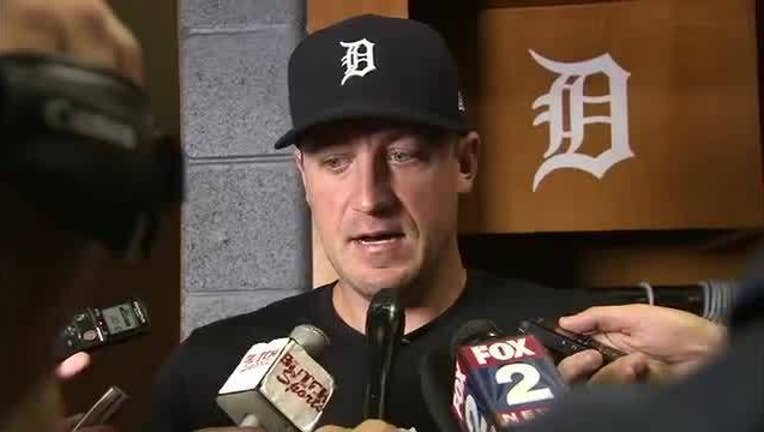 article
CLEVELAND (AP) - Carlos Carrasco pitched one immaculate inning and six more impressive ones.
Carrasco handled Detroit's lineup for the second time in a week - striking out a season-high 11 and pulling off a rare nine-pitch, three-strikeout inning - and Lonnie Chisenhall hit a two-run homer, leading the Cleveland Indians to an 11-2 win over the Detroit Tigers on Friday night.
Carrasco (10-3) allowed two runs in seven innings to win his fifth straight decision. He limited the Tigers to one run in seven innings on July 1.
The right-hander also recorded an "immaculate inning" by striking out the side in the fifth on nine pitches. Carrasco is just the second pitcher in Cleveland history to do it, joining Justin Masterson (2014). He's also only the 84th in major league history, according to Major League Baseball's website.
Carrasco didn't realize he had done something special until he got back to the dugout.
"It was really impressive," he said. "It felt good."
Carrasco didn't make the All-Star team, but Indians shortstop Francisco Lindor believes he should have.
"I know he's got the stuff to be a No. 1 starter and he deserves to be in the All-Star Game," said Lindor, had three RBIs. "It's just whenever he goes out there and does what he does best, it's pretty special. It's pretty cool. Whenever you see big league hitters miss the ball by 5 feet, that means he's doing something right."
Chisenhall connected in Cleveland's five-run third off Jordan Zimmerman (5-7), who remains winless since June 3.
Michael Brantley had four RBIs, Lindor drove in three and rookie Bradley Zimmer homered for the Indians, who played their fourth straight game without manager Terry Francona. He remains in the Cleveland Clinic following a heart procedure.
Tigers designated hitter Victor Martinez collected his 2,000th career hit with a single in the second inning. Martinez received a lengthy standing ovation from Indians fans, who cheered him for eight seasons before he was traded in 2009.
Francona remains hospitalized after undergoing a cardiac ablation to correct an irregular heartbeat. The 58-year-old had been experiencing light-headedness and a rapid heart rate over the past month and doctors feel they have treated the problem.
Francona will likely be discharged over the weekend, but will skip the All-Star Game in Miami next week before rejoining the Indians on Thursday for a workout in Oakland.
Chisenhall's two-run homer capped a five-run, five-hit third inning off Zimmerman.
Brantley hit a two-run double and Jose Ramirez beat out an infield single to drive in Cleveland's third run before Chisenhall belted his 12th homer, dropping to a knee to admire his no-doubt-about-it liner to right.
The Tigers threatened to draw closer in the fourth, but Carrasco got Miguel Cabrera to hit into a double play.
Then, he took care of things himself in the fifth. He fanned Nicholas Castellanos, Mikie Mahtook and Jose Iglesias in order - each of them going down on sliders. He struck out the side again in the sixth, but also gave up a run and three hits.
Castellanos struck out three times against Carrasco.
"He didn't really miss over the plate too much, and his slider was on point," he said. "I couldn't really pick it up."
SPECIAL MOMENT
Martinez became the ninth active player to reach 2,000 hits. As the crowd saluted him, Martinez hugged Detroit first-base coach Omar Vizquel, one of his teammates with the Indians.
Martinez was moved to tears when the Indians dealt him away eight years ago to Boston in exchange for pitchers Masterson, Nick Hagadone and Bryan Price.
Following the game, Martinez was savoring a moment he won't soon forget.
"It's special to have it done here," said Martinez, who got his first hit in Cleveland in 2002. "I feel like it's where everything started for me. I will always remember this day, until I die."
ACE IN PLACE
Corey Kluber's All-Star appearance will be strictly ceremonial. Because Cleveland's ace will start Sunday night's series finale, he will not pitch Tuesday in Miami.
It was an easy decision for the Indians, who weight his workload over the past year along with a recent back injury and his next outing.
"He's going to be starting not only on Sunday, but pitching on Sunday night, and then arriving in Miami at 4 o'clock in the morning," said team president Chris Antonetti. "You take the totality of those factors into consideration, and it didn't make sense for him to pitch."
TRAINER'S ROOM
Tigers: Manager Brad Ausmus is confident LHP Daniel Norris, placed on the DL Thursday with a mildly strained left groin, will return after the All-Star break.
Indians: 1B Carlos Santana is expected back on Saturday after being on the paternity list. Outfielder Abraham Almonte is expected to be optioned to Triple-A Columbus.
UP NEXT
Tigers: Justin Verlander, whose name has been popping up in trade speculation, makes his second start against the Indians in week. Last Sunday, Verlander failed to record a strikeout against Cleveland, snapping a streak of 331 games with at least one strikeout.
Indians: Mike Clevinger held the Tigers to two hits over six innings in his last start. He's 0-2 with a 4.43 ERA at home this season.