Celtics Sneak By Pistons 104-98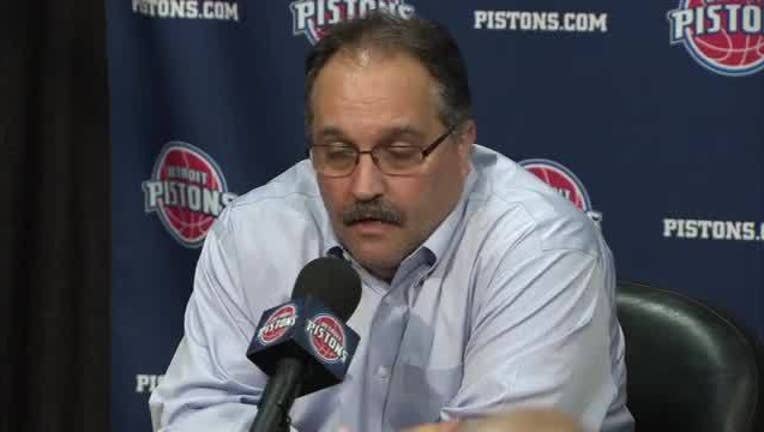 article
AUBURN HILLS, Mich. (AP) - Jaylen Brown was ready to shoot when the ball came to him in the right corner.
Even he couldn't have anticipated what was to come.
Brown sank a 3-pointer while being fouled with 37.6 seconds remaining, and the Boston Celtics ended up with five points on that possession, taking the lead for good in a 104-98 victory over the Detroit Pistons on Sunday night.
"I was just waiting in the corner," Brown said. "I told myself, if he passes, I'm going to shoot it."
The Celtics were down 96-95 when Brown connected while being fouled by Marcus Morris. Brown missed the ensuing free throw, but Detroit couldn't come up with the rebound, and Tobias Harris was called for a loose-ball foul. Marcus Smart added two free throws to put Boston up 100-96.
Isaiah Thomas led the Celtics with 33 points. Andre Drummond had 17 points and 15 rebounds for the Pistons, but he went 1 of 11 on free throws and was taken out for some key possessions toward the end to prevent Boston from fouling him.
Detroit went 16 of 35 from the line, while the Celtics were 24 of 30.
"Obviously, the free throws were a major issue, but that's not one guy. If you take away Andre, the other guys shot 62.5 percent, and that's not good enough," Detroit coach Stan Van Gundy said. "We had five more free throws than they did, even giving three fouls at the end, and we made eight fewer. It's tough to win a game like that."
The Pistons rallied from a 15-point third-quarter deficit and led 96-95 when Reggie Jackson missed a 3-pointer with just under a minute remaining. That gave the Celtics a chance to take the lead, and Brown capitalized.
"We can't put everything on Isaiah, especially when teams know where we're trying to go," Smart said. "They're going to try everything they can to get the ball out of his hands and make other guys make plays and that's what we did tonight."
HONORED
The Pistons retired Richard Hamilton's No. 32 during a halftime ceremony attended by several other players from Detroit's 2004 championship team.
CONFIDENT
Brown is shooting 33 percent from 3-point range in his rookie season and says he's worked hard on his outside shot. Celtics coach Brad Stevens was happy Brown took the open shot at the end.
"He put it up because it's the right thing to do at that time," Stevens said. "Doesn't matter when the moment is, doesn't matter if it's the first quarter, fourth quarter. If you're open on a catch-and-shoot shot and somebody made a play for you, you have to shoot it."
PULLED
Drummond left the game with 4:12 remaining in the fourth, immediately after missing two free throws. He didn't go back in until the final half-minute, and the Pistons struggled on the boards without him.
"Yes, we need to get defensive rebounds, but we don't have 20 timeouts to keep taking him out of the game, and stops won't help us if they foul him and we don't score," Van Gundy said.
TIP-INS
Celtics: Thomas has scored at least 20 points in 43 straight games. ... Boston led 54-50 at halftime and began the third quarter with a 13-2 run. ... The Celtics were without G Avery Bradley, sidelined by a sore right Achilles tendon.
Pistons: Detroit recalled forward Henry Ellenson and guards Darrun Hilliard and Michael Gbinije from the team's Grand Rapids affiliate in the D-League. They did not play.
UP NEXT
Celtics: Host the Atlanta Hawks on Monday night.
Pistons: Host the Portland Trail Blazers on Tuesday night.