Drummond's 20-20 game leads Pistons past Wizards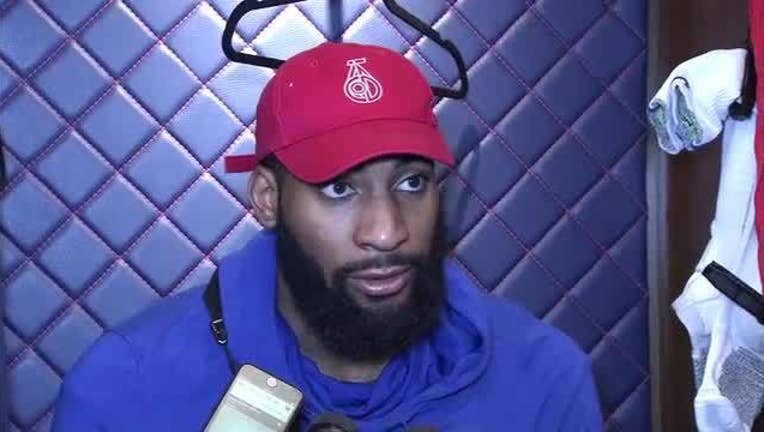 article
DETROIT (AP) - The Detroit Pistons might have waited too long to start a serious push for the playoffs, though they are hoping to at least make things interesting for the Milwaukee Bucks.
Andre Drummond scored 24 points and pulled down 23 rebounds, and the Pistons beat the Washington Wizards 103-92 on Thursday night for their fifth win in six games.
"This wasn't a pretty game, but we found a way to get the win and stay in the hunt," Reggie Jackson said. "Andre deserves a lot of credit for that, because he was great. We know he can get big numbers, but he was taking away everything in the post tonight. That was huge."
The Pistons moved within 4 ½ games of the Bucks for the last Eastern Conference playoff spot. The Bucks played at the Golden State Warriors later on Thursday.
Detroit was missing power forward Blake Griffin, who was a late scratch with an ankle contusion. Griffin, who was getting an MRI on Thursday night, is averaging 19.8 points, 6.6 rebounds and 6.2 assists in 25 games since joining Detroit late January.
In his absence, the Pistons went back to the high pick-and-roll offense that worked so well for Jackson and Drummond.
"Reggie still doesn't have his legs back - he played 28 minutes tonight and he was really tired - but we were able to go back to running that offense," Pistons coach Stan Van Gundy said. "He had eight assists, but if you look at the passes he made where we missed shots, he could have had even more."
Anthony Tolliver, starting for Griffin, scored 14 points, while reserve post players Henry Ellenson and Eric Moreland combined for 11 points and seven rebounds in 26 minutes.
"A.T. was really good, but we expect that from him," Van Gundy said. "It was Henry and Moreland who were huge. Henry hasn't played on a regular basis since we got Blake, but he did a great job for us tonight."
Bradley Beal had 15 points for Washington and Kelly Oubre added 14. The Wizards, who would have clinched a playoff spot with a win, have lost four of five.
"We know, and that's the most disappointing part of this," Beal said. "We just have to put that behind us and win some more games."
Both teams struggled in the first half, which finished with a 49-all tie. They combined to shoot 6 for 25 (24 percent) on 3-pointers, while the Pistons turned the ball over nine times. Drummond had seven points, 12 rebounds and a blocked shot in the half, while Beal led the Wizards with 10 points.
Otto Porter Jr. had to be helped off the court early in the third quarter with a sprained right ankle, and the Pistons were able to move the lead to 63-55.
"We don't know how serious it is, but we think it is a mild sprain, which is a great sign," Wizards coach Scott Brooks said. "We'll see how he is in a couple days, and then a couple more days, and we'll make our decisions."
Drummond scored 13 points in the third, giving him 20 for the game and Detroit finished the quarter on an 8-0 run to take an 81-66 lead. Beal was injured in a collision with Ellenson at the end of the quarter, but returned in the fourth.
"We just couldn't make any shots in that quarter and we weren't attacking," Brooks said. "When nothing's falling, you have to manufacture points at the line, and we couldn't even get into the bonus."
The Wizards cut the gap to 91-87 with 5:15 left, but Detroit scored the next six points, including four from Jackson.
TIP-INS
Wizards: Brooks said before the game that John Wall (knee) is close to returning and could play as soon as Saturday against the Charlotte Hornets.
Pistons: Detroit announced an honorary call-up of G League forward Zeke Upshaw, who died Monday of heart problems after collapsing during a game on Saturday. Upshaw, 26, was in his second season with the Grand Rapids Drive, Detroit's G League affiliate.
DRUMMOND'S BIG GAMES
Drummond recorded the 20th 20/20 game of his career, the most of any NBA player since he joined the league in the 2012-13 season. DeAndre Jordan (15) is the only other player with more than 10.
"Obviously, 24 and 23 is incredible, but that doesn't tell you how good he really was," Van Gundy said. "He was so active on both ends of the floor that he changed the game."
UP NEXT
Wizards: Host the Charlotte Hornets on Saturday.
Pistons: Visit the New York Knicks on Saturday in the first game of a New York City back-to-back.