Ducks skate by Red Wings 4-2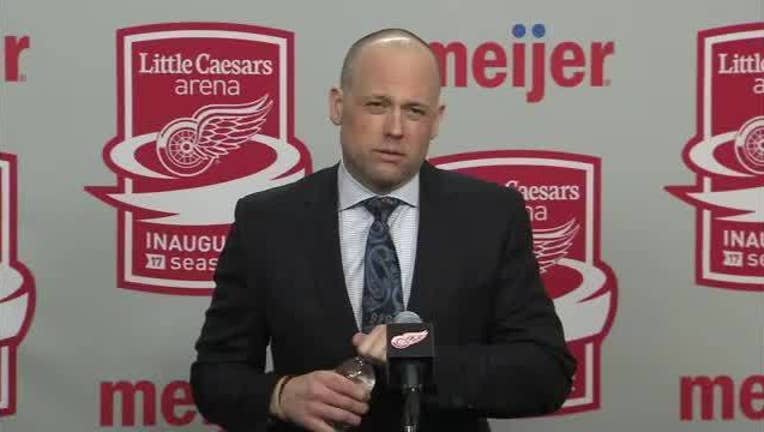 article
ANAHEIM, Calif. (AP) - The Anaheim Ducks and Detroit Red Wings are no longer in the same conference, but share enough institutional memory and bad feelings to give their games a little extra charge.
The Ducks fed off the emotion of that throwback hockey, including three fights, to boost their position in the playoff chase.
Corey Perry scored a tiebreaking goal late in the second period, John Gibson made 28 saves and the Ducks defeated the skidding Red Wings 4-2 on Friday night.
"It's old-time hockey and the league's turned pretty soft, so it's fun when you have games like that," Anaheim center Ryan Kesler said.
Kesler, Nick Ritchie and Derek Grant each had a goal for the Ducks, tied with Los Angeles for third place in the Pacific Division. Anaheim has 84 points - also the same amount as Colorado and Dallas, which hold the two wild-card spots in the Western Conference.
Anaheim does not own the tiebreaker for regulation and overtime wins against the Kings, Avalanche or Stars.
"We knew what was at stake and every night we're battling. It's going to come right down where every point and night matters," said Perry, who joined Ritchie and Kesler in coming up an assist shy of Gordie Howe hat tricks after each participated in a fight.
Perry gave the Ducks a 3-2 lead at 16:42 of the second, getting to the back post to score off Ryan Getzlaf's pass. Perry has 10 points, including four goals, in his last nine games.
Kesler made it 4-2 at 5:04 of the third, following up his own rebound with a backhand past Jimmy Howard.
Gustav Nyquist scored in his third straight game for the Red Wings, who lost their ninth in a row to match their longest slide since dropping nine straight in February 1986. Mike Green also had a goal and Howard made 32 saves in Detroit's eighth consecutive road loss.
"We need to figure out something real quick. It is embarrassing to lose that much. We need to start playing a good game and having pride in playing," Red Wings forward Anthony Mantha said.
Ritchie put the Ducks up 1-0 at 6:02 of the first on a one-timer from the slot, only for Green to tie it 1-all at 17:14 when he was left alone in the left circle.
Grant made it a 2-1 lead for Anaheim at 2:48 of the second, only to be canceled out by Nyquist's 19th goal at 7:10.
Anaheim coach Randy Carlyle credited Ritchie's fight with Luke Witkowski in the first for picking up the Ducks en route to their fifth win in the last six home games.
"When we get engaged to that level, we can be a very, very dangerous team and that's important for us, but to stay disciplined," Carlyle said. "It's not about the extracurricular all the time. It's about making sure that we find the right way to energize ourselves, and if that's what it takes, great."
Veteran Red Wings center Henrik Zetterberg thought his team also got an initial lift from the donnybrooks, which saw Justin Abdelkader fight Perry, and Mantha square off with Kesler in quick succession late in the second.
"It was fun to play a little battle hockey," Zetterberg said. "You don't see that that often anymore, so that was nice. I thought the guys stood up for their teammates and themselves, and it's good to see."
NOTES: The Ducks have killed off 31 straight penalties at home. ... The Red Wings are 1-29-5 when trailing after two periods. ... Getzlaf has three goals and 14 assists in his last 11 games. ... Jakob Silfverberg had two assists.
UP NEXT
Red Wings: Close their five-game road trip at Colorado on Sunday.
Kings: Host the New Jersey Devils on Sunday night.