Emotional Hamilton Back At Palace As Pistons Retire No. 32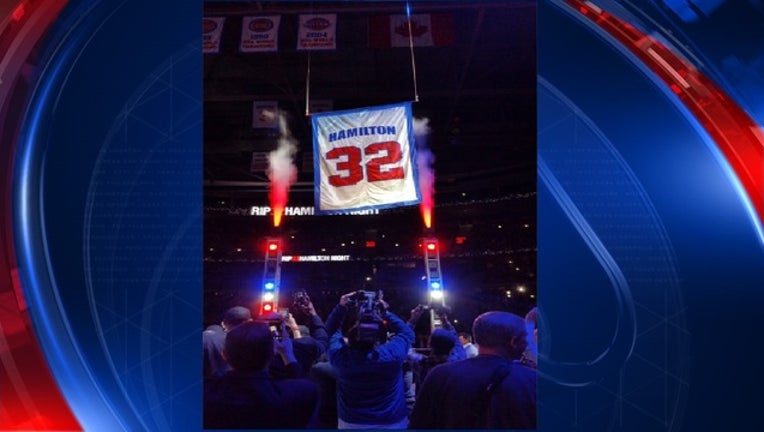 article
AUBURN HILLS, Mich. (AP) - By the time Richard Hamilton's tenure with the Detroit Pistons was over, the franchise was far removed from its days among the NBA's elite. His final season with the team was a tumultuous one, and his exit seemed like the best move for everyone involved.
Once he was away, however, Hamilton realized what he'd left behind.
"I didn't leave here on good terms," Hamilton said before Detroit's game Sunday night against Boston. "Every day I was in that locker room with that Bulls uniform on, it's like, 'This ain't me. I'm a Piston.'"
Hamilton was back at The Palace on Sunday, when the Pistons retired his No. 32 jersey at halftime of the game against the Celtics. It was an emotional honor for Hamilton and the Detroit fans, not just because of his contributions to the team over the years, but because it reflected a healing of sorts between him and the organization.
Hamilton last played with the Pistons in an acrimonious 2010-11 season. He had a falling out with coach John Kuester and was benched for most of a seven-week stretch, and Detroit eventually agreed with Hamilton on a buyout before the following season.
He ended up with Chicago, but the memories he left behind in Detroit were proud ones. Hamilton teamed up with Chauncey Billups, Ben Wallace, Tayshaun Prince and Rasheed Wallace as the core of Detroit's 2004 team that won the NBA title.
Those four former teammates were on hand for Sunday's celebration, and so was Larry Brown, their coach on that championship team.
"I already cried three times, so I'm trying not to cry again today," Hamilton said at a pregame media session.
Hamilton indeed was wiping away tears on the court at halftime after the ceremony began, especially when Billups stood to speak.
"You made me better every day," Billups said. "Not only did you make me better, you made our team better."
Hamilton spoke at length to the crowd - in fact, after thanking so many people close to him, he appeared a bit rushed at the end, with the game needing to resume.
"Detroit, the fans, I love you," he said moments before his number went to the rafters. "Thanks a lot."