Fiers eager for a chance to contribute to rebuilding Tigers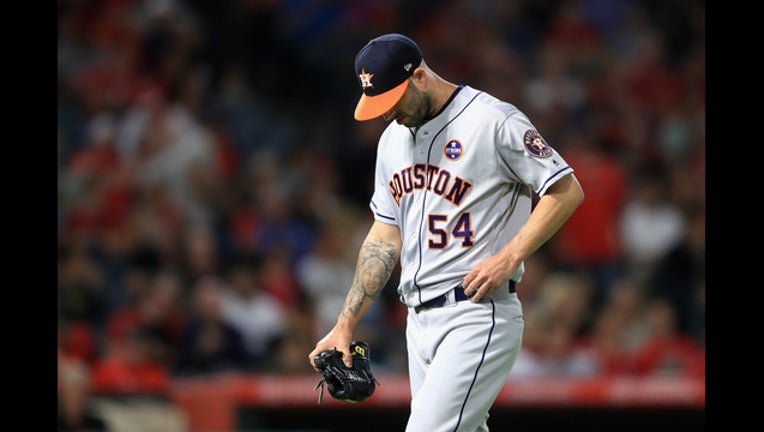 article
LAKELAND, Fla. (AP) - Mike Fiers has thrown a no-hitter and pitched for a World Series champion.
He's also experienced the other end of the baseball spectrum, so the 32-year-old right-hander tries not to take anything for granted.
"I've got to be very thankful for everyone that's given me a chance," Fiers said Friday. "And definitely Detroit this year, giving me another opportunity to start and really show my ability out there on the field."
Fiers signed with the Tigers in December after an eventful two-plus seasons in Houston. In 2015, shortly after being traded from Milwaukee to the Astros, Fiers pitched a no-hitter . He was still with Houston last year when the Astros won the World Series, but he was left off the roster during the postseason, and the team eventually let him go. He caught on with the rebuilding Tigers as one of Detroit's few significant offseason additions.
"The biggest thing is just an organization wanting me to play for them. I think that goes a long way," Fiers said. "When I was with Milwaukee, they drafted me, but Houston trading for me said a lot. Then when they ended up feeling I didn't help them anymore, a team like Detroit was right away trying to get me - and felt like I could help this team."
Fiers was 26 when he made his big league debut in 2011 with the Brewers. He went 9-10 with a 3.74 ERA the following year, averaging more than a strikeout per inning, and he was effective for a good portion of his tenure with Milwaukee before being traded to Houston.
His no-hitter against the Los Angeles Dodgers came less than a month after that deal, but his numbers were nothing special with the Astros. He went 11-8 with a 4.48 ERA in 2016 and 8-10 with a 5.22 ERA last year. Houston added Justin Verlander last August, and Fiers didn't pitch much after that.
Winning the championship was a highlight, obviously, but the end of the season was still a little bittersweet.
"To be left off the roster, it definitely hurts, but you can't complain too much," Fiers said. "Ended up winning the World Series, which is definitely a big accomplishment, because being with that team all year, I felt like I got them to the point of being in the playoffs - taking the ball every fifth day, and picking the guys up when we had a lot of injuries."
That's what the Tigers want from Fiers - reliability and professionalism. Detroit finished tied for the worst record in the majors last year, and its rotation is a question mark beyond right-hander Michael Fulmer. Jordan Zimmermann can provide veteran leadership but has struggled to stay healthy, and lefties Daniel Norris and Matthew Boyd have had their ups and downs.
Fiers came to the Tigers with a $6 million, one-year contract.
"He's a veteran. He knows how to pitch. He's not going to blow you away with anything, but he really knows how to locate the ball," Detroit manager Ron Gardenhire said. "He's deceptive and the whole package. He's a guy that can eat up innings, he can do a lot of those things."
Fiers has made at least 28 starts with at least 150 innings in each of the past three seasons, so if he stays healthy, he could take some of the pressure off the rest of the staff - and be an effective mentor.
"He's really important to the mindset of these younger pitchers, and the thought processes of how you pitch. He's able to pitch with less than that top velocity," Gardenhire said. "That's important, to have a guy around, and these guys can sit and watch him throw the ball and locate the baseball, and they'll understand it."