Fiers, passed ball help Tigers top White Sox 1-0 for sweep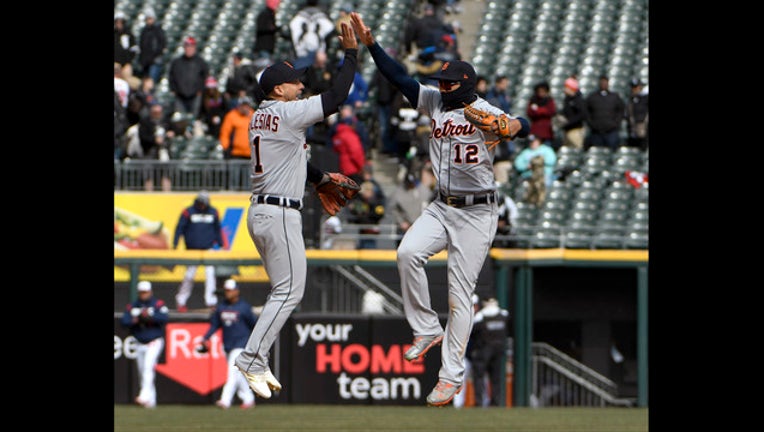 article
CHICAGO (AP) - Mike Fiers thought quality pitching, not the weather, kept down the offense in the Detroit Tigers' 1-0 win over the Chicago White Sox.
"The ball wasn't carrying," he said, "because they weren't hitting weren't hitting many barrels."
Fiers combined with four relievers on a three-hitter, and the Tigers took advantage of a passed ball to score an unearned run in the first inning Sunday to complete a three-game sweep.
On an afternoon with a first-pitch temperature of 36 degrees and a 10 mph wind blowing straight in, the teams combined for just five hits - all singles - and none after the third inning.
Fiers (1-0) made his season debut after recovering from a lumbar strain and allowed three hits in six innings with six strikeouts and one walk. He pitched out of a bases-loaded, one-out jam in the first by retiring Nicky Delmonico on a lineout and Welington Castillo on a groundout.
"He's got deception," Tigers manager Ron Gardenhire said. "You saw that today. That is why he's been in the big leagues a long time. Today you saw vintage him. I've seen him on the other side. We were just hoping he was healthy and he showed us he is."
Alex Wilson, Daniel Stumpf, Joe Jimenez and Shane Greene combined on three innings of hitless relief for the Tigers, with Greene overcoming an error by third baseman Jeimer Candelario on Avisail Garcia's leadoff grounder in the ninth to get his second save in as many chances.
Jose Abreu grounded into a double play, and Greene threw a called third strike past Matt Davidson.
"This team pitched very well this series, starters all the way down to bullpen," Fiers said. "Winning a 1-0 game is tough. We are grinding out games. That is what I love about this team."
Leonys Martin blooped a single to left in front of Delmonico starting the game, stole second, advanced on Castillo's passed ball and came home on Miguel Cabrera's sacrifice fly.
With the White Sox wearing 1983 replica uniforms, Reynaldo Lopez (0-1) allowed the unearned run, two hits and five walks in seven innings and struck out five. He has allowed one earned run during his first two starts.
"I've been able to see results," Lopez said through a translator. "These first two outings have been good, and those are just the first two good outings. I'm expecting more in the future."
Fiers felt relieved after struggling at the end of last season with the Houston Astros and during spring training with the Tigers.
"It was a big start with the way I ended last year," he said. "The last four or five starts I wasn't the pitcher I am. I got to a place I couldn't get out of. It is awesome as a confidence booster for me and also for this team."
SURPRISE
Brought up from Triple-A Charlotte prior to Sunday's game, Bruce Rondon took a wrong route - before the game. He went to the visitor's locker room and came across Cabrera, a former Tigers teammate.
"This morning I wrongly went to their clubhouse," Rondon said through a translator. "Miguel said, 'Hey, loco, what are you doing here?'"
Rondon pitched for the Tigers from 2013-17 and spent 10 years in the organization before signing a minor league deal with the White Sox in February.
He struck out all four batters he faced, including Cabrera on a slider that ended the eighth, and reached 100 mph.
TRAINER'S ROOM
White Sox: Rondon said he is over lower back issues that plagued him during spring training. He took the roster spot of RHP Juan Minaya, who was optioned to Triple-A Charlotte following Saturday's game.
UP NEXT
Tigers: LHP Francisco Liriano (1-0, 1.35 ERA) is to start Monday at Cleveland, which opens a four-game series with RHP Corey Kluber (0-1, 2.40 ERA).
White Sox: RHP Miguel Gonzalez (0-1, 9.00 ERA) and Rays RHP Chris Archer (0-0, 6.65 ERA) are to start the opener of a three-game series in Chicago. Archer has 14 strikeouts in 11 innings.