Four Lions rookies to watch this year as expectations increase in Detroit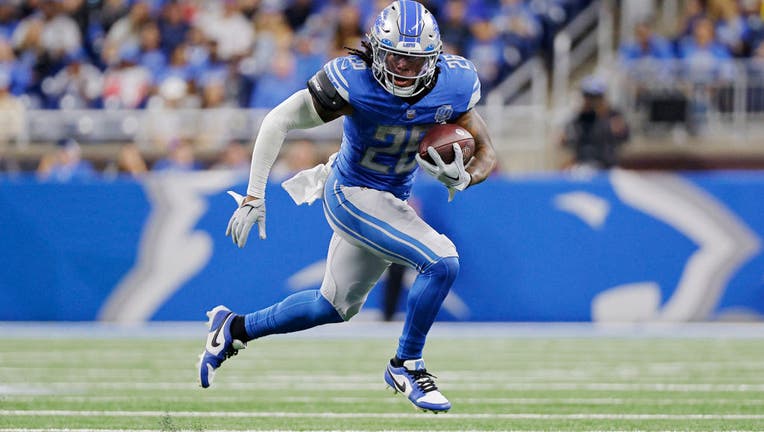 article
DETROIT (FOX 2) - Is the tide finally changing in Detroit? Are those years of futility finally behind us? We can't say for certain - but we know this: there's a lot of hope and hype in the Motor City.
A lot of it focuses on Jared Goff, Amon-Ra St. Brown, Aidan Hutchinson, and head coach Dan Campbell – but the rookie class coming into Detroit this year could mean that the Lions may not just be contenders this year, but for years to come.
At the end of 2022, the Lions were one win away from making the playoffs for the first time since 2016. If not for that dreadful start, they likely would have played more into January. However, the Lions had to settle for being a spoiler to Aaron Rodgers' swan song in Green Bay for the regular season finale.
Lions vs. Chiefs: Four things to know before season-opener
But that was last year. This year, the Lions have two new running backs, a rebuilt secondary, and some major key pieces in place. And they've added some potential superstars from the NFL draft.
Jahmyr Gibbs
As free agency started in the spring, running back Jamaal Williams expressed a desire to return to Detroit. Unfortunately for him, the Lions had other plans and signed David Montgomery. Then they traded D'Andre Swift to the Eagles the day before the draft, prompting questions from many fans.
But Campbell and GM Brad Holmes had their sights set on the next guy in the backfield by taking Jahmyr Gibbs with the 12th overall pick. 
Gibbs is not your typical running back. He's a rusher and a receiver, something that will benefit Gibbs and the Lions this year and in the coming years.
He played two years at Georgia Tech before transferring to Alabama last year. where he averaged over 6 yards per carry and scored 7 touchdowns while totaling 926 yards. As a receiver, he caught 44 balls, averaging 10 yards per catch and scoring 3 touchdowns. That's a total of 1,370 yards from scrimmage, 7 yards per attempt, and 10 touchdowns. In his previous season at Georgia Tech, he totaled 1,216 yards from scrimmage, averaged 6.8 yards, and scored 6 touchdowns.
Put it more simply: he's a playmaker. The NFL's Bucky Brooks called him an explosive new weapon for Ben Johns to "befuddle opposing defenses."
The NFL's Peter Schrager said Gibbs could be one of the top breakout players of the season.
"(Gibbs is the) perfect match of positionless player and mad scientist offensive coordinator who's been in the lab drawing things up," Schrager said.
Look for Gibbs to get the lions share of work with Montgomery coming in as a change-of-pace back.
Sam LaPorta
A high-quality tight end from Iowa taken by the Lions? Don't confuse Sam LaPorta with the previous tight end, T.J. Hockenson, who was traded the Vikings during the Lions' awful start lat year – though we'd understand why you would.
Hockenson's last college year: 764 yards from scrimmage, 15.3 average, and 7 TDs
LaPorta's last college year: 670 yards, 12.6 average, and 3 TDs.
LaPorta may not have the touchdown count that Hockenson had – but he has the production. In four years in Iowa City, LaPorta amassed 1,792 yards of total offense for an average of 11.6 yards.
The Lions selected LaPorta with the third pick in the second round, while Hockenson went in the first round in 2019. LaPorta was ranked by NFL.com as the third-best player at his position in the draft, which means the Lions may have gotten a good one.
When he gets comfortable in Ben Johnson's offense, LaPorta has the potential to be an excellent tool for Goff this season. This is going to draw those linebackers and secondary away from St. Brown, potentially making for higher output for the offense overall.
Jack Campbell
Ok - enough about the offense. Let's talk defense. That was the biggest concern for the Lions last year as they finished among the bottom in both points and yards allowed. 
To help with that, the Lions made a lot of moves for the secondary and then attacked the linebacker in the draft.
The Lions picked Campbell with the 18th overall pick who, similar to LaPorta, comes to Detroit from Iowa.
The linebacker was ranked as the best player at his position in the draft and addressed a need the Lions sorely needed to fix. 
As the center of Iowa's front seven, Campbell had over 300 tackles, 3 sacks, 5 interceptions, and 3 fumble recoveries in four years.
Campbell will see a lot of action in Aaron Glenn's defense which was immediately upgraded by him and the next player listed.
Brian Branch
Don't sleep on this guy. Another playmaker from Alabama - Brian Branch is going to be vital for the secondary of the Lions. 
In three years for Nick Saban, Branch totaled 172 tackles with four interceptions. Half of those came last year and most of his tackles did too. He saw a major increase from his second year in Alabama to his third, prompting the Lions to take him with the 14th pick in the second round.
He was ranked as the 5th best at his position in the draft and went to the same high school as Hall of Famer Calvin Johnson. In high school, he played both sides of the ball but stuck at safety for the Crimson Tide where he played in 12 games his freshman year. Last year, he had his breakout season, where he was named a second-team All-American.
Playing alongside veterans Cam Sutton, Emmanuel Moseley and C.J. Gardner-Johnson will certainly benefit Branch as he looks to make his mark on the Lions and the NFL.
2023 Expectations
With these rookies, the pieces in place last year, and moves made in free agency, head coach Dan Campbell and GM David Holmes have the most complete team they've seen in three years in Detroit.
Rodgers is out of Green Bay and the Chicago Bears are working to build around Justin Field. That could bring the division down to the Lions and the Vikings. 
Only time will tell.