Huberdeau's late goal lifts Panthers over Red Wings, 3-2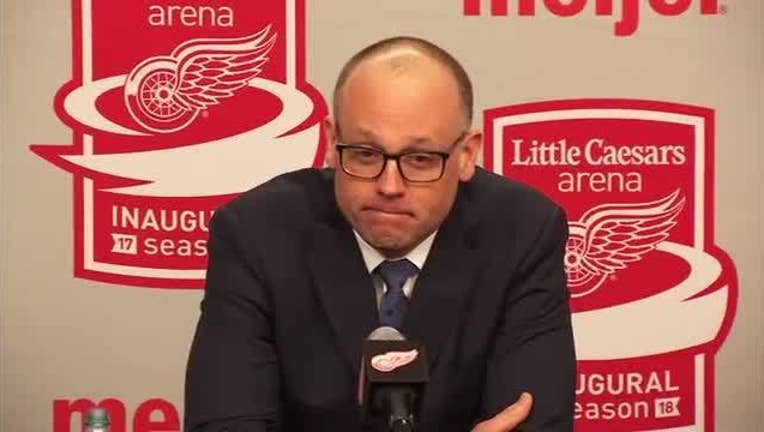 article
SUNRISE, Fla. (AP) - Jonathan Huberdeau wasn't quite sure he had scored the winning goal until the referees reviewed the play.
With the score tied at 2, and a lot of traffic in front of the crease, Huberdeau slid a rebound under Petr Mrazek's pad from the edge of the crease with 7.7 seconds left as the Detroit goalie fell down. The goal was challenged for goalie interference by the Red Wings but the call stood and the Florida Panthers secured a 3-2 victory Saturday night.
When asked if he thought the goal might be disallowed, Huberdeau admitted he was nervous.
"A little bit. I knew I was close to the goalie, but whenever he pushes you, it should be a good goal," he said. "You never know these days. I think goalie interference this year has been either way. I'm just glad we got a nice two points tonight."
The Red Wings certainly didn't see it that way.
"I just think it's frustrating because it appears it's changed in the last week," Red Wings coach Jeff Blashill said. "A week ago, for sure, that was no goal. This week it looks like everything's a goal. Over the All-Star break they had lots of conversations, and it's changed in a week."
Aleksander Barkov and Aaron Ekblad also scored for the Panthers, and Harri Sateri made 26 saves for his third straight NHL win. Keith Yandle had two assists to help the Panthers win their third straight.
"I was proud of the way we kept battling to the end. It was an up-and-down game," said Panthers coach Bob Boughner, who admitted he also wasn't sure about that late goal. "There was some goalie contact, but it was more from incidental contact. That's what I was thinking. And crossing my fingers that's what they thought, too."
Danny DeKeyser scored both goals for Detroit and Mrazek stopped 30 shots in his third straight start.
"I don't know what's going to be goalie interference," Mrazek said. "He came inside the crease and bumped me a little bit and I fell. Real disappointing and very upset. We fought hard and deserved that point tonight."
Many of the Detroit players were bitter at the loss, especially being so close to at least one point.
"Losing a game like this on a call that yesterday could have been goalie interference and today it's not?" Red Wings captain Henrik Zetterberg said. "Probably tomorrow that will be goalie interference again."
Barkov broke a 1-1 tie with his goal with 6:22 left in the second period. Evgenii Dadanov passed to Barkov in the high slot and Barkov skated in and beat Mrazek on the glove side.
DeKeyser tied it with his second of the game. Sateri blocked a shot and the bouncing puck went off DeKeyser's skate as he crashed the net and went across the goal line at 3:00 of the third period.
Ekblad's goal gave the Panthers a 1-0 lead at 3:14 of the first. Ekblad took a pass from Huberdeau in the slot and backhanded the puck off the post and into the net.
DeKeyser tied the score when his shot from the slot went over Sateri's shoulder on the stick side at 8:51 of the second.
NOTES: The Panthers are 14-0-0 when leading after 40 minutes.Panthers D Alex Petrovic played his 200th NHL game. ... Florida F Jamie McGinn returned after missing two games with an upper-body injury. ... The Red Wings played their third game in four days. ... DeKeyser played his 350th NHL game.
UP NEXT:
Red Wings: Host the Boston Bruins on Tuesday
Panthers: Host the Vancouver Canucks on Tuesday.