Indians sneak by Tigers 2-0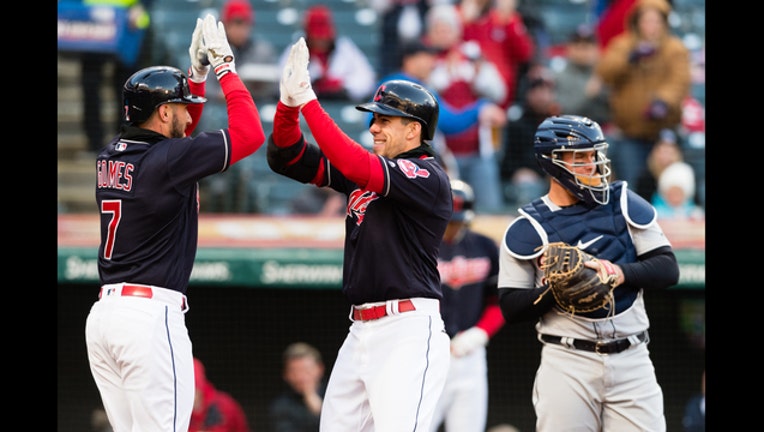 article
CLEVELAND (AP) - The reigning AL Cy Young winner looked every bit an ace.
Corey Kluber struck out 13, pitching two-hit ball for eight innings and leading the Cleveland Indians past the Detroit Tigers 2-0 in snow flurries Monday night.
The temperature at first pitch was 33 degrees, one above Progressive Field's record low set Sunday. There were flurries before the game and again in the seventh inning, resulted in a crowd of 9,843.
Kluber (1-1) gave up singles to Victor Martinez in the second and Nicholas Castellanos in the fourth. The right-hander walked one and threw 103 pitches in recording the 40th double-figure strikeout game of his career.
"We've all seen that when he gets on a roll, he can maintain it for, sometimes, shoot ... as long as you can play," Indians manager Terry Francona said. "And that's a really good feeling."
Tigers manager Ron Gardenhire hadn't seen Kluber from the opposing dugout since 2014 while he was with Minnesota when the right-hander won his first Cy Young Award.
"He had great late movement and a darting fastball," Gardenhire said. "That thing came back over the plate a lot, so we got caught looking quite a few times. When he's spot-on like that, it's tough to beat him."
Kluber downplayed his early success when asked to make a comparison to last season.
"We're three starts into it," he said. "Try to go from start to start. Things that didn't feel great today, I'll work on in-between and go like that as opposed to take a broader view of it."
Andrew Miller pitched the ninth for his first save, getting Miguel Cabrera on a game-ending double play.
Bradley Zimmer hit a two-run homer in the fifth off Francisco Liriano (1-1) as Cleveland's offense struggled again but used the long ball to win for the second straight day.
Kluber struck out the side in the fifth and fanned a batter in every inning except the sixth. Leonys Martin was the only batter who didn't strike out against Kluber.
"Kluber threw all three pitches all the time today, and he got every call in his favor," said Tigers catcher James McCann, who struck out looking in all three at-bats. "He had our number tonight."
Kluber was 18-4 with a big league-leading 2.25 ERA last season. He allowed two runs in eight innings against Seattle in his first start, but got the loss thanks to Nelson Cruz's two-run homer. Kluber gave up a two-run homer to Shohei Ohtani, the only runs he allowed in seven innings against the Los Angeles Angels in his second start.
Kluber put up his dominant numbers last season despite missing a month because of a strained back, an injury that seemed to catch up with him in the AL Division Series. He allowed nine runs, including four homers, in two starts and got the loss in Game 5 as the Indians blew a 2-0 series lead.
Liriano retired the first 10 hitters before walking Jason Kipnis and Jose Ramirez with one out in the fourth.
Yan Gomes, who hit a game-winning, two-run homer in the ninth inning Sunday against Kansas City, lined a two-out single to left for Cleveland's first hit.
Zimmer followed with his first home run of the season.
Liriano allowed three hits in six innings. The Indians, who were held to four hits, are batting .158, the worst team average in the majors.
CRASH ZIMMER
Cleveland's center fielder was in the lineup after running full-speed into the wall chasing Jon Jay's triple Sunday. His chest, face and legs appeared to make contact with the wall.
"I got a little banged up, but I can play," Zimmer said. "I wasn't 100 percent today. It was a little bit of everything. Today I woke up and felt like I got hit by a car."
IT'S BEEN AWHILE
Liriano, who hasn't beaten the Indians since July 21, 2010, when he pitched for the Twins, knew how the game got away from him.
"One bad pitch, one mistake, changed the whole game," he said.
TRAINER'S ROOM
Tigers: RHP Buck Farmer was removed with a left hip spasm after walking Zimmer in the seventh inning.
Indians: OF Michael Brantley, who played three straight days after starting the season on DL following offseason ankle surgery, wasn't in the lineup. He will get planned off-days early in the season.
UP NEXT
Indians RHP Josh Tomlin (0-1, 24.00) had his turn in the rotation pushed back a day after experiencing back soreness in his start against the Angels when he allowed four home runs in three innings. Tigers LHP Matthew Boyd (0-1, 1.50 ERA), who has a 1.91 ERA in five career games at Progressive Field.