Jackson-Davis scores 28, No. 18 Indiana beats Michigan 62-61
ANN ARBOR, Mich. - ANN ARBOR, Mich. (AP) —"I told those guys in the locker room, this is probably the biggest game since I've been here as a coach that we've won," second-year coach Mike Woodson said.
Freshman Jett Howard was short on a 3-pointer just before the buzzer, leaving the Wolverines without a point for the final 5:12.
"Unfortuantely," we didn't get what we were looking for," Michigan coach Juwan Howard said.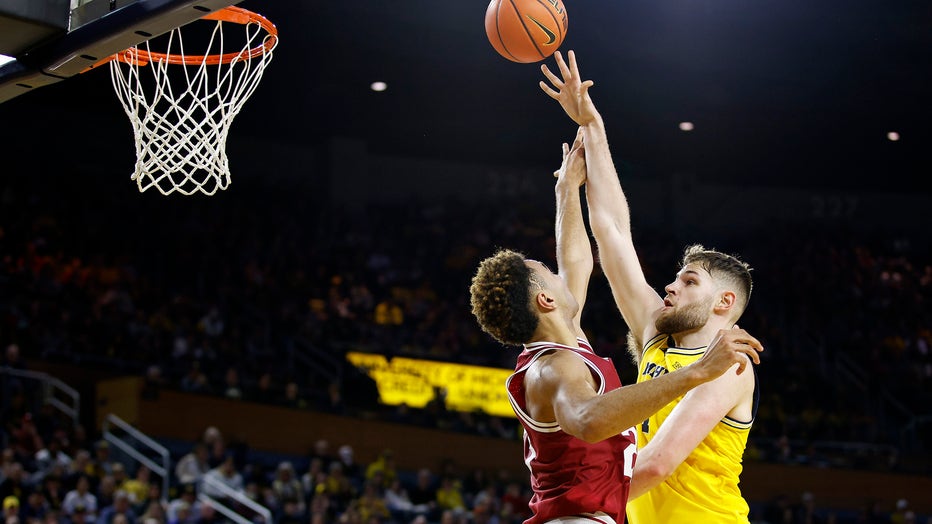 ANN ARBOR, MICHIGAN - FEBRUARY 11: Hunter Dickinson #1 of the Michigan Wolverines goes up for a basket against Trayce Jackson-Davis #23 of the Indiana Hoosiers in the second half of a game at Crisler Arena on February 11, 2023 in Ann Arbor, Michigan.
The Hoosiers (18-7, 9-5 Big Ten) trailed by 11 in the first half and for much of the second, but went ahead for good with 2:58 left when Hood-Schifino made two free throws for their last points that stood as the difference, thanks to their defense.
"Coming down the stretch run, we became so stingy," Woodson said.
Michigan (14-11, 8-6) fell to 0-4 against teams in the AP Top 25, losing each game by five or fewer points, after a game-ending scoring drought.
"Whatever we were doing wasn't working," said Hunter Dickinson, who scored 16 points.
Kobe Bufkin had 14 points and Howard added 12 for the Wolverines, who had won three straight.
Jackson-Davis was 11 of 23 from the field, 6 of 10 at the line, had three assists and two blocks.
"He's an amazing talent," Howard said. "Back to the basket or facing the basket, he's a problem."
Earlier in the week, he became the first player in program history to score at least 2,000 points and grab 1,000-plus rebounds.
"We're going to keep riding him and see where it leads," Woodson said, adding the star earned a day of rest on Sunday.
The senior forward played all 40 minutes against Michigan.
"It's the end of the season," Jackson-Davis said. "Ain't no time to be tired."
OUT FOR IU
The Hoosiers were with without Race Thompson, who was in sweats on the bench, due to an undisclosed injury.
Thompson participated in the game-day shootaround, but decided he wasn't healthy enough to play later in the day.
"He told me he just couldn't go," Woodson said.
Indiana also didn't have Xavier Johnson, who has been out for nearly two months with a foot injury and sophomore center Logan Duncomb, who hasn't played in almost one month.
BIG PICTURE
Indiana: Hood-Schifino provided a much-needed second scorer in a game that lasted 12 minutes before a Hoosier other than Jackson-Davis had more than two points. No other player on the team scored more than four points.
Michigan: Missing the last seven shots, and nine of 10, doomed the team's chances of beating a ranked team to boost its chances of making the NCAA Tournament. The Wolverines struggled to take good shots in the final minutes, failing to get Dickinson the ball often and forcing shots.
"Need to execute better down the stretch, if we're going to win a tough game like that," Dickinson said.
POLL IMPLICATIONS
Indiana, which
The Hoosiers have won eight of their last nine games, including
UP NEXT
Indiana: At Northwestern on Wednesday.
Michigan: At Wisconsin on Tuesday.