Jazz Roll Past Pistons 97-83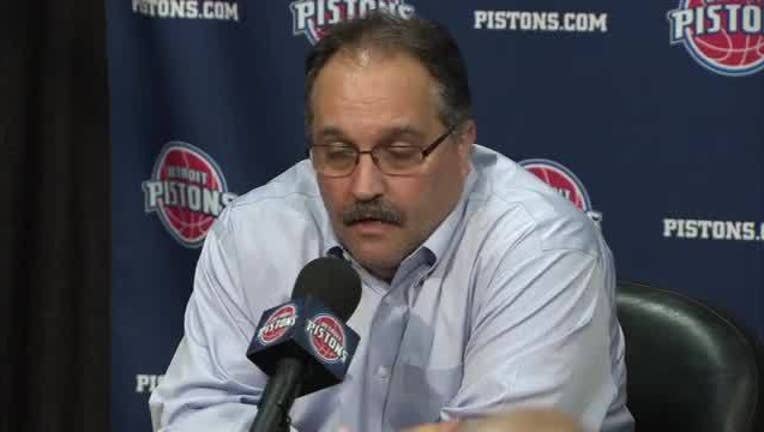 article
DETROIT (AP) - It appeared that the Detroit Pistons weren't fully ready to play Wednesday night - and the Utah Jazz took advantage.
The Jazz held Detroit to 35 points in the first half and went on to a 97-83 victory in their final game at the Palace of Auburn Hills.
"We were really fundamentally sound in the first half, and played good defense," Jazz coach Quin Snyder said. "I don't give that out very easily, but that's as sound and solid as we've been in a while."
Gordon Hayward had 25 points, eight rebounds and six assists, while Rudy Gobert had 12 points, nine rebounds and four blocks.
"We did a great job tonight," Gobert said. "We got rebounds, we pushed the ball and we played to our strengths."
Utah won for the sixth time in seven games, but a late rally by Detroit forced Snyder to use his starters late with a game Thursday night in Cleveland.
"They are a good team, and we knew they were going to pick it up at some point," he said. "We settled in again and did some good things at the end."
Aron Baynes had 12 points and 12 rebounds for Detroit, which lost for the second straight night and is in danger of falling back out of playoff position in the Eastern Conference. The Pistons lost 128-96 in Cleveland on Tuesday.
"We've been bad in back-to-backs all season, but this was the worst we've been," Pistons coach Stan Van Gundy said. "We didn't play in either game. We didn't even have a legitimately good stretch in either game."
The Jazz jumped ahead 26-11 early, with Hayward and Gobert each scoring 10 points in the first quarter. Detroit rallied at the end of the first, pulling within nine at 28-19, but things got worse in the second.
Utah's defense was in top gear, holding the Pistons to 26.9 percent shooting in a 16-point second quarter. Detroit missed its only two 3-pointers of the period as the Jazz took a comfortable 54-35 lead.
Andre Drummond, Marcus Morris and Kentavious Caldwell-Pope, usually three of Detroit's more reliable scorers, combined to shoot 2 of 15 in the half.
"We just got stagnant," said Morris, who finished 3 of 15. "I just don't think we understand the severity of coming out with a strong start when you are fighting to get in the playoffs."
Van Gundy went to his bench early in the third, benching Reggie Jackson in the first three minutes, but it barely helped. Detroit continued to struggle with its jumper and still trailed 77-62 at the end of the period.
With the Jazz keeping their starters on the bench, the Pistons' reserves cut the deficit to nine midway through the fourth. That forced Snyder to bring back his first unit, while Van Gundy stuck with his bench.
"I went with the guys that were playing hard, because they deserved to be out there," he said. "I told the team after the game that we've been starting six guys since the All-Star break, most of them in every game, and we've had one good start. I'd like to know why."
Hayward's 3-pointer made it 87-73 with 5:33 left, and Utah comfortably held on.
TIP INS:
Jazz: Gobert blocked a shot for the 36th straight game, the longest streak in Jazz history by anyone other than Mark Eaton. A two-time NBA Defensive Player of the Year, Eaton had four longer streaks, including 71 and 75 games.
Pistons: Went 2 of 19 on shots outside the paint in the first half. "Give their defense a lot of credit, but you can't win an NBA game shooting like that," Van Gundy said. "We need someone to start a game and hit a few shots." ... Caldwell-Pope missed a chance at a four-point play with 4:22 to play, knocking the free throw off the rim. It was only Detroit's second 3-pointer of the game.
VAN GUNDY DUMPS STARTERS
Baynes played 12 minutes in the second half and Boban Marjanovic played five, with Drummond only getting seven. Ish Smith played 21 minutes at point guard while Jackson played three. "Reggie was absolutely exhausted three minutes into the second half, so I went away from him," Van Gundy said. "Aron was playing great and Andre wasn't giving us anything, so I went with Boban when I had to give Aron a breather."
LOPSIDED SEASON SERIES
Not only did Utah sweep the season series from the Pistons, the Jazz did it in emphatic style. On Jan. 13, they beat Detroit 110-77 behind 27 points from Rodney Hood, 22 from Hill and 20 from Hayward.
UP NEXT:
Utah: Visits Cleveland on Thursday.
Detroit: Hosts Toronto on Friday.