Justin Verlander faces his former team, Kyle Tucker hits his 26th homer as Astros rout Tigers 17-4
DETROIT - DETROIT (AP) — Justin Verlander struck out seven over five scoreless innings and Kyle Tucker hit his 26th homer in the third inning, helping the Houston Astros rout the Detroit Tigers 17-4 on Sunday.
Verlander (10-6) gave up just two hits, walked two and hit three batters for career victory No. 254, pulling him into a tie for 43rd on the all-time list with Hall of Famers Jack Morris and Red Faber.
The 40-year-old, three-time Cy Young award winner pitched against one of his former teams in a ballpark where he's still adored for the second time this season. Verlander made his season debut in May with the New York Mets at Comerica Park against Detroit, which drafted him No. 2 overall in 2004 and traded him to to the Astros in 2017.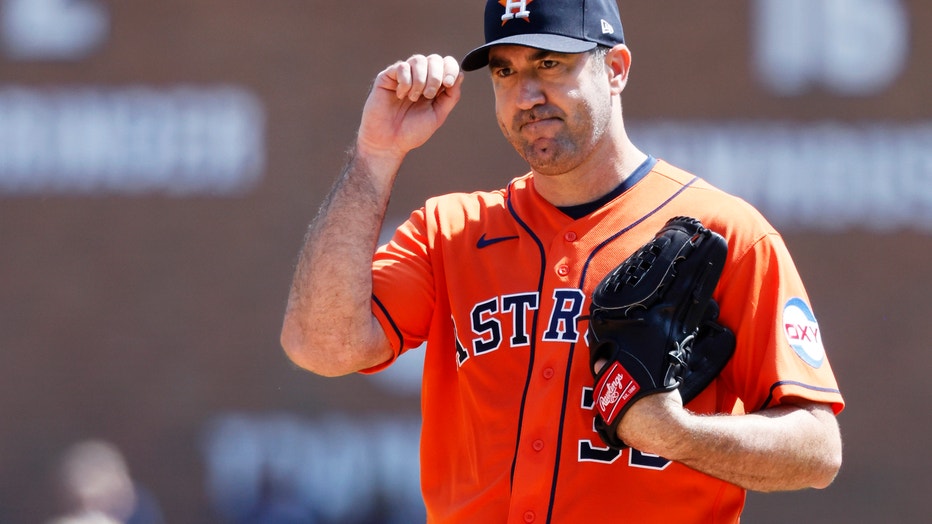 DETROIT, MI - AUGUST 27: Pitcher Justin Verlander #35 of the Houston Astros acknowledges Miguel Cabrera of the Detroit Tigers during his at-bat in the second inning at Comerica Park on August 27, 2023 in Detroit, Michigan. (Photo by Duane Burleson/Ge
Houston reacquired Verlander, who helped the franchise win two World Series championships, nearly a month ago from the Mets to bolster its chances of contending for the AL West title or a wild card. He is 4-1 this season with the Astros and hasn't given up a run in two straight starts.
Verlander exited the game with a 3-0 lead and Houston had a seven-run cushion in the seventh after Mauricio Dubon and Martin Maldonado hit back-to-back homers off Tyler Holton, who allowed four runs and five hits in 1 2/3 innings.
The Astros didn't let up, scoring seven runs in the eighth inning on Jeremy Pena's three-run triple off Andrew Vasquez and Yainer Diaz's two-run homer off a 63-mph fastball from backup catcher Carson Kelly.
Alex Faedo (2-5) gave up three runs, seven hits and four walks — including one with the bases loaded — in 4 2/3 innings to take the loss.
Miguel Cabrera prevented the shutout, hitting a three-run homer to make it 14-3 in the eighth.
It was career homer No. 510, breaking a tie for 26th on the all-time list with Gary Sheffield. Cabrera's 1,871 RBIs broke an 11th place tie with Mel Ott. He has 3,151 career hits, pulling him within one hit of an 18th place tie with Paul Waner.
FRIENDLY FOES
Verlander grabbed the bill of his cap and nodded, a sign of respect for Cabrera, when he faced his former teammate in the second inning.
Then, he struck him out.
The 40-year-old Cabrera, who said he's retiring after the season, grounded out in the third inning against Verlander.
MAGNUM P.I. DAY
About 200 fans — wearing mustaches, sunglasses, Hawaiian shirts and Tigers caps — attended the game as part of Magnum P.I. Day. Actor Tom Selleck wore Detroit's home baseball cap on the TV show "Magnum P.I."
MAKING MOVES
Astros RHP Phil Maton was activated from the 15-day injured list and RHP Ronel Blanco was optioned to Triple A Sugar Land.
UP NEXT
Houston stays on the road with Astros RHP Cristian Javier (9-2, 4.52) and Boston LHP Chris Sale (5-3, 4.68) expected to pitch.
Detroit remains at home with Tigers RHP Reese Olson (2-5, 5.29) and New York Yankees RHP Luis Severino (3-8, 7.26) scheduled to start.