Katin Houser, Maliq Carr hook up late to rally Spartans past Hoosiers 24-21
Bloomington, IN - BLOOMINGTON, Ind. (AP) — Michigan State tight end Maliq Carr spent four seasons envisioning the perfect ending.
It finally arrived Saturday at Indiana.
Carr caught eight passes for 88 yards, using his 6-foot-6, 260-pound body to bounce off defenders for his second score of the game — a 36-yard catch-and-run with 1:19 left — to rally the Spartans past the Hoosiers 24-21.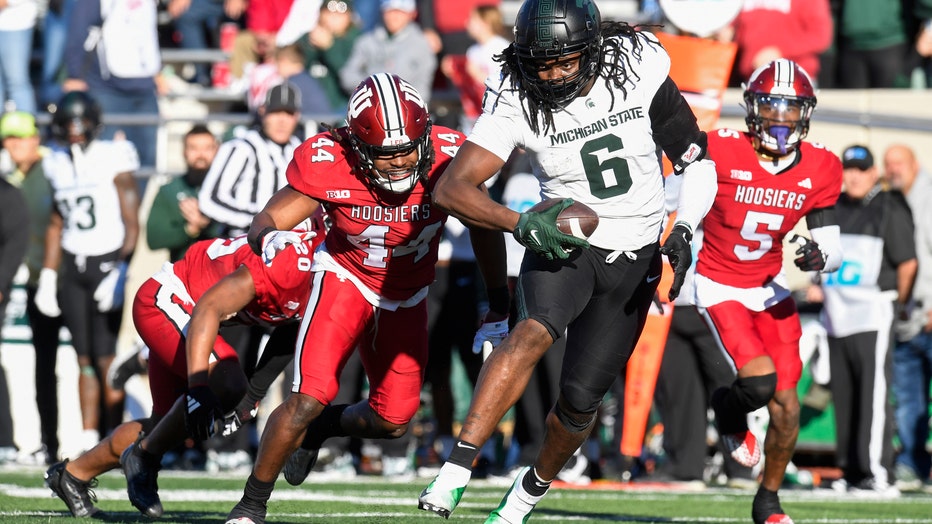 BLOOMINGTON, IN - NOVEMBER 18: Michigan State Spartans Tight End Maliq Carr (6) advances the ball during the college football game between the Michigan State Spartans and the Indiana Hoosiers on November 18, 2023, at Memorial Stadium in Bloomington,
"Maliq is a baller, we all know that here," interim coach Harlon Barnett said after celebrating his second career win. "He's a really good football player. Just ask him, he'll tell you."
Carr certainly did his part, establishing career-highs in all three categories on a day the short-handed Spartans (4-7, 2-6 Big Ten) had only 45 scholarship players available and lost more during the game.
But he certainly didn't win this one by himself.
Quarterback Katin Houser threw for 245 yards and three TDs, both career bests. Montorie Foster Jr. finished with seven receptions for 93 yards on his second-best career day while scoring the Spartans other TD. And the Spartans got their first road win this season by reclaiming the Old Brass Spittoon.
Michigan State still has not lost consecutive games to the Hoosiers (3-8, 1-7) since the late 1960s.
But for Indiana and coach Tom Allen, the bitter ending was filled with frustration. Quarterback Brendan Sorsby drew an intentional grounding call with 7 seconds to go because he and receiver E.J. Williams Jr. were not on the same page. The ensuing 6-yard penalty forced Chris Freeman into a 48-yard field goal to force overtime. He missed it wide right.
"I know what I can't say at this moment," Allen said on his postgame radio show. "But the kids in the locker room deserve better."
That's how Barnett has felt about his team most of this season, too, and it looked like this one would be different right from the start when Houser and Carr hooked up on a 17-yard score to make it 7-0.
Indiana tied the score on Trent Howland's 4-yard touchdown run midway through the second quarter, but Foster broke the tie with spectacular one-handed grab inside the Hoosiers 20-yard line, then made several defenders miss on his way to a 29-yard TD catch with 1:10 left in the first half.
Sorsby's 3-yard TD pass to James Bomba on the first drive of the second half tied the score, and the Hoosiers pulled ahead 21-17 when Sorsby found Trey Walker with 4:06 to play.
But Carr had a plan and delivered the answer.
"We needed to win, so we got it," he said. "Everybody came together, I'm proud of everybody."
THE TAKEAWAY
Michigan State: A tough season finally got a little sweeter for Barnett & Co. Michigan State avoided its first one-win conference season since 2016 and after next week will embark on a coaching search.
Indiana: The Hoosiers have been competitive in four straight games, but they've lost three. This one hurts badly because of the way it finished — and the questions that will be asked of Allen's decision not to try 44-yard field goal on fourth-and-1.
INJURY REPORT
Michigan State: Some of the new injuries include starting center Nick Samac, who was carted from the sideline to the locker room after hurting his left leg; defensive lineman Brandon Wright, who was carted off the field after appearing to hurt his right leg in the fourth quarter; and running back Nate Carter, who did not return after leaving with another injury in the third quarter.
Indiana: Howland left twice, first with a shoulder injury and later after getting flipped on his head. Howland did not return the second time. Walker (hand) and running back Josh Henderson (shoulder) also left in the second half.
BY THE NUMBERS
Michigan State: The road team has won four straight in this border-state rivalry. ... Michigan State rushed 34 times for 72 yards and was outgained 402-317.
Indiana: Sorsby finished 19 of 34 with 192 yards and two TDs while rushing 12 times for 65 yards. ... Howland had 19 carries for 77 yards and one TD, his second of the season. ... Henderson had 13 carries for 74 yards.
UP NEXT
Michigan State: Closes out a miserable season by hosting No. 12 Penn State next Saturday.
Indiana: Will try to reclaim the Old Oaken Bucket next Saturday at Purdue.