Lightning beat Red Wings for 11th straight time, 4-1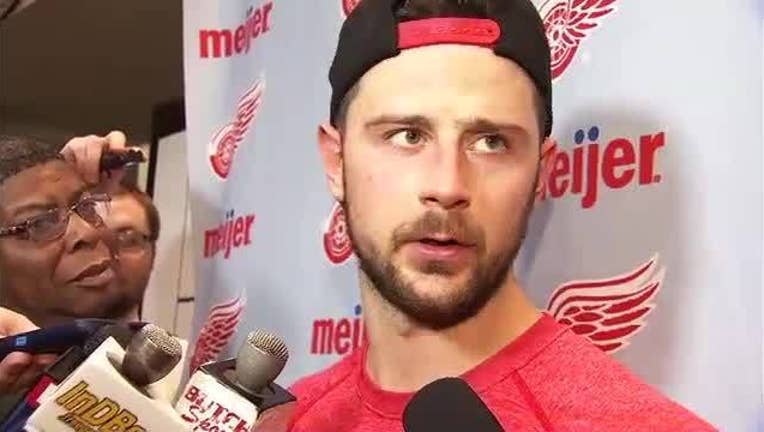 article
TAMPA, Fla. (AP) - Steven Stamkos and Nikita Kucherov helped the Tampa Bay Lightning beat Detroit, again.
Stamkos scored twice, Kucherov had a goal and three assists, and the NHL-leading Lightning beat the Red Wings for the 11th straight time, 4-1 Thursday night.
Tampa Bay coach Jon Cooper has no answers for his team's success against Detroit.
"Some teams just have another team's number," Cooper said.
Andrei Vasilevskiy made 38 saves and Victor Hedman picked up three assists for the Lightning, who were coming off an 0-2 road trip. Alex Killorn had the other Tampa Bay goal.
"There's certain times in the season where you need your top players to kind of rise to the occasion," Stamkos said. "Tonight was a good example of that. Usually when we can get on the score sheet, it's probably going to end up good for our team."
Tomas Tatar scored for Detroit and Jimmy Howard stopped 28 shots.
"We did a lot of good things but there's things we have to get better at," Detroit center Henrik Zetterberg said.
Tampa Bay scored twice early on for a 2-0 lead. Stamkos scored from the low right circle off a nice cross-ice pass from Hedman 3:55 into the game before Kucherov got his 31st goal on the power play at 7:05.
"It's hard when you're coming from behind," Zetterberg said.
Kucherov has four goals and 10 points during a five-game point streak.
"Don't cheat the game and play the right way, and you'll get rewarded," said Kucherov, who lead the NHL with 76 points.
Vasilevskiy, 6-0 against the Red Wings, made a nice save on Trevor Daley's low slot shot during a short-handed 2-on-1 late in the second.
Howard turned aside Kucherov's shot during a breakaway in the second.
Stamkos got his 23rd goal to make it 3-0 during a power play with 1:52 left in the second.
Tatar had a power-play goal in the final minute of the second.
Killorn had a third-period goal.
NOTES: Detroit has also lost 11 consecutive road games against the Lightning. ... Red Wings C Andreas Athanasiou (illness) didn't play. . Kucherov has 12 goals and 21 points in 19 games against Detroit, while Stamkos has 11 goals and 18 points over 20 games. ... Howard is 5-6-2 against Tampa Bay.
UP NEXT
Red Wings: Play Saturday night at Nashville
Lightning: Hosts New Jersey Saturday night.