Lions' Chubb barely makes it to draft to see brother picked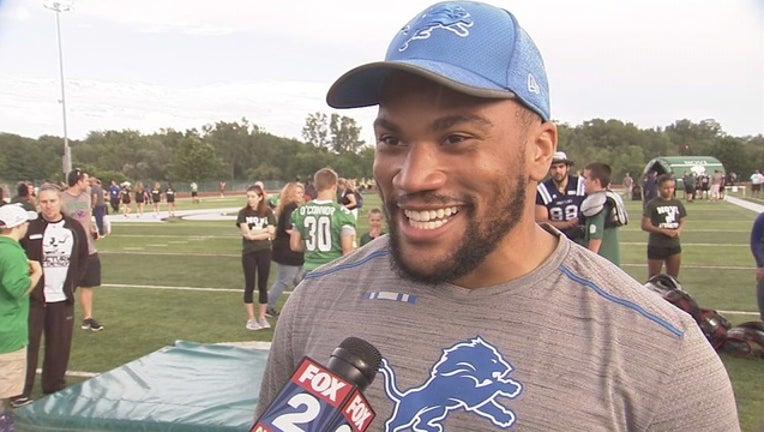 article
ENGLEWOOD, Colo. (AP) - Detroit Lions linebacker Brandon Chubb sure was sweating, and not just because of the Texas heat.
He didn't want to miss the moment his baby brother, North Carolina State pass rusher Bradley Chubb , got drafted. But he also couldn't cut away early from the Lions' voluntary minicamp Thursday because first impressions are important, too.
So, Chubb knew he'd have to cut it close, hop a helicopter and cross his fingers.
He introduced himself to new Lions coach Matt Patricia at the start of the team's three-day minicamp Tuesday and asked him what time they'd be done Thursday so he could get to Dallas that night.
"I have to go to the draft," Chubb said.
"Why is that important?" Patricia wondered.
"Well, my little brother's in it," Chubb explained.
"Oh," Patricia replied. "Well, we'll be done at 12:30."
"So, I knew from that conversation what needed to be done," Chubb said Friday, when he relayed that conversation after accompanying his brother on his first visit to Denver.
A day earlier, Brandon Chubb had only one option and little leeway with a 3:30 p.m. flight out of Detroit.
"Check this out, the flight at noon was delayed three hours from Detroit to Dallas," Chubb said. "As I'm getting to the airport, they're just starting to board. So, I thought I was about to get delayed three hours, too."
He left on time, however, and landed at 5:40.
"And mind you, that draft is an hour away" in Arlington, Texas, Chubb said. "So, the traffic is crazy."
Foreseeing this traffic jam, Chubb got on Yelp and found a helicopter to take him from the airport to the stadium, where his brother was expected to be one of the first few picks.
He thought he might have to land nearby and run the final few blocks, capping his 1,200-mile odyssey with a sweaty jaunt through thick crowds and humidity, all in a designer suit.
Instead, the pilot set down on Jerry Jones' helipad right outside AT&T Stadium.
"It actually worked out though, I got one of the best Instagram pictures of my life," Chubb said of the GQ shoot-style image of him in front of the chopper.
Chubb thanked his pilot, then hustled inside in time to grab a plate of food and a seat.
"If he'd have been picked at two, I'd have been walking in while he's walking on stage," Chubb said.
His brother slipped to five, where the stunned Broncos - and an ecstatic Von Miller - where thrilled to welcome him to Denver's defense.
"I think it was the best situation for Bradley," his older brother said. "Everybody wants to be higher, but I just think it's perfect the way it went for both of them."
And for him.