Lions may bolster DE or G options with No. 20 pick in draft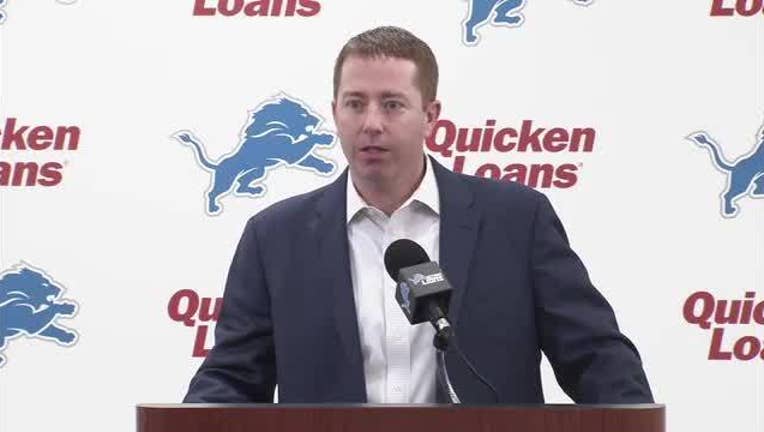 article
ALLEN PARK, Mich. (AP/WJBK) - Bob Quinn has spent two years reshaping the Detroit Lions' roster and staff, bringing in players and coaches he knew from their years together with the New England Patriots.
The Lions have won nine games in each of the past two seasons, which wasn't enough for Jim Caldwell to keep his job. Quinn believes they will be drafting from a position of strength.
"With the way the roster is today, I don't think I'm in a position to reach for any position of so-called need," Quinn insisted. "I'm not eliminating any position."
The Lions would stun everyone if they took a quarterback No. 20 overall Thursday night with many millions invested in Matthew Stafford, or a wide receiver with more than a few options on the team. They could justify bolstering coach Matt Patricia's first team at any other position, especially defensive end and offensive guard.
UP FRONT
The Lions were last in the league in rushing and have been among the NFL's worst offensively on the ground in recent years. Even if they made a bold move to trade up and select Penn State running back Saquon Barkley, it may not matter if the offensive line doesn't improve. There seem to be four solid blockers: tackles Taylor Decker and Ricky Wagner, guard T.J. Lang and center Graham Glasgow. The team's fifth option, Wesley Johnson, isn't likely an attractive option; the New York Jets didn't want to re-sign him.
That may all add up to Detroit drafting a guard or center in the first round.
"I have no problem taking an interior offensive lineman," Quinn said.
ON THE EDGE
Detroit desperately needs help at defensive end because Ezekiel Ansah is playing on a franchise tag, possibly in his last year with the team. Quinn plans to make picks based on what the team will need up to 18 months away.
"We kind of look that far, knowing that guys are going to be unrestricted free agents after this year, but also the following year," Quinn said. "There's a really good balance there that we have to talk about and kind of envision our needs not just for today, but in the years ahead."
The other options at defensive end such as Anthony Zettel and Kerry Hyder, who missed all of last season with an Achilles tendon injury, don't generate much excitement.
MAYBE LATER
Quinn may choose a running back in a later round, hoping to find a flyer. He did add another former Patriot, LeGarrette Blount, to the position to compete with Ameer Abdullah and Theo Riddick.
"If we had to go play a football game today, I think we have enough running backs to be competitive," Quinn said.
SAME PAGE
Patricia is an NFL head coach for the first time entering the draft, but he has a lot of experience with Quinn because they worked together with the Patriots for a dozen years.
"I had heard about Matt from Bob for two years before we had the chance to meet," Lions president Rod Wood said, sitting between Quinn and Patricia at a season ticket holders gathering. "I told him recently, 'I think he undersold him, and he was selling him.' The relationship is strong, the language they speak, the trust. The ability I think to build the team through kind of one long-term vision of what we're going to be about.
"This is probably the first time I've sat between them since they've been in town. They're together all the time."
HITS, MISSES AND BARGAINS
Detroit appeared to reach for tight end Eric Ebron at No. 10 overall in 2014. This offseason, the team acknowledged the mistake when it cut him. The Lions would have been better off with any of the players taking immediately after Ebron: offensive tackle Taylor Lewan, receiver Odell Beckham Jr., and defensive tackle Aaron Donald. Quinn landed a late-round gem last season, selecting All-Pro punt returner Jamal Agnew in the fifth round.
Watch the NFL Draft on FOX 2 starting at 7:30pm on Thursday and 7pm on Friday.