Maple Leafs Sneak Past Red Wings 5-4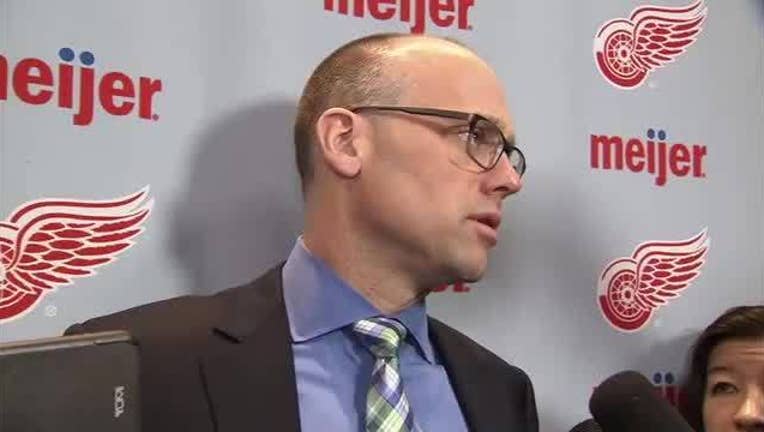 article
DETROIT (AP) - The theory around the NHL is that rookies are supposed to wear down from the grind of the 82-season. Apparently, the Toronto Maple Leafs' young stars don't subscribe to that.
Rookies scored four of Toronto's goals in a 5-4 victory over the Detroit Red Wings and the Maple Leafs edged closer to their first playoff appearance since the lockout-shortened 2012-13 season.
Auston Matthews, who leads all NHL rookies with 38 goals and 66 points, scored twice, including the eventual game winner at 18:51 of the third period. Mitch Marner and William Nylander also scored, as did veteran James van Riemsdyk, as Toronto improved to 10-2-1 in its last 13 games and moved into a second-place tie in the Atlantic Division with the Ottawa Senators.
"Those three have been difference makers for their whole lives, so they don't know anything else," Leafs coach Mike Babcock said of Matthews, Nylander and Marner, who are Toronto's top three scorers. "We trust them to do that for us, and we give them a lot of ice time to do it."
While they are certainly aware of how close they are to booking a postseason berth, the Leafs also know there is work left to be done before that spot is assured.
"We all watch the standings, but there's nothing to talk about yet," Babcock said.
After Gus Nyquist gave the Wings a 1-0 first-period lead, the Leafs took over.
Matthews tied the game on a power play at the 2:56 mark of the second period, with a seeing-eye shot that found a small area on the short side to beat Detroit goalie Jimmy Howard.
"I didn't think he had anything," Howard said. "He's got quick hands, he's got a quick release, and he was able to find a small hole there."
Marner scored on a breakaway and Nylander on a screenshot and the Leafs were ahead 3-1 - but the Wings weren't done yet.
Nick Jensen scored on his own rebound with 3:18 left in the second period. Niklas Kronwall tied the game with just 5:19 remaining in the third.
But that's when the Leafs came roaring back. Van Riemsdyk slipped a backhander by Howard at 17:34 and then Matthews got his second of the night at 18:51, leaving him tied with Peter Ihnacak for the team's rookie points record. Ihnacak collected 66 points in 1982-83.
"He's constantly getting open and putting himself in areas where he can score," Marner said of Matthews. "When he gets in those areas, he's pretty deadly.
"I think he's one of the top goal scorers already."
As much as he's focused on the team goal of making the playoffs, Matthews acknowledged he was intrigued by the 40-goal plateau.
"That'd be awesome," Matthews said. "I just try to have fun every day and enjoy the season and get better. You play the right way and that kind of stuff will take care of itself."
Mike Green scored a late goal for the Wings at 19:15, but they lost their third game in a row and went 0-4 against the Leafs this season.
"Certainly games against the Leafs are big games," Detroit coach Jeff Blashill said. "We were excited. I thought we poured lots into the game. We're disappointed we didn't come out with a better outcome."
NOTES: Detroit F Anthony Mantha (broken finger) and F Luke Glendening (broken ankle) are both done for the season. ... The Maple Leafs last swept the season series from the Red Wings in 2011-12, taking a 4-3 decision in the only meeting between the teams. ... Leafs F Zach Hyman has set a franchise rookie record with four short-handed goals. ... Several members of the Leafs staff skated on the JLA ice after Saturday's morning skates, including team president and former Wings forward Brendan Shanahan, who participated wearing a pair of skates he borrowed from Leafs coach Mike Babcock. ... Struck in the face by the stick of Toronto's Connor Carrick in the second period, Detroit F Andreas Athanasiou took stitches to the lip and returned for the third period wearing a full facemask.
UP NEXT
Maple Leafs: Play at Buffalo on Monday.
Red Wings: Host Ottawa on Monday.