Michigan beats Purdue to win 2nd straight Big Ten Tournament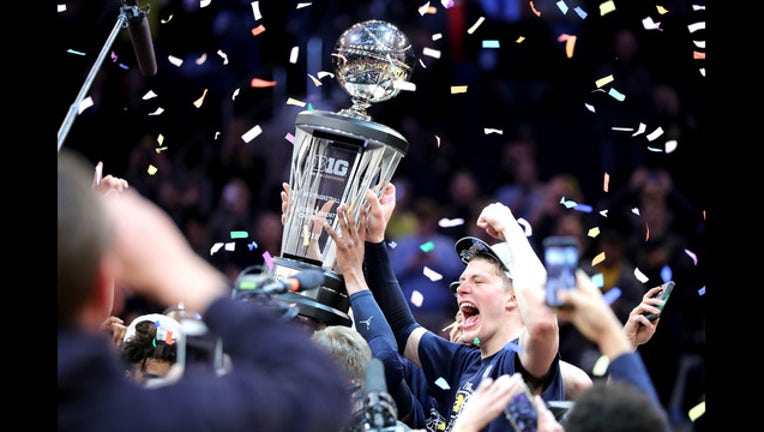 article
NEW YORK (AP) - The tenacious 6-foot point guard his coach calls a "pit bull" drove right to the basket, but instead of putting up the hook shot he usually goes to Zavier Simpson instead whipped a pass to the backup big man who became a Michigan folk hero at Madison Square Garden on Sunday.
Jon Teske's two-handed slam brought down the house and pretty much finished off No. 8 Purdue in the Big Ten Tournament championship game. With Simpson playing catalyst on both ends of the floor - running Michigan's efficient offense and leading its lock-down defense - and Teske scoring a surprising 14 points, the 15th-ranked Wolverines beat the Boilermakers 75-66.
Fifth-seeded Michigan (28-7) became the first team to repeat as Big Ten Tournament champs since Ohio State in 2010 and '11.
Simpson finished with 10 points, five assists and five rebounds. Moe Wagner led Michigan with 17 points and was named most outstanding player of the tournament, despite playing only 17 minutes against Purdue because of foul trouble - which plagued him all week.
That's where Teske stepped up. The 7-foot-1 sophomore came in averaging 3.3 points, but scored 12 in the first half and picked up the slack guarding Purdue's 7-2 center Isaac Haas.
Simpson and Teske put an exclamation point on Michigan's four-day Garden party with 6:02 left in the second half. Simpson drove and dished to Teske cutting to the basket. "Big Bad Jon," as the guys call him, finished over Haas and let out a roar while chest bumping teammates on his way to the bench.
"I was so happy when he popped off after that dunk," Wagner said. "I got so excited. He got emotional. Yeah, I know how good he is. That was long overdue."
The dunk made it 66-48 and brought chants of "Tes-key!" from the Michigan fans - who showed up in droves for the first Big Ten Tournament played in New York.
"That was a blast, especially being here in New York City with all those Michigan fans that traveled from great distances or whoever lived here," Teske said.
Purdue (28-6) chipped away in the final minutes with Michigan missing free throws but it was way too late.
Haas led Purdue with 23 points, but Purdue's top-two scorers, Carsen Edwards and Vincent Edwards, combined for 16 points on 6-of-22 shooting. Carsen Edwards scored 53 points in the first two games here, but just 12 against Michigan, shooting 4 for 16.
"He had a couple of drives that didn't go down for him, and he had a couple of 3s where he could never get back-to-back pullups or back-to-back pull-up 3s to get into that rhythm," Purdue coach Matt Painter said.
This Michigan team has been coach John Beilein's best on the defensive side since he took over in Ann Arbor in 2007. It starts with the sophomore Simpson harassing opponents' best ball-handlers.
The Wolverines seemed content to let Haas have some room inside as long as they were able limit Purdue's 3s. Purdue entered the game shooting 42 percent from 3. The Boilermakers finished 4 for 17 from behind the arc.
On consecutive possessions early in the second half, the Wolverines forced turnovers by Purdue and turned them in transition 3s - one my Muhammad-Ali Abdur-Rahkman and one by Simpson. That put Michigan up 11 with 15:06 left, prompted Painter to call a timeout and had Wolverines fans screaming "Go Blue!"
"He's a pit bull," Beilein said of Simpson. "We have a picture of a big, mean pit bull in our locker room for every game. And he's that guy. He's the one that loves to play defense."
Michigan, the team playing its fourth game in four days, showed no signs of wear. The Wolverines shot 50 percent and committed five turnovers.
Last season's unlikely run to the tournament championship by Michigan was as an eighth seed and it started with a harrowing plane accident near Ann Arbor, Michigan. The team plane skidded off a run after takeoff was aborted. No one was hurt, but everyone was shaken up. Still, the team got to Washington and then ripped off four straight wins to grab an NCAA bid.
This one was less dramatic - though surely the Wolverines did not mind.
BIG PICTURE
Michigan: The Wolverines will enter the NCAA Tournament on a nine-game winning streak.
Purdue: The Boilermakers beat Michigan in the regular season twice by a total of five points. Unable to complete a three-game sweep, they probably watched any chance of grabbing a No. 1 seed in the NCAA Tournament go away.
"A national championship is going to feel a whole lot better than winning the Big Ten," Haas said.
UP NEXT
Both teams will wait a week to find out where they are headed for the NCAA Tournament, along with Michigan State and Ohio State out of the Big Ten. Penn State and Nebraska will cross fingers and hope for a bid.