Michigan State Beats No. 16 Wisconsin 84-74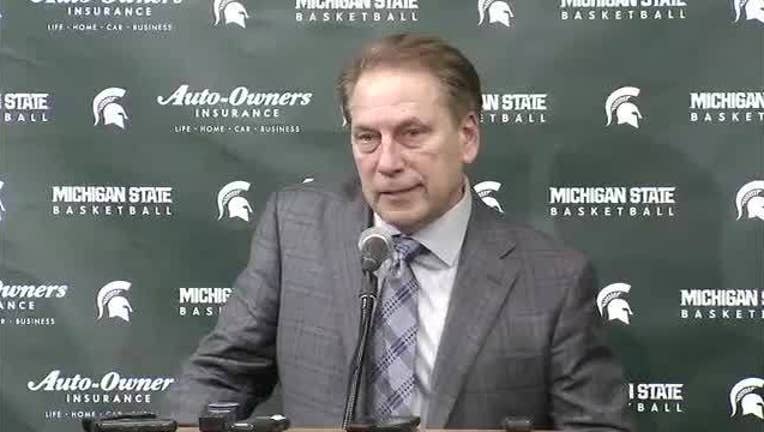 article
EAST LANSING, Mich. (AP) - Nick Ward made the most of his limited time on the court.
Ward had 22 points and nine rebounds despite playing just 19 minutes because of foul trouble, helping Michigan State beat No. 16 Wisconsin 84-74 on Sunday.
"He's a big body. He's a load," Badgers coach Greg Gard said. "Nine for 12 versus 4 for 10 in our five-man (Ethan Happ). That tells it right there."
While foul trouble plagued Ward in both halves, Happ had only one foul in the first half and finished with eight points, six-plus points below his average, before fouling out.
Miles Bridges had 17 points and Matt McQuaid added a season-high 15 as the Spartans (18-11, 10-6 Big Ten) won for the sixth time in eight games, moving them into a third-place tie in the conference and perhaps sealing their spot in a 20th straight NCAA Tournament.
"We put ourselves in a position where I can look in the mirror and say we deserve some things," coach Tom Izzo said.
Michigan State's Cassius Winston had 10 points and eight assists and Joshua Langford had nine points.
The Badgers (22-7, 11-5) have lost four of five and lost a chance to pull into a first-place tie with No. 14 Purdue.
"It's not the end of the world," Bronson Koenig said after scoring 17 points in the setback. "We've been through this before."
Wisconsin's Nigel Hayes scored 22 points, and Zak Showalter had 15.
Michigan State went on an 11-1 run midway through the second half, building a 12-point lead that it was able to maintain even while Ward and Bridges were sitting next to Izzo due to fouls.
"My teammates got it done when I was on the bench," Ward said. "When I can stay in the game, who knows?"
In the first half, the Spartans led 36-23 only to allow the Badgers to come back with a 15-4 run to pull within a point at halftime.
BIG PICTURE
Wisconsin: The Badgers have been shooting poorly and it is catching up with them. They were held to 43.1 percent shooting against Michigan State, a ninth straight game of connecting on 44 percent or fewer of their shots, and 28 percent on 3-point shots. They made 13 of 25 free throws at Michigan State after shooting 67 and 57 percent from the line the previous two games.
"We've won despite not converting and not shooting as well as we need to at the line," Gard said.
Michigan State: The Spartans are surging at the right time and are gaining confidence, possibly allowing them to position themselves for better seeding at the Big Ten and NCAA tournaments.
"It doesn't mean we're over the hump," Izzo said. "It means we learned how to deal with some pressure."
POLL IMPLICATONS
With losses at Michigan State and Ohio State, Wisconsin will likely plummet from No. 16 in The Associated Press poll on Monday. The Badgers, who are giving up a Big Ten-low 62 points, allowed Michigan State to match the highest total against them this season after the 11th-place Buckeyes scored 83 Thursday night.
"We just can't get a stop," Koenig lamented.
SHINING MOMENT
In the last game of the season at Breslin Center, senior guard Eron Harris checked in with 11.2 seconds left a little more than a week after he had a season-ending knee injury. Harris, with a brace on his right knee, went to center court and kissed the Spartan logo to follow a senior tradition Shawn Respert started in 1995.
Izzo said only he and equipment manager Dave Pruder knew Harris would go in - if the Spartans were up or down a lot of points late in the game - before Izzo told Harris in the final minute.
"It's going to be his one shining moment," Izzo said.
HOME COOKING
Michigan State has won 10 straight at the Breslin Center against the Badgers, matching its longest streak against them at home. Wisconsin hasn't lost more than two in a row to any other team on the road. The home team has won 19 of the last 21 games in the series.
UP NEXT
Wisconsin: The Badgers end the regular season at home, hosting Iowa on Thursday night and Minnesota on Sunday.
Michigan State: The Spartans close on the road, playing Illinois on Wednesday night and No. 24 Maryland on Saturday.