Michigan State Bounces Back With 77-66 Win Over Iowa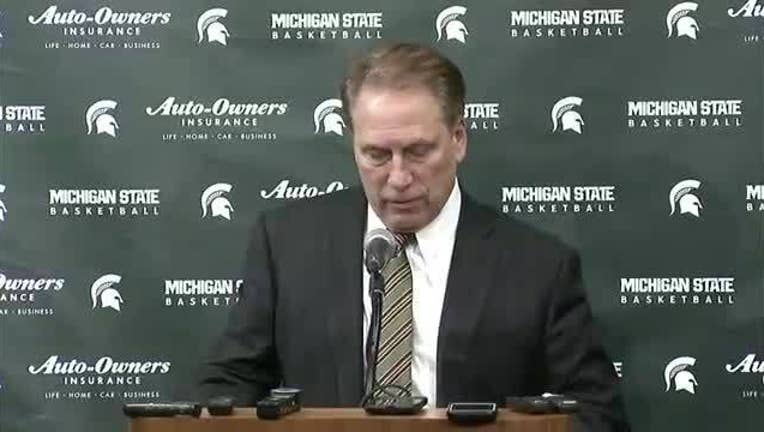 article
EAST LANSING, Mich. (AP) - Michigan State's four freshmen scored in double figures in the same game for the first time
If that becomes a trend, the Spartans will be in much better shape as they try to close to season strong enough to extend their coveted streak.
Miles Bridges scored 14 of his 16 points in the first half and finished with 11 rebounds and four blocks, leading Michigan State in a 77-66 win over Iowa on Saturday night.
The Spartans (15-10, 7-5 Big Ten) came off a lopsided loss at Michigan to win for a third time in four games, improving their chances of playing in a 20th straight NCAA tournament.
"I'm really thrilled with the win," Michigan State coach Tom Izzo said. "It's hard to come off a rivalry game playing as poorly as we did and bounce back."
Bridges was the only freshman who did much of his scoring in the first half when his team needed him most, leaning on him to overcome making 12 turnovers and just 13 of 31 shots.
"Bridges in the first half was the difference," Iowa coach Fran McCaffery said.
Nick Ward scored 12 of his 14 in the second half, Cassius Winston had all of his 12 points in the second half and Joshua Langford scored eight of his 11 points over the last 20 minutes of the game.
"If Josh plays like that all the time, we'll win all these games," Bridges said.
The Hawkeyes (14-12, 6-7) have dropped two straight games after winning three in a row. They led 32-31 at halftime after 10 lead changes and five ties at Michigan State.
Langford's 3-pointer early in the second half started a 17-6 run that put Michigan State up 57-45 midway through the second half. The Spartans easily maintained a comfortable lead in part because Langford was making shots and Bridges racing back on defense to block a shot after one of his team's season-high-matching 21 turnovers.
Tyler Cook and Peter Jok scored 13 points apiece for the Hawkeyes and reserve Cordell Pemsl added 10 points.
BIG PICTURE
Iowa: The Hawkeyes have played in three straight NCAA tournaments, for the first time since the early 1990s, and it will be very difficult for them to make it four straight for the first time since they were in five consecutive from 1985 to 1989.
"We've got to work a little harder and challenge ourselves more," McCaffery said.
Michigan State: Langford didn't take a shot, grab a rebound or make an assist Tuesday night in an 86-57 loss to the Wolverines. He responded very well, giving the Spartans a scoring option they need to go along with Bridges and Ward.
"I was more aggressive," said Langford, who entered the game averaging just 5.8 points. "My coaches and teammates kept talking about that. I can't pass up the shots that I've passed."
INSIDE THE BOX
Michigan State held the Hawkeyes to 33 percent shooting, approaching their season low of 31 percent, and outrebounded Iowa 46-32. The Spartans, though, had 21 turnovers for a second straight game.
"It's a good thing that I have a party with my old guys because that is frustrating," said Izzo, who was hosting former players and managers at his house for a postgame gathering.
The Spartans held Jordan Bohannon scoreless on 0-for-8 shooting, shutting down a player averaging nearly 10 points a game. They also kept Jok well short of his 20.9 scoring average.
"There were always two guys there when I caught the ball," Jok said. "They were really dialed in."
BUMPS AND BRUISES
Jok strained his left knee during the second half, but stayed in the game.
"It's going to be sore the next few days," he said.
Cook left the game in the second half and went to the locker room before returning to play.
"I thought he got hit in the nose," McCaffery said. "His own man hit him. I guess he got poked in the eye. It really scared him."
UP NEXT
Iowa: Next Saturday, the Hawkeyes host Illinois.
Michigan State: Plays Ohio State on Tuesday night at home, the second game of a five-game stretch with four at Breslin Center.