Michigan State wins regular-season finale over Buckeyes
EAST LANSING, Mich. - EAST LANSING, Mich. (AP) — A.J. Hoggard scored 15 of his 23 points in the second half and Michigan State finished the regular season with an 84-78 win over Ohio State on Saturday.
Joey Hauser added 16, Tyson Walker 15, Jaden Akins 13 and Malik Hall 10 on Senior Day for the Spartans (19-11, 11-8 Big Ten), who shot 55% and 12 of 20 from the arc, their fourth straight game with 10 or more 3-pointers and 49 over that span.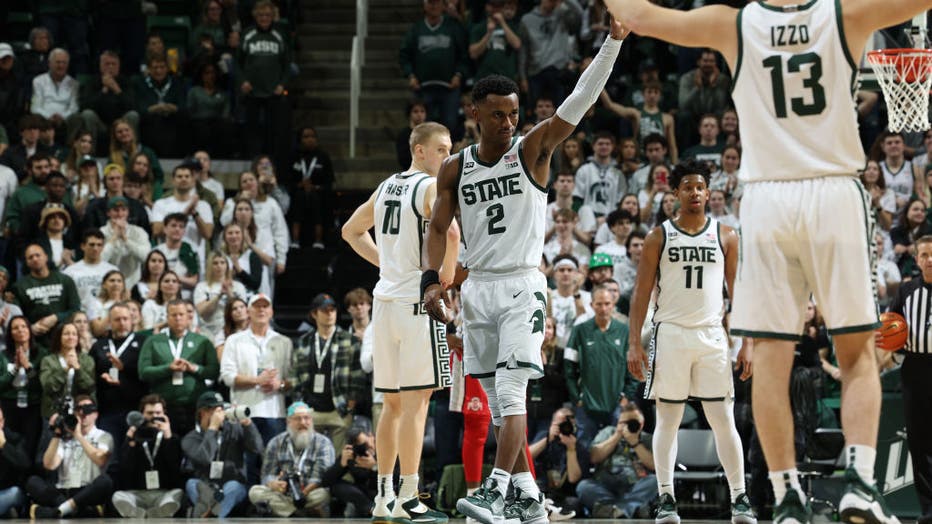 EAST LANSING, MI - MARCH 04: Tyson Walker #2 of the Michigan State Spartans waves to the fans during the second half against the Ohio State Buckeyes at Breslin Center on March 4, 2023 in East Lansing, Michigan. (Photo by Rey Del Rio/Getty Images)
Brice Sensabaugh scored 21 points, Bruce Thornton 20, Sean McNeil 11 and Justice Sueing 10 for the Buckeyes (13-18, 5-15), who had a two-game win streak snapped and have lost 10 of their last 12.
Michigan State led by 11 after a Hoggard bucket to open the second half. Ohio State got within three with a 7-0 run that Thornton capped with a 3-pointer with under six minutes left. The Buckeyes didn't get that close again after Walker drove for a layup and Hoggard added two free throws, the first of 11 points he scored in the final 3 1/2 minutes, including the Spartans' final five.
Three-pointers by Hoggard, Hall and Tre Holloman were part of an early 13-0 run that broke a tie and put the Spartans in front while the Buckeyes stumbled at the start on 1-of-9 shooting. Michigan State led 43-34 at halftime after shooting 57%, including making 8 of 14 3-point attempts, and Hall leading the way with 10 points.
Michigan State swept the teams' two meetings. Both now prepare for the Big Ten Tournament that begins Wednesday in Chicago.