Michigan Takes Wisconsin 71-56 To Win Big Ten Tournament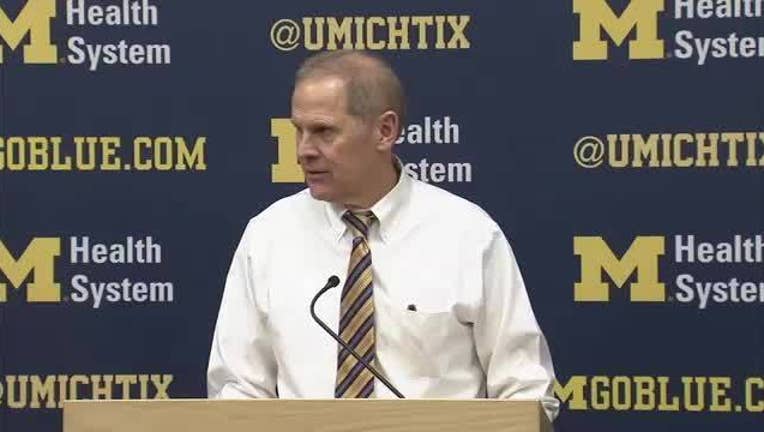 WASHINGTON (AP) - The Michigan basketball team crammed a lifetime worth of memories into one magical week, and they received a treasured souvenir as a keepsake.
After defeating No. 24 Wisconsin 71-56 on Sunday to win their first Big Ten Tournament championship, the eighth-seeded Wolverines held high the hardware that accompanied the feat.
Before helping cut down the net, Michigan coach John Beilein gathered his players to deliver an emotional message.
"What I told them is, 'You're going to come back 20 years from now and that trophy is going to sit there and you're going to tell your grandkids about those five days and what happened. You'll love it forever.'"
The Wolverines began their journey with a scary skid off the airport runway in Michigan. They ended it by overwhelming the second-seeded Badgers, who had won three straight - including the regular season finale against Minnesota - by a total of 55 points.
Between the aborted flight and their final unexpected victory, Michigan beat Illinois, eliminated top-seed Purdue and sent home No. 4 seed Minnesota.
"It means so much to all of us," senior guard Zak Irvin said. "All of the adversity that we've been to throughout the whole tournament, we stuck together as a family and got the job done."
And so, the first Big Ten Tournament in the nation's capital ended with a surprise champion cutting down the nets at Verizon Center. Michigan won the title in 1998 but had it vacated due to NCAA sanctions.
Tournament MVP Derrick Walton Jr. scored 22 points, D.J. Wilson added 17 and Irvin had 15 for Michigan, which had lost 17 of its previous 20 games against Wisconsin. The Wolverines shot 56 percent and were 10 for 23 from beyond the arc.
As a reward, Michigan will be the No. 7 seed in the Midwest and open the NCAA Tournament against Oklahoma State.
"We overcame a lot," Walton said. "Had a lot of trials and tribulations. All I can say is God is good. We're here for a reason."
Bronson Koenig scored 15 points, and Nigel Hayes and Ethan Happ had 14 apiece for the Badgers (25-9), who shot 39 percent from the field and scored only 24 points after halftime.
The Badgers looked so good during their winning streak and so ordinary in this one.
"We were playing really well for the past three games or so," Koenig said. "We just kind of went away from what was working a little bit."
Wisconsin will enter the NCAA Tournament as a No. 8 seed in the East Region and will first face Virginia Tech.
The Wolverines took control at the outset of the second half, holding Wisconsin without a field goal for the 8 minutes to turn a 33-32 halftime lead into a 44-34 advantage. The Badgers went 0 for 8 from the field and committed four turnovers during the pivotal span.
"We (got) two points on our first 10 possessions of the second half," coach Greg Gard said. "You're going to have a hard time against anybody when you're having that type of struggles offensively."
After the Badgers threatened to make a game of it, Michigan had an answer.
It was 51-45 before Irvin and Duncan Robinson sandwiched 3-pointers around a basket by Hayes for a 10-point cushion with 3:51 left.
Not long after that, the thousands of Michigan fans in the large crowd began the countdown to the final buzzer.
BIG PICTURE
Michigan: The Wolverines enjoyed a memorable run in the tournament on the heels of a somewhat disappointing regular season in which they went 10-8 in the league, including losses to Illinois and Ohio State.
Wisconsin: The Badgers thought they had recovered from a stretch of five losses in six games, but this dud of a performance might change that perspective and force them to make adjustments before heading into the NCAA Tournament.
SO LONG, WASHINGTON
The first Big Ten Tournament in the nation's capital ended with a large crowd cheering for two teams with absolutely no local ties except for alumni in the transient Washington area.
Even if total attendance this week wasn't overwhelming, the shift to the East Coast validated the Big Ten's desire to branch out from the Midwest.
Next year, the tournament will be held in New York at Madison Square Garden.
UP NEXT
Michigan: The rigors of the NCAA Tournament should be a breeze for Wolverines after they showed their mettle by playing - and winning - four games in four days.
Wisconsin: The Badgers make their 19th consecutive appearance in the NCAA Tournament.