Michigan wraps up spring football with Patterson in limbo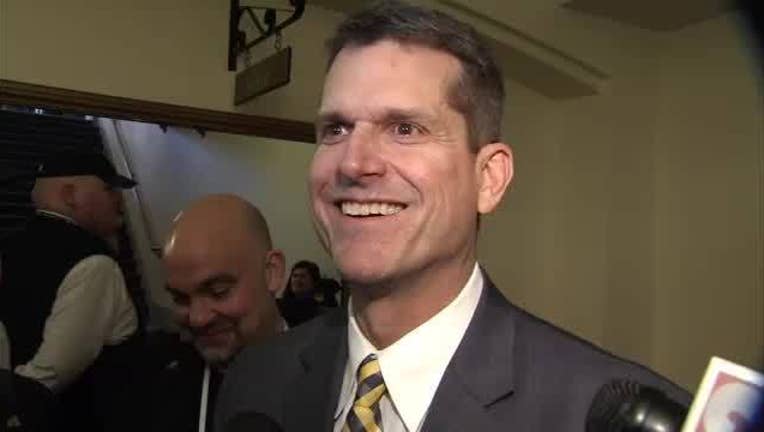 article
ANN ARBOR, Mich. (AP) - Shea Patterson has impressed Michigan coaches and teammates over the last month, making plays with both his arm and feet.
When the former Mississippi quarterback goes under center for the Wolverines on Tuesday as they wrap up spring practice, his status with his new school will still be in limbo .
Two days later, Michigan's team will travel to Paris. By the time the Wolverines return to campus in early May, the NCAA may have granted Patterson a waiver to play immediately instead of sitting out the season after transferring. Or not.
Ole Miss, whose football program was penalized with sanctions for rules violations, prompting Patterson and other players to transfer, has until Friday to respond to Michigan's application for a waiver. The NCAA can make its decision any time after that.
If Patterson is eligible to play in the fall, his presence would provide a much-needed boost at the pivotal position. If he can't compete until 2019, it would be a setback for the program, a teammate said.
"That would be kind of hurtful," tight end Nick Eubanks said. "Shea is a good quarterback. He's a great quarterback. He can throw the ball and he's the most athletic quarterback we got right now. He's a playmaker, too."
Harbaugh, coming off an 8-5 season, seems to need Patterson to potentially provide stability and a two-way threat. But he doesn't want to sound desperate when talking about wanting him to play this fall.
"Shea's practicing and practicing very well," Harbaugh said. "He's going about his business and taking care of it nicely. He's controlling the things that he can control. We're treating it the same as a coaching staff and a team."
Wilton Speight transferred from Michigan to UCLA, leaving three other choices at QB: Brandon Peters, who played in six games last year, Dylan McCaffrey and Joe Milton.
Eubanks described Patterson as athletic, said Peters is relaxed and called McCaffrey confident and Milton a gunslinger.
"I trust all four," Eubanks said. "All four are good, to me. That's going to be a hard choice to decide who's going to get the starting job."
Here are some other things of note from the spring:
THE SHAKEUP: Harbaugh has a new-look staff he hopes will help college football's winningest program bounce back to having double digits in victories as it did in his first two years.
"Maybe something had to change," linebacker Josh Uche. "He went out and did what he had to do and brought in the necessary people to try to get us to where we want to be and where we're going to be. We're seeing a big difference in the spring."
Harbaugh hired former Florida coach Jim McElwain to lead his wide receivers, a move that appeared to lead to the departure of offensive coordinator Tim Drevno. Harbaugh hasn't named an offensive coordinator and probably won't, saying play-calling will be a collaborative effort. He also hired assistant coaches Ed Warinner, Sherrone Moore and Al Washington along with Ben Herbert to lead the team's strength and conditioning program.
"It seemed like we were a little weak last year," defensive lineman Kwity Paye said.
INVESTMENTS: Michigan has a new strength and conditioning area, complete with a hill to run up, in its former indoor practice facility. A nutritionist is on hand to help players with their diets and a state-of-the-art training room is under construction.
"There are no excuses for us this year not to win," Paye said. "Coach has done a great job of all the tools. It's time for us to do our part."
SPRING SCARE: The University of Michigan police department opened an investigation into threats made on social media by a former player against Harbaugh and determined no crime was committed. The player who sent the threatening tweets and later apologized to Harbaugh is linebacker Elysee Mbem-Bosse, according to a person familiar with the situation, speaking to The Associated Press on condition of anonymity because neither the school nor its police department released his name. The school confirmed Mbem-Bosse left the program in November and is no longer with the team. Mbem-Bosse, who is from Ellenwood, Georgia, played sparingly the previous two seasons.
GOING ABROAD: Most of Michigan's players will travel to Paris on Thursday and will visit museums and landmarks. Unlike last year's trip to Italy, the Wolverines will not practice overseas.