Miles Bridges annouces decision to stay at Michigan State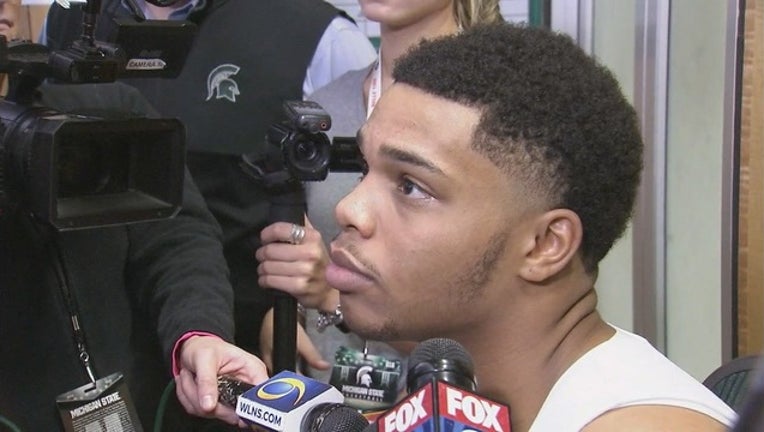 article
(WJBK) - Basketball standout Miles Bridges announced his return Wednesday to Michigan State basketball for his sophomore year.
The buzz among Spartan fans lately has been whether Bridges would head to the NBA draft, but the 19-year-squashed those fears with a big announcement on campus.
He sent the following tweet out Wednesday around noon inviting the community to The Spartan Statue:
About 500 fans showed up, according to multiple reports, and Bridges delivered the news they wanted to here -- he's staying.
"I got some unfinished business here," Bridges said. "I want to stay."
Bridges, one of the nation's top freshmen players, returns to lead a talent-laden team next season.
There were a few things nudging him toward the NBA. He was told he would be drafted between Nos. 8-14 if he declared himself eligible. His mother wanted him to go pro.
"I would go to the NBA," Cynthia Bridges acknowledged. "But I'm not the basketball player. Miles is."
But he's staying.
The 6-foot-7 forward from Flint led the Spartans with 16.7 points per game, the highest average for a freshman at the school since Magic Johnson scored 17 per game during the 1977-78 season. Bridges also averaged 8.3 rebounds, the most by a Michigan State freshman since Greg Kelser in 1975-76.
Even though Bridges could've left to work on his game while making millions in the NBA, he chose to try to improve in college while enjoying life on and off the court.
"I'd rather stay here and get better," he said.
Bridges said he's coming back to chase a national championship.
Izzo, who appeared to get choked up when Bridges said he was staying, will have a team capable of contending for the Hall of Fame coach's second national championship and eighth Final Four appearance.
Until recently, he didn't think Bridges was coming back.
"Most of the year, I thought he was going and assumed he would go," Izzo said. "He felt he wasn't ready and didn't want to do it."
Bridges was part of a highly touted recruiting class that lived up to the hype. He was one of the nation's best freshmen and was surrounded by three classmates - Nick Ward, Cassius Winston and Joshua Langford - who ranked among the team's top five scorers.
"To have Miles back, it's going to be a special year," said Winston, who attends weekly bible study with Bridges. "A lot of us, if we were in his shoes, it would be really hard to turn down. The NBA is the goal we are all working toward and he's chose a different track."
Michigan State will be without just two players - Eron Harris and Alvin Ellis - who averaged at least 10 minutes a game last season and will return eight of its top 10 players. Another player, power forward Gavin Schilling, will play as a fifth-year senior after missing last season with a knee injury and center Ben Carter has petitioned the NCAA for another season of eligibility after missing last season with a knee injury.
The Spartans have signed 6-11, 220-pound forward Jaren Jackson , one of the top recruits in the country, and 6-8, 270-pound forward Xavier Tillman, who was voted first-team Associated Press All-State in Michigan. They may land two more highly touted high school seniors, Brandon McCoy, a 7-foot center from California, and Mark Smith, a 6-4 point guard from Illinois.
"We're going to have a great team," Bridges said.
Without several key players from the 2015-16 season and some additional injuries, Bridges helped Michigan State extend its NCAA Tournament streak to 20 years and advance to the second round.
Bridges can soar for slams, but he also can hit 3-pointers and score on an array of low-post moves and mid-range turnaround jumpers.
Michigan coach John Beilein has said scouting reports on Miles don't include any weaknesses because he can shoot from the outside or create his own shot off the dribble.
"There's not a defense that is going to stop him," Beilein said.
The Associated Press contributed to this report.