Miles Bridges Scores 20, Michigan State Beats Nebraska 88-72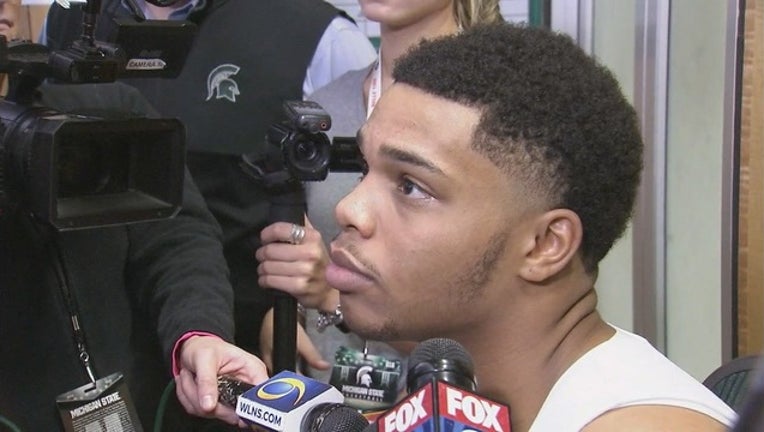 article
EAST LANSING, Mich. (AP) - Miles Bridges was having a mediocre game by his standings when Michigan State coach Tom Izzo put him back in a closely contested game late in the first half.
It didn't take long for the freshman standout to take the game over.
Bridges scored nine points during a decisive run and finished with 20, leading the Spartans in an 88-72 win over Nebraska on Thursday night.
"My teammates got me the ball in all the right places," he said.
One time, Cassius Winston put the ball about 11 feet in the air to set up Bridges for a spectacular slam.
Bridges made two layups, a dunk on Winston's pass off the backboard and a 3-pointer in a 2:12 stretch late in the first half as part of a 21-5 run that turned a closely contested game into a rout. Winston ended the surge with a 3-pointer from about 40 feet just before the buzzer in the first half.
"I might skip that one on tape," Cornhuskers coach Tim Miles said.
Nick Ward had 20 points, giving Michigan State two freshmen with 20-plus points in a game for the first time since the 1977-78 season when Magic Johnson scored 31 and Jay Vincent had 22 points.
Joshua Langford scored a career-high 17 points as the Spartans (17-11, 9-6 Big Ten ) bounced back from a 17-point setback at No. 14 Purdue and the loss of senior Eron Harris with a dominant performance in a game they needed to win.
Michigan State boosted its chances of earning a 20th straight invite to the NCAA tournament with its fifth victory in seven games and moved into a fourth-place tie with Minnesota and Northwestern in the conference .
"Feel comfortable? Forget about it," Izzo said. "That's not going to happen this year."
The Cornhuskers (12-15, 6-9) were coming off two straight wins and fell into a ninth-place tie with Illinois and Penn State in the Big Ten.
Nebraska's Tai Webster had 19 points and 10 rebounds and Evan Taylor scored 10 points.
The Spartans led 49-31 at halftime and coasted to another lopsided win over the Cornhuskers, who were trailing by just two points before Bridges and the Spartans took over the game for good.
BIG PICTURE
Nebraska: The Cornhuskers simply haven't been able to repeat the success they had at the start of the Big Ten season. They opened with road wins against Indiana and Maryland as part of a 3-0 start, then lost five straight and have lost nine of their last 12. During the slide, they mixed in a win over then-No. 20 Purdue.
"Just growing pains, I guess," Webster said. "We're a young team. We get in situations we're not used to with a lot of young players."
Just when Nebraska looked like it might be turning it around with a 16-point win over Penn State and a victory at Ohio State, the Spartans won easily.
"Anybody can beat anybody any night," Miles said.
Michigan State: The Spartans played just fine without Harris, one of their three double-digit scorers. They leaned even more on their four freshmen - Bridges, Ward, Langford and Winston - and started senior Alvin Ellis for the first time in two years. Bridges, Langford and Ward took care of the scoring load while Winston directed the offense, making seven of his eight assists in the first half.
Bridges said it was "big," that he and Ward both scored 20 in a game.
"We have to carry the scoring load, and stay aggressive," Bridges said. "We're tough to stop in the paint."
HE'S NO LOSER
With the win, Izzo is guaranteed to extend his run of avoiding a losing record in the Big Ten for the 22nd time in his 22-season career. If the Spartans close the regular season with three straight losses, they will be .500 for the fifth time under their Hall of Fame coach and the first time in a decade.
FACES IN THE CROWD
Former San Francisco 49ers and Detroit Lions coach Steve Mariucci , Izzo's best friend, attended the game and chatted at halftime with Lions coach Jim Caldwell and some of his assistants. Izzo said Caldwell addressed the team in the locker room after the game.
UP NEXT
Nebraska: Hosts Illinois on Sunday night.
Michigan State: Host No. 16. Wisconsin on Sunday in the Spartans' last home game before closing the regular season at Illinois and at No. 24 Maryland.