Moe Wagner announces he'll enter NBA Draft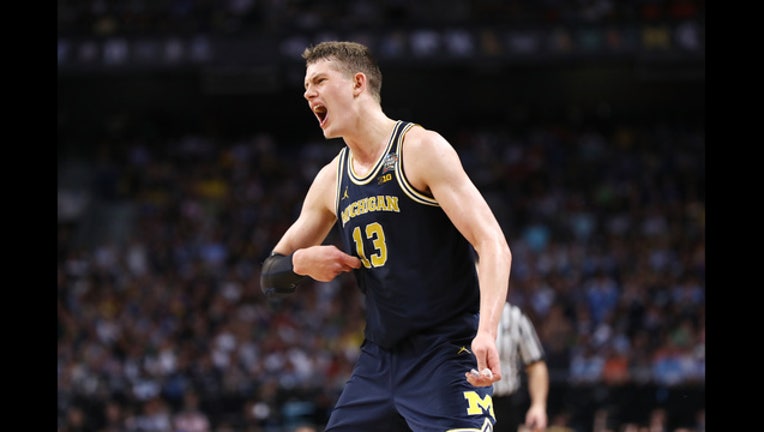 article
ANN ARBOR, Mich. (WJBK/AP) - Michigan junior forward Moritz Wagner announced Saturday that he will enter the NBA Draft and hire an agent.
The Michigan big man announced his plans Saturday with an essay written for The Players' Tribune, saying he's decided to sign with an agent and enter the draft.
"I'm ready. I feel like this is the right time for me," Wagner said. "I feel like I'm ready to move onto this new challenge in life - to give it my best, and to do whatever it takes to make it at the next level."
Wagner helped the Wolverines reach the NCAA title game earlier this month, where they lost to Villanova . The 6-foot-11, 245-pound German forward, who idolizes Dallas Mavericks superstar and countryman Dirk Nowitzki, entered his name in the draft last year but later withdrew it to stay in school for his junior season.
He averaged 14.6 points and 7.1 rebounds and made 39.4 percent of his 3-point shots last season.
Wagner's departure leaves Michigan with another key player to replace, along with seniors Muhammad-Ali Abdur-Rahkman and Duncan Robinson. But the Wolverines could still be formidable next season if Charles Matthews stays in school. Michigan's incoming recruiting class is ranked in the top 20 by Scout.com.
The Wolverines lost one key frontcourt player last year when D.J. Wilson left early for the NBA, but Wagner came back and led Michigan to a second straight Big Ten Tournament title - and then the run to the Final Four.
He spent much of his essay listing what he'd miss about Michigan, even mentioning some of the team's internal scrimmages before the season.
"I remember coming home all bruised and scratched from those scrimmages. We were battling in the key, throwing elbows, chirping nonstop. The season hadn't even started yet . and still guys are boxing out like it's the national championship game," Wagner said. "Obviously none of us had any idea that, just a few months later, we'd be playing in the actual national championship game. But to be honest? In a way, in the backs of our minds, I do think we always knew what we were capable of."
Wagner also mentioned that he heard recently that Nowitzki planned to return for his 21st season with the Mavericks.
"Dirk's my idol, and hero, and one of the biggest reasons I'm in this position to declare for the draft in the first place," Wagner said. "And you all know I'm an honest guy, and I say what's on my mind, so I'm just going to say it and hopefully it happens: Getting to share an NBA court with Dirk Nowitzki? I gotta smile when I think about that one."
Follow @FOX2Sports on Twitter for all your Wolverines news.