Mrazek beats Predators again, Red Wings win 3-1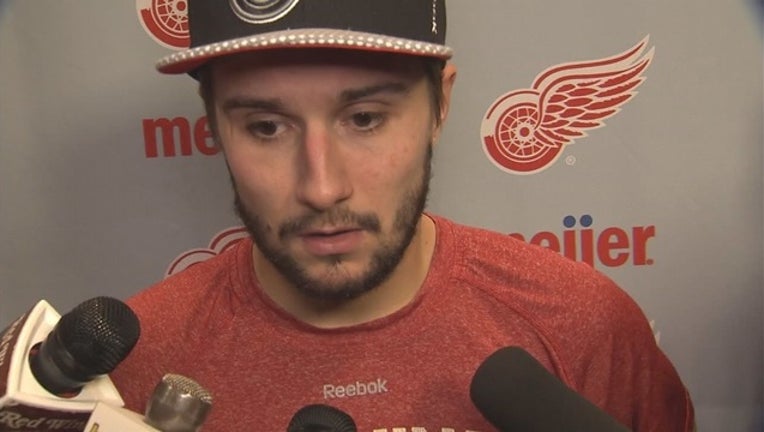 article
NASHVILLE, Tenn. (AP) - Petr Mrazek wasn't aware until earlier in the day how well he's played against the Nashville Predators. Then he went out and beat them again.
Mrazek stopped 30 shots to remain undefeated against Nashville, leading the Detroit Red Wings to a 3-1 victory Saturday night.
Mrazek improved his career record against the Predators to 6-0-0, coming within six minutes of getting his second shutout against them.
"I saw that for the first time today that I was 5-0 against them," Mrazek said. "Every game is different and you never know what kind of bounce will go in, but it was nice that I got the (sixth) today."
Last season, Mrazek had 42 saves in a shutout at Nashville's Bridgestone Arena.
"I think there are certain atmospheres and buildings and maybe teams where guys - when they've had success - might feel a little more confident," Red Wings coach Jeff Blashill said. "Certainly (Mrazek) was great in here last year and he was great in here again tonight. So this does seem to be a building he's excited about."
Defenseman Luke Witkowski scored his first NHL goal, Gustav Nyquist and Darren Helm also scored for the Red Wings, who beat Nashville for the seventh straight time dating back to 2013.
"I hope to make it eight when we play them (at home) on Tuesday again," Blashill said. "We know they're a great team, as deep a team as there is in the league. We know we'll have our hands full next time, but when we play with a highly competitive work ethic and style like we did tonight, we've got a good chance to win."
Craig Smith scored for the Predators, who lost in regulation at home in consecutive games for the first time since Dec. 19-21. Juuse Saros finished with 31 saves.
"I thought we played well - we had a lot of shots and a lot of good chances and we were competing hard," Predators defenseman Ryan Ellis said. "They worked just as hard and they earned that win."
The Predators had the upper hand in the game's opening minutes, but Detroit capitalized on a blown coverage to take a 1-0 lead 4:12 into the game. Nashville defenseman Anthony Bitetto was caught well up ice, leading to a breakaway for Witkowski, who beat Saros with a backhand on the Red Wings' first shot.
"Honestly I kind of blacked out a little bit," Witkowski said of his rare breakaway opportunity. "I just got the puck on my backhand and shot it. I got it past his blocker. It was crazy. It was cool, though."
Detroit doubled its advantage midway through the first when Nyquist re-directed Nick Jensen's shot between Saros' legs for his 16th.
The Red Wings blocked 10 Predators shots in the game's first 11 minutes and finished with 26 for the game.
"They blocked a lot of shots," Predators coach Peter Laviolette said. "We hit the post a few times. We just couldn't seem to get it to bounce our way offensively. That seems to be a common theme right now. When you're not scoring goals, it becomes difficult to win."
Nashville had three power-play opportunities in the first 40 minutes, but managed just one shot on goal during that stretch. The Predators had gone 0 for 21 with the man advantage over seven contests before Smith scored on a breakaway with 5:25 left in the third for his 17th.
Mrazek came up with a couple of big saves earlier in the third period to keep the Wings' two-goal lead. He turned away Calle Jarnkrok on a short-handed breakaway and denied Ellis' blast from the slot.
Helm capped the scoring with an empty-netter with 1:19 left.
NOTES: Nashville C Kyle Turris returned to the lineup after missing Thursday's game due to illness. ... The Predators flipped their third defensive pairing in this game, scratching Alexei Emelin and Yannick Weber and inserting Matt Irwin and Anthony Bitetto. Emelin had played in 54 straight games. ... Red Wings D Mike Green, the subject of much trade speculation, sat out the game with an upper-body injury. ... The crowd of 17,561 was a Bridgestone Arena record.
UP NEXT
Red Wings: Host Toronto on Sunday to open a four-game homestand.
Predators: Host Ottawa on Monday to close a four-game homestand.