Oakland Falls Just Short in Vegas 16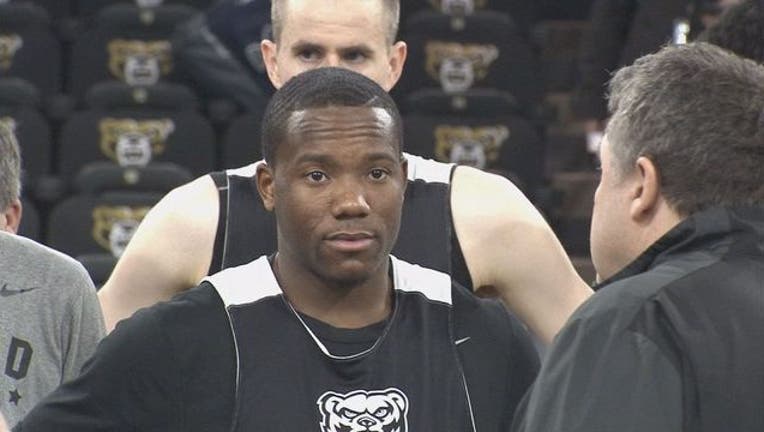 article
LAS VEGAS (AP) - Old Dominion would have preferred a trip to the NCAA Tournament. The Monarchs still walk away from their season as champions.
Trey Freeman scored 24 points, including two late free throws, and Old Dominion held off Oakland 68-67 on Wednesday night to win the inaugural Vegas 16 Tournament.
Old Dominion, which lost in the championship game of the Conference USA Tournament to Middle Tennessee, led the entire second half but needed Freeman to score in the pivotal moments.
"When we lost in the championship by two points, that hurt," said Freeman, the tournament MVP. "The pain is still there, but if feels good to leave on a good note, my college career, and also my teammates, who are like my brothers."
Oakland overcame a 14-point deficit early in the second half and scored 14 consecutive points to tie it at 44. But the Monarchs (25-13) pulled away behind Freeman, the tournament's MVP. He also scored on a floater with 4 minutes remaining that gave Old Dominion a 59-52 lead, and his two free throws with 5 seconds left sealed it.
"We regrouped," Monarchs coach Jeff Jones said. "We tried to grind it out on offense. We tried to pound it inside and got one or two buckets inside during that stretch just to force them to have to guard."
Brandan Stith had 14 points and 15 rebounds for Old Dominion, and Aaron Bacote added 12.
Kay Felder, who ranked among the nation's leading scorers, had 24 points for Oakland (23-12) but struggled in the first half, missing five of seven shots.
"The ball just didn't go in for him," Oakland coach Greg Kampe said of Felder, who ranked fourth in the nation in scoring average. "What they did do was slow the tempo down, and we were completely out of sync in the first half. There was no flow for us offensively."
Jones said the tournament championship, which included a cutting of the nets afterward, wouldn't take away the failure to reach the NCAA tournament. But it certainly gave his players a reward for a successful season.
"I don't know that it takes any sting out of the Middle Tennessee loss," Jones said. "That kind of close-but-no-cigar stays with you. But I think the kids do and will feel good about winning this tournament."