Offense Falls Flat, Tigers Lose 6-0 to Blue Jays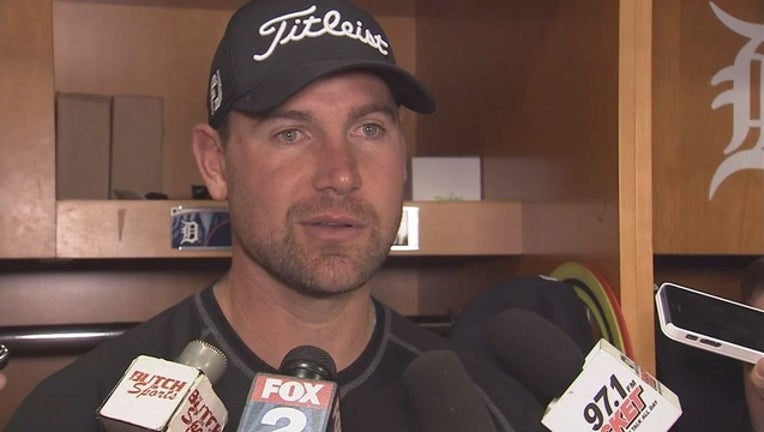 article
TORONTO (AP) - Mike Pelfrey gave the Tigers the start they were looking for.
Deroit's offense, however, couldn't come through against the surging Blue Jays.
Happ and two relievers combined on a seven-hit shutout, Edwin Encarnacion hit a three-run home run and Toronto extended its season-high winning streak to seven games with a 6-0 victory over Detroit on Friday night.
Pelfrey (2-8) allowed one run and six hits in six innings. He has won just once in seven starts.
"Pelfrey's outing was a positive, for sure," manager Brad Ausmus said. "His pitch count got up early but he was able to get through six strong with one run. We'll take that from our starters every day."
Pelfrey, who is 0-6 in nine road starts, said he was a little too amped up for this one.
"My command wasn't really that great," Pelfrey said. "I was pretty excited to pitch and I know how good of a lineup that is so I knew I had to bring it. I probably had too much adrenaline."
Six of Detroit's seven hits were singles.
"We just couldn't get the hit to get the merry-go-round going," Ausmus said.
In his final start before the All-Star break, Happ (12-3) matched his career-high in wins by giving up six hits, striking out nine and walking none in 5 2-3 innings. The left-hander, who went 12-4 for Philadelphia in 2009, has won six consecutive starts.
"Happ did an excellent job against us," Ausmus said. "We have a lot of trouble with him."
Happ allowed six runs in five innings in an 11-0 defeat at Comerica Park on June 6. He hasn't lost since.
"He did make a few adjustments," Detroit's James McCann said. "He used his fastball up in the zone a little bit more than he did at our place."
Jesse Chavez worked 1 1-3 innings and Bo Schultz finished as Toronto won for the seventh time in nine meetings with Detroit.
Toronto's only run against Pelfrey came in the fifth. Darwin Barney hit a leadoff double, advanced on Ezequiel Carrera's single and scored when Josh Donaldson grounded into a double play.
The Blue Jays added four more in the seventh against relievers Kyle Ryan and Bobby Parnell. Kevin Pillar hit an RBI double off Ryan, who left after walking Carrera. Parnell came on and got Donaldson to pop out before Encarnacion drilled his 23rd home run, a blast into the center field party deck.
"Eddie is having a heck of a year," manager John Gibbons said. "He crushed that ball."
Encarnacion leads the majors with 80 RBIs.
Detroit has lost four of five.
DOUBLE YOUR PLEASURE
Pelfrey induced three double play grounders and has had 21 double plays turned behind him this season. He had 29 last year, tied for the ML-lead.
MAN OF THE PEOPLE
Blue Jays OF Michael Saunders became an All-Star after winning the AL Final Vote contest. Saunders collected 17.7 million votes.
TRAINER'S ROOM
Tigers: RHP Jordan Zimmermann, on the 15-day DL since July 4, has been diagnosed with a strained muscle in his neck and expects to resume throwing over the All-Star break.
Blue Jays: INF Ryan Goins, who went on the DL with a strained forearm after pitching an inning of relief in Toronto's 19-inning loss to Cleveland on July 1, is taking ground balls but has yet to resume throwing.
UP NEXT
Tigers: Former Blue Jays farmhand Matt Boyd will start for Detroit Saturday. The left-hander was acquired in the July, 2015, deal that sent David Price to Toronto. Boyd is 0-2 with a 6.44 ERA in six games, five starts, for the Tigers this season. Parnell was optioned to Triple-A Toledo to make room for Boyd.
Blue Jays: RHP Aaron Sanchez (9-1, 2.94) has allowed one run in eighth innings in each of his past two starts, posting victories over Colorado and Kansas City. Sanchez allowed two runs in eight innings in a 3-2 defeat at Detroit on June 7. He has not lost a decision since April 22 against Oakland.