Peacock, Astros 1-hit Tigers to 1-0 win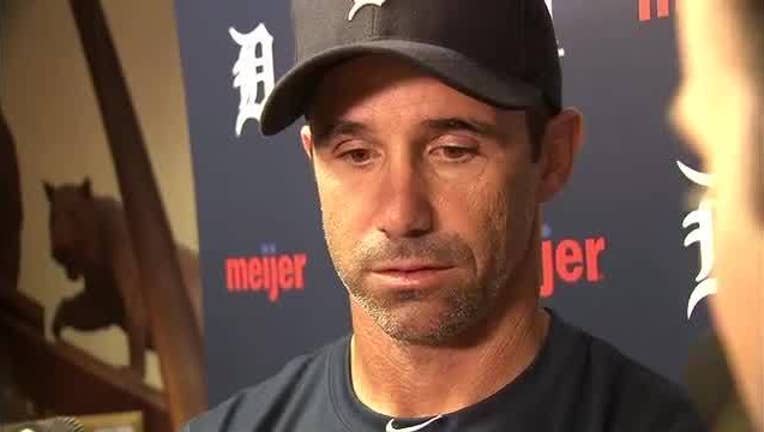 article
HOUSTON (AP) - The Houston Astros used a group effort to make up for what they hope is the one start ace Dallas Keuchel will miss with a pinched nerve in his neck.
Brad Peacock and three relievers combined for a one-hitter and Jose Altuve provided the offense with an RBI double to lead the Astros to a 1-0 win over the Detroit Tigers on Monday night.
Peacock was solid moving out of the bullpen to make a spot start for Keuchel. In his first start since September, Peacock allowed the lone hit and struck out eight in 4 1/3 innings. He was lifted after walking Tyler Collins with one out in the fifth inning.
"That was an excellent effort and production," manager A.J. Hinch said. "Everything you could ask for going into the game ... that's a pretty special performance out of him and exactly what we needed."
Peacock is one of only four players that have been on this team since 2013. He was happy to be able to step up on Monday night after struggling through some tough times in his career.
"It means a lot," he said. "I didn't know where I was going to be in spring training to tell you the truth. I thought I was going to get designated or something. But it means a lot that they kept me around and hopefully I can prove I deserve to be here for sure."
Chris Devenski (3-2) took over and pitched 2 2/3 innings for the win before Will Harris pitched a scoreless eighth. Ken Giles struck out two in the ninth for his 12th save to allow the Astros to bounce back after being swept by the Indians over the weekend.
Detroit's only hit was a single by Mikie Mahtook with one out in the third on a night the Tigers tied a season high by striking out 14 times. The team's only baserunner after Collins was Victor Martinez, who was plunked with one out in the seventh. But Houston still faced the minimum in that inning when J.D. Martinez grounded into a double play to end the seventh.
Some wondered if fatigue may have been a factor in Detroit's struggles at the plate after the Tigers arrived at their hotel around 5 a.m. Monday following a night game in Detroit. But manager Brad Ausmus brushed off that notion.
"I've played on teams that got no sleep and scored double-digit runs," he said. "You don't want to do it regularly. I don't think it was an effect today. I just thought it had more to do with their pitching."
The Astros struck early against Michael Fulmer (5-2) when George Springer drew a leadoff walk before scoring on the double by Altuve to make it 1-0 with one out in the first.
Houston got five hits combined in the second through fifth innings, but wasn't able to string enough together to put Fulmer in a bind.
Marwin Gonzalez led off Houston's seventh with a bunt single before Yuli Gurriel singled to right field. But Fulmer retired the next three batters, with two strikeouts, to escape the jam and end his night.
He allowed eight hits and one run while fanning four for his first loss since April 18.
TRAINER'S ROOM
Astros: C Brian McCann, who was placed on the 7-day concussion list this weekend, was feeling better on Monday and expects to be ready to return on Saturday. McCann was injured on May 14 against the Yankees when he got crossed up on a pitch by Charlie Morton and was hit in the mask by the ball. He stayed in the game and didn't realize he had a concussion until he was still feeling bad days later.
OH BABY
Detroit designated hitter Victor Martinez returned from the paternity list on Monday after the birth of his daughter Camila Victoria on Friday in Florida. He went 0 for 2.
TOUGH STRETCH
Monday was the start of Detroit's 10-day, 11-game road trip, which includes a double-header on Friday. They know it will be a difficult stretch, but aren't daunted.
"We are grinding. We know we've got a tough schedule in May," Miguel Cabrera said. "If we can get through May, I know we're going to be OK. We're going to grind, and we're not going to use it as an excuse."
UP NEXT
Tigers: Jordan Zimmermann (4-2, 6.25 ERA) will start on Tuesday for Detroit. He allowed seven hits and four runs in six innings of a 6-5 win over Baltimore in his last outing. He is just three strikeouts away from reaching 1,000 for his career. He will face Lance McCullers, who hasn't allowed a run in the last 17 innings, which is the longest active streak in the American League. He threw six scoreless innings for the win in his last outing.