Ramirez Has 6 RBIs As Indians Rout Verlander, Tigers 13-6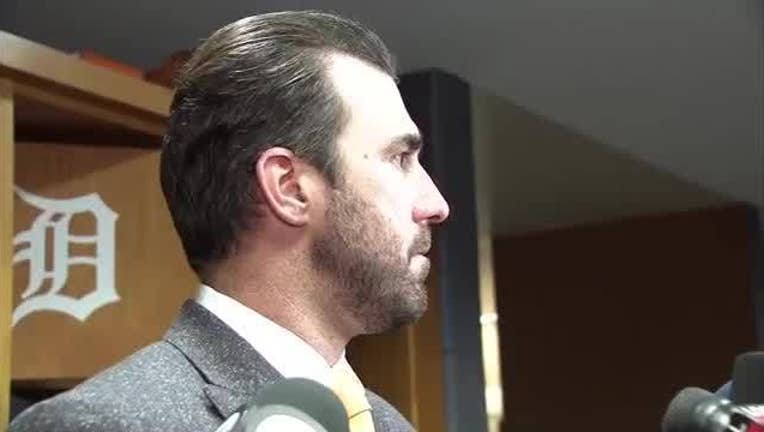 article
CLEVELAND (AP) - Jose Ramirez had the best day of his career. Justin Verlander had one of his worst.
Ramirez was 4 for 4 with a pair of three-run homers for Cleveland, and Verlander matched a career high by allowing nine runs Saturday in the Indians' 13-6 win over the Detroit Tigers.
"It's tough to say not to dwell on this, but I've been around long enough to know you can't go getting all depressed over one start," Verlander said.
Ramirez had a career-high six RBIs with home runs in the first off Verlander (1-1) and in the eighth against Anibal Sanchez. The switch-hitter also had singles in the third and fifth innings.
Ramirez was greeted by a rhythmic chant of his first name from the Progressive Field crowd when he came to bat in the eighth. He responded with his home run and nearly beat Edwin Encarnacion, who was on base on front of him, to home plate.
"Sometimes it makes me laugh, and other times it really motivates me," Ramirez said through a translator. "It feels really good to have their support and I want to give something back to them for what they have given to me."
Verlander (1-1) gave up 11 hits in four-plus innings, including home runs by Carlos Santana and Lonnie Chisenhall. The 2011 AL Cy Young Award winner and MVP also gave up nine runs against the Chicago White Sox on April 6, 2008, and versus Texas on May 25, 2014.
Verlander fell to 19-22 against Cleveland, the most losses he has against any team in his career, and is 9-15 at Progressive Field.
Detroit manager Brad Ausmus said Verlander and catcher James McCann changed their signals throughout the game as a precaution against signs being stolen.
"I think it's kind of one of those things that you just cover your bases, make sure you're not allowing anybody to do anything," Verlander said.
In a matchup of aces, Corey Kluber (1-1) struck out eight in 6 1/3 innings, allowing six runs and eight hits. Verlander finished second to Boston's Rick Porcello in last year's AL Cy Young voting and Kluber was third.
Santana had three hits of Cleveland's 19 hits and four RBIs, including a two-run homer in the second. Chisenhall added two-run drive in the third for the Indians, who had lost six of seven.
Santana drove in two more with a fifth-inning single off Shane Greene, but both runs were charged to Verlander. Santana is 16 for 70 in his career against the Detroit ace, but has eight homers and 15 RBIs.
Ramirez drove a 97 mph fastball from Verlander into the right field seats in the first. Santana's two-run shot came in the second while Chisenhall added a two-run homer in the third.
Justin Upton hit a two-run homer and had three RBIs for Detroit.
IT'S EARLY
Encarnacion, who agreed to a $60 million, three-year contract with Cleveland in January, was 1 for 4 with a walk and is batting .200.
"We'll look back when he's locked in and think, man how did he swing like that?" manager Terry Francona said. "He's going to be so dangerous. He's just not quite there yet."
Encarnacion hit a home run on opening day for his only RBI this season. He had 42 homers and 127 RBIs last season for Toronto.
RELIEF HELP
Detroit recalled right-hander Warwick Saupold from Toledo and optioned right-hander William Ceuvas to the Triple-A team.
TRAINER'S ROOM
Indians: 2B Jason Kipnis (sore right shoulder) went 0 for 3 in a minor league injury rehabilitation appearance for Triple-A Columbus on Saturday. He didn't play for two days after being hit by a pitch on the left hand Wednesday.
UP NEXT
Tigers: LHP Matthew Boyd threw six shutout innings against Minnesota on Tuesday and is to make his first career start against Cleveland on Sunday.
Indians: RHP Carlos Carrasco will face Detroit for the first time since breaking his right hand when he was hit by Ian Kinsler's line drive on Sept. 17.