Rays Beat Tigers 8-7 On Error In Ninth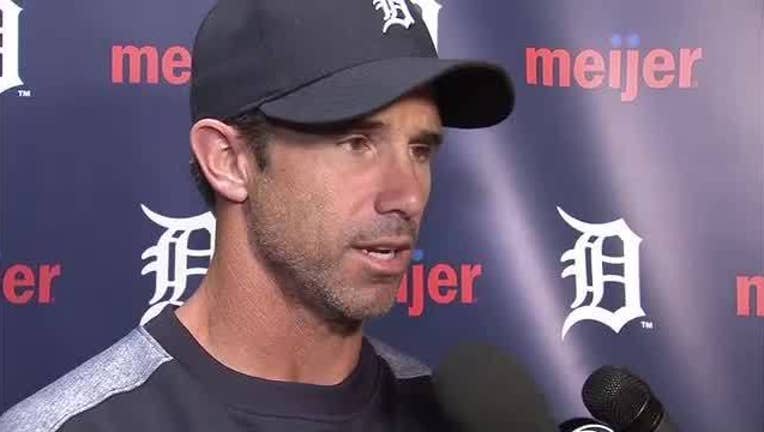 article
ST. PETERSBURG, Fla. (AP) - In a game played erratically by both teams, there was officially only one error Wednesday night, and it came on the final play of the Detroit Tigers' 8-7 loss to the Tampa Bay Rays.
A throwing error by Jose Iglesias allowed two runs to score in the ninth inning. The Tigers shortstop stumbled while trying to turn what would have been a game-ending double play, and instead his error cost Detroit the victory.
"That double play gets turned nine times out of 10. Iggy hit the base awkwardly and threw off balance," said Tiger manager Brad Ausmus. "It's just one of those things you won't see happen again."
Kevin Kiermaier opened the ninth with a walk. He advanced to third on Evan Longoria's double. Francisco Rodriguez (1-1) intentionally walked Brad Miller to load the bases. One out later, the closer got Logan Morrison to ground to second base and Iglesias couldn't complete the double play, as he stumbled making the turn and collided with the sliding Miller. He was on the field for a few minutes before walking off under his own power.
"Weird ending. I really didn't see the collision. I was following the ball," said Tigers second baseman Ian Kinsler. "I threw maybe to the inside of the base. It's a tough play. We were trying to turn it fast. The whole game was kind of strange."
Austin Pruitt (1-0) got his first major league win after 3 1/3 innings of relief.
Kiermaier had three hits and four runs while Longoria had three hits and three RBIs.
Nick Castellanos hit two triples and the Tigers came back from an early four-run deficit to take the lead going into the ninth. Castellanos became the first Tiger to hit two triples in a game since Austin Jackson on Aug. 5, 2012 against Cleveland.
Miguel Cabrera had three hits and drove in two runs for the Tigers.
Singles by Longoria and Steven Souza Jr. drove in runs for the Rays in the first inning off Zimmermann. Longoria added a two-run single in a three-run fourth that put the Rays up 5-1.
Cabrera's two-out single in the third drove in Detroit's first run off Chris Archer, who gave up four runs on seven hits while striking out nine in five innings. Cabrera drove in another run off Archer with a double in the third, and Castellanos' second triple emptied the bases in the sixth after the Tampa Bay bullpen had issued four walks and a hit batsman.
Kiermaier, the Rays' Gold Glove center fielder, got in position to catch the three-run triple, but missed it completely.
"They went ahead right there and that was a big blow to us," Kiermaier said. "I take sole blame for putting us in that position. It would be a lot harder for me to sleep tonight if we hadn't come out with a W."
Castellanos' first triple was hit off the top of the right-field wall in the first inning, missing a home run by about a foot.
The Tigers failed to homer for the first time this season. They had homered in each of their first 13 games, setting a franchise record but falling a game short of the 2002 Cleveland Indians, whose 14-game season-opening streak was the longest in the last 100 years.
Detroit starter Jordan Zimmerman, pitching in his 200th major league game and his 199th start, gave up five runs on 10 hits in six innings, striking out four. Two of the hits off Zimmerman were popups that dropped between fielders.
"The source of the confusion was coming from the stands," Ausmus explained. "Someone in the stands was yelling I got it. We changed our signals."
TRAINER'S ROOM
Tigers: OF Justin Upton (bruised right wrist) was out of the lineup and is doubtful for Thursday's series finale. Manager Brad Ausmus said it's "realistic" Upton could play Friday.
Rays: RHP Jake Odorizzi (strained left hamstring) threw at 60 feet on level ground.
MENDING MARTINEZ
Tigers OF J.D. Martinez (right foot sprain) is set to start on-field running Friday. Martinez has been running on a treadmill at the Tigers' complex in Lakeland, Florida. "The doctors and everybody are pretty optimistic about it," Martinez said. "I'm able to hit, able to throw. The running, we're building our way up there."
UP NEXT
Tigers: LHP Daniel Norris (1-0) faces the Rays in Thursday's series finale. He is coming off six scoreless innings Friday night in a 7-6 win over Cleveland.
Rays: RHP Erasmo Ramirez (1-0) makes his first start of the season, filling in for Odorizzi. Ramirez started 27 games for the Rays in 2015, only one last season.