Red Sox roll past Tigers 6-0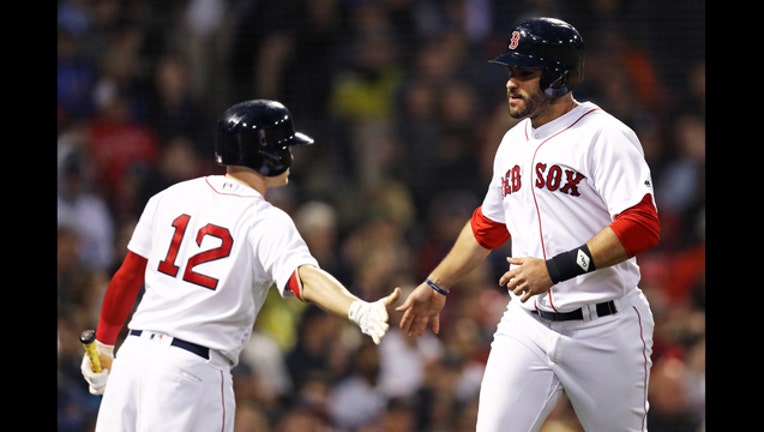 article
BOSTON (AP) - Steven Wright needed a few pitches to get Detroit off balance, then kept the Tigers guessing for seven innings.
Making his first start in more than a year, Wright used a combination of knuckleballs and fastballs to hold the Tigers to two hits as he and the Boston Red Sox won 6-0 Tuesday night.
"There were definitely a lot of emotions going in - good emotions, but it's something that I've got to keep in check," said Wright, who had surgery on his left knee last May that cost him most of the 2017 season.
J.D. Martinez hit his 20th home run for Boston, and Xander Bogaerts led off the fifth with his ninth of the season.
Wright was grateful for the offense as well as the defensive support he got right away after walking Leonys Martin to start the game. Nicholas Castellanos followed with a double off the Green Monster in left, where Andrew Benintendi fielded the bounce and threw a strike to Bogaerts, who relayed home in time for Christian Vazquez to tag out a sliding Martin.
"Once they made that unbelievable relay in the first, I was able to kind of calm down a little bit," Wright said.
Wright (2-0), the knuckleballer who served a 15-game suspension for violating Major League Baseball's domestic violence policy, also missed time this season after an injection on his surgically repaired knee sent him to the disabled list. He made six relief appearances before getting the start Tuesday, allowing only two hits with six strikeouts and three walks.
"He started throwing that fastball and that's when the at-bats got really tough," Boston manager Alex Cora said. "As a hitter, it's tough to pick up. You could see he was gaining confidence and there was momentum. Like I said, he was outstanding."
Castellanos, who also singled in the third, was the only Detroit player with a hit against Wright, who retired the last 13 batters he faced. Dixon Machado's two-out single in the eighth against reliever Hector Velazquez was the only other hit for the Tigers, who have lost three of four.
"Well, it's a slow pitch but it doesn't ever do the same thing twice in a row," Tigers manager Ron Gardenhire said. "I don't think too many of our hitters have seen knuckleballs, especially the younger guys. So it was an experience for them. Maybe they'll be better next time. But that's not an easy art. You need a tennis racket to hit those things sometimes."
Artie Lewicki (0-1) made his first start in the majors and lasted 3 2/3 innings, loading the bases twice in the fourth before getting pulled with Detroit trailing 4-0. He allowed four runs - two earned - on five hits and three walks.
Martinez put Boston up 2-0 in the first with a homer off a sign above the Green Monster.
"I don't hit balls like that with my driver," Wright said. "It's exciting. There's such a difference in everybody, but they all can hurt you in different ways."
Boston scored two more in the fourth, when Martinez reached on a throwing error by third baseman Jeimer Candelario, who jammed a finger on the play and left the game. Mitch Moreland and Eduardo Nunez followed with back-to-back singles to add another run, and Moreland scored later on a fielder's choice.
"I'd definitely like to improve my fastball command and just being able to finish hitters or put them away early," Lewicki said. "We've been playing well. I just would have liked to go out there and give us a better chance to win."
Warwick Saupold came in from the bullpen and retired Benintendi to end the inning, only to run into his own troubles in the fifth when Bogaerts drove his first pitch into Boston's bullpen.
RELIEVED RELIEVERS
Wright was especially pleased with how deep he went on 96 pitches, saying it helped out a weary group of relievers in the bullpen who had a late flight home from Houston on Sunday night. Velazquez pitched the eighth and Brandon Workman got through the ninth on only nine pitches.
J.D. POWER
Martinez, who played three-plus seasons with the Tigers, said the two-run homer against his former club wasn't personal.
"I really came into my own there, so I've got a lot of love for that organization," he said. "It feels satisfying any time you hit a home run. It doesn't matter who it's against."
TRAINER'S ROOM
Tigers: Candelario exited with a jammed middle finger and was replaced by Ronny Rodriguez.
Red Sox: Placed LHP Drew Pomeranz on the 10-day disabled list with tendinitis in his left biceps. Boston recalled Workman from Triple-A Pawtucket. ... Cora said 2B Dustin Pedroia got some good news when he had his left knee checked out after going back on the disabled list Saturday with soreness. Although the 2008 AL MVP has some inflammation, Cora said there are no complications from the surgery and Pedroia could resume baseball activities in the next couple of days.
UP NEXT
Tigers: LHP Blaine Hardy (2-0, 2.77 ERA) has allowed two runs or fewer in four starts this season, winning his last two.
Red Sox: LHP Eduardo Rodriguez (6-1, 3.88) has won his last three starts, holding Toronto to two runs and three hits in 6 2/3 innings last Wednesday to close out May with a 3-1 record.