Red Wings Playoff Streak Ends At 25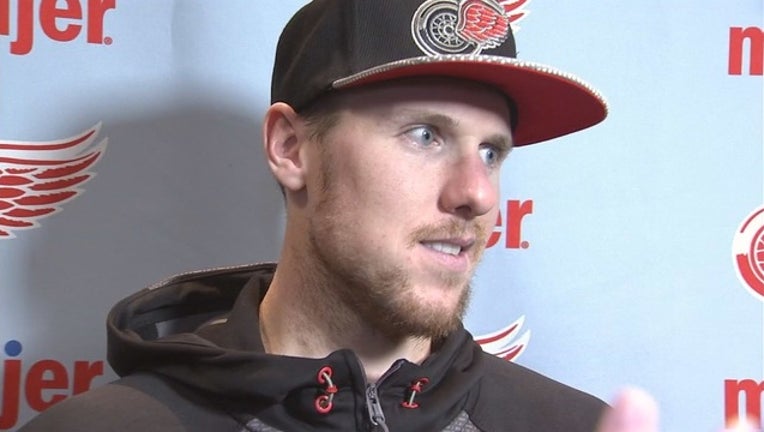 article
RALEIGH, N.C. (AP) - Just three weeks ago the Carolina Hurricanes were fighting to stay out of last place in the Metropolitan Division. Now, a furious run has them on the brink of a playoff spot.
Lee Stempniak and Joakim Nordstrom scored about five minutes apart in the first period, and the Hurricanes beat the Detroit Red Wings 4-1 Tuesday night in the teams' second meeting in two nights.
Jordan Staal and Elias Lindholm also scored for Carolina and Cam Ward stopped 21 shots. The Hurricanes have earned a point in 12 straight games (8-0-4) to move four points out of the Eastern Conference's second wild card.
"We're starving for the playoffs," said Ward, one of the few remaining members of Carolina's last playoff team in 2008-09. "We've been doing a good job of taking care of ourselves and each day trying to win the day."
Detroit's loss eliminated it from playoff contention, ending the Red Wings' run of 25 consecutive postseason appearances - tied for the third-longest such streak in NHL history.
The Red Wings beat the Hurricanes on Monday in a makeup game rescheduled from Dec. 19 when a Freon leak at PNC Arena made for unplayable ice. Tuesday's contest was regularly scheduled.
The postponement resulted in three games in the three days for the Red Wings. They won the first two but visibly struggled with their energy in the finale to snap a four-game point streak.
"I felt like we had a little bit more juice," Nordstrom said. "We wanted to keep our foot on the pedal."
Tomas Nosek scored his first NHL goal and Jimmy Howard made 28 saves for Detroit.
"We certainly have to rejuvenate ourselves," Detroit coach Jeff Blashill said. "We've got to come back ready to go."
Carolina started fast and never let up. Stempniak opened the scoring midway through the first period when his wrist shot from the right circle sneaked to the side of Howard's blocker. Nordstrom doubled Carolina's lead later in the period when he collected a rebound off Howard's right pad in front of the net and buried it.
Staal made it 3-0 in the second when his wrist shot from the left circle sailed under Howard's glove.
"The only way to win this time of year is to have everybody contribute, and that's what's happening," Hurricanes coach Bill Peters said. "Guys have to do their role, exceed their roles, and that's happening."
Detroit's fatigue was apparent from the opening puck drop.
Anthony Mantha failed to get shot off on a first-period breakaway. Darren Helm whiffed on a point-blank one-timer in front of the net. Stempniak's and Staal's goals were well within reach of Howard, who simply missed them.
Overall the Red Wings were outshot 32-22.
Nosek avoided the shutout with 6:27 remaining when Drew Miller's shot wide of the net redirected off the boards into the crease, and Nosek stepped behind Ward to push the loose puck in.
Carolina goalie Eddie Lack was in attendance a day after he was taken off the ice on a stretcher after a collision with Detroit forward Andreas Anthanasiou. He received a warm ovation from the crowd after an interview on the JumboTron.
Anthanasiou collided with Lack in the crease as he scored the winning goal in overtime on Monday and Lack remained down on the ice for more than 10 minutes before being carted off. He was taken to a hospital, diagnosed with a neck strain and discharged that night.
"I think we're all taking a deep breath, a sigh of relief knowing he's all right," Stempniak said. "We forget sometimes just how scary it is out there."
Lack is day-to-day. Anthanasiou was scratched Tuesday due to soreness from the collision.
NOTES: Lindholm finished the scoring with a power-play goal with 2:38 remaining. ... The Hurricanes recalled G Alex Nedeljkovic from Florida (ECHL) to replace Lack. The Red Wings recalled F Ben Street from Grand Rapids (AHL) to replace Anthanasiou. ... Carolina C Luke Glendening and Detroit D Ryan Murphy were both scratched after leaving Monday's game with lower-body injuries. ...The Hurricanes snapped a five-game home losing streak to the Red Wings dating to April 6, 2011.
UP NEXT
Red Wings: Finish their four-game road trip at Tampa Bay on Thursday
Hurricanes: Host Columbus on Thursday